Event Information
Performers
Vennart, We Lost The Sea, Oh Hiroshima, AK/DK, Ohhms, Human Pyramids
Alpha Male Tea Party, Big Lad, Midas Fall, Flies Are Spies From Hell, The Guru, gu, The Guru Guru, We Never Learned To Live, Pijn, Axes, Luo, Clt Drp, Bicurious, No Violet, Elevant, Garganjua, a burial at sea, Let's Swim, Get Swimming, Modern Rituals, Mountain Caller, Vogons, Parachute For Gordo, Jungfrau
London's only 2 day 3 stage festival of experimental rock returns for the third installment May 2021.
About this Event
It's been a long lockdown and after numerous discussions over the past 6 months we have come to the realisation that live music in the UK is in a very precarious position. To maximise the chance that we can bring you the best festival possible in 2021, we have decided to look predominantly within our own shores, thereby reducing the risk of overseas travel and the impact COVID-19 may have on this. We remain optimistic for what 2021 has to offer.
Vennart will headline one day of Portals Festival, fresh off of the surprise release on his stunning third album 'In The Dead, Dead Wood'. We consider this brand new, lockdown inspired and recorded album to be his finest work since Oceansize. It combines cathartic aggression and soaring instrumentation interlinked with a throughline of melodic hooks. This will be a special treat.
A combination of atmospheric, energetic, frantic, crushing, soaring and screaming bands fill the lineup, to showcase the breadth of experimental rock music the artists we love have to offer.
Two overseas bands that we aim to showcase are the incredible We Lost The Sea and Oh Hiroshima, who will be sub-headlining on either day, bringing their unique and special takes on post-rock to enchant our audience.
Coming back to grace us with their presence are a number of our favourites alongside some bands we've worked with outside of the festival setting, and a number who we've been trying to book for years and finally managed to seal the deal!
Alpha Male Tea Party, AK/DK, OHHMS, Human Pyramids, Big Lad, The Guru Guru, We Never Learned To Live, Pijn, Axes, Luo, Midas Fall, CLT DRP, Bicurious, Flies Are Spies From Hell, No Violet, Elevant, Garganjua, A Burial At Sea, Let's Swim, Get Swimming, Modern Rituals, Mountain Caller, Vogons, Parachute for Gordo, Jungfrau.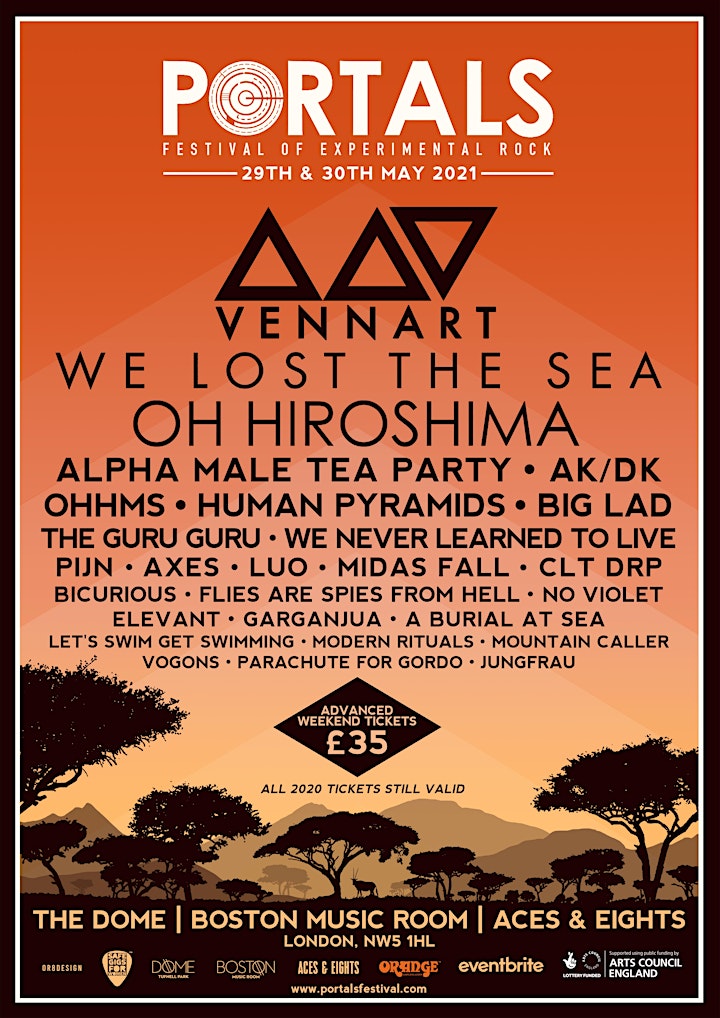 Performers
Vennart, We Lost The Sea, Oh Hiroshima, AK/DK, Ohhms, Human Pyramids
Alpha Male Tea Party, Big Lad, Midas Fall, Flies Are Spies From Hell, The Guru, gu, The Guru Guru, We Never Learned To Live, Pijn, Axes, Luo, Clt Drp, Bicurious, No Violet, Elevant, Garganjua, a burial at sea, Let's Swim, Get Swimming, Modern Rituals, Mountain Caller, Vogons, Parachute For Gordo, Jungfrau
Location