Event Information
Performers
Bossk, Vennart, We Lost The Sea, Oh Hiroshima, AK/DK, Ohhms
Alpha Male Tea Party, Human Pyramids, Big Lad, Midas Fall, Flies Are Spies From Hell, The Guru Guru, We Never Learned To Live, Pijn, Axes, Luo, Clt Drp, Bicurious, No Violet, Elevant, Garganjua, a burial at sea, Let's Swim, Get Swimming, Modern Rituals, Mountain Caller, Vogons, Parachute For Gordo, Jungfrau
London's only 2 day 3 stage festival of experimental rock returns for the third installment September 2021.
About this event
With the government announcement this week, we're thrilled to announce we have secured new dates for Portals Festival 2021:
Saturday 11th & Sunday 12th September 2021!
We are delighted to confirm that VENNART and BOSSK will still be the headliners for each day of the festival as planned. The venues remain the same
The mighty Bossk will be our Saturday night headliners at Portals Festival 2021. The Kent-based band will bring their unique amalgamation of post-rock, post-metal and doom for their biggest headline show to date.
Vennart will headline Sunday of Portals Festival, fresh off of the surprise release on his stunning third album 'In The Dead, Dead Wood'. We consider this brand new, lockdown inspired and recorded album to be his finest work since Oceansize. It combines cathartic aggression and soaring instrumentation interlinked with a throughline of melodic hooks. This will be a special treat.
A combination of atmospheric, energetic, frantic, crushing, soaring and screaming bands fill the lineup, to showcase the breadth of experimental rock music the artists we love have to offer.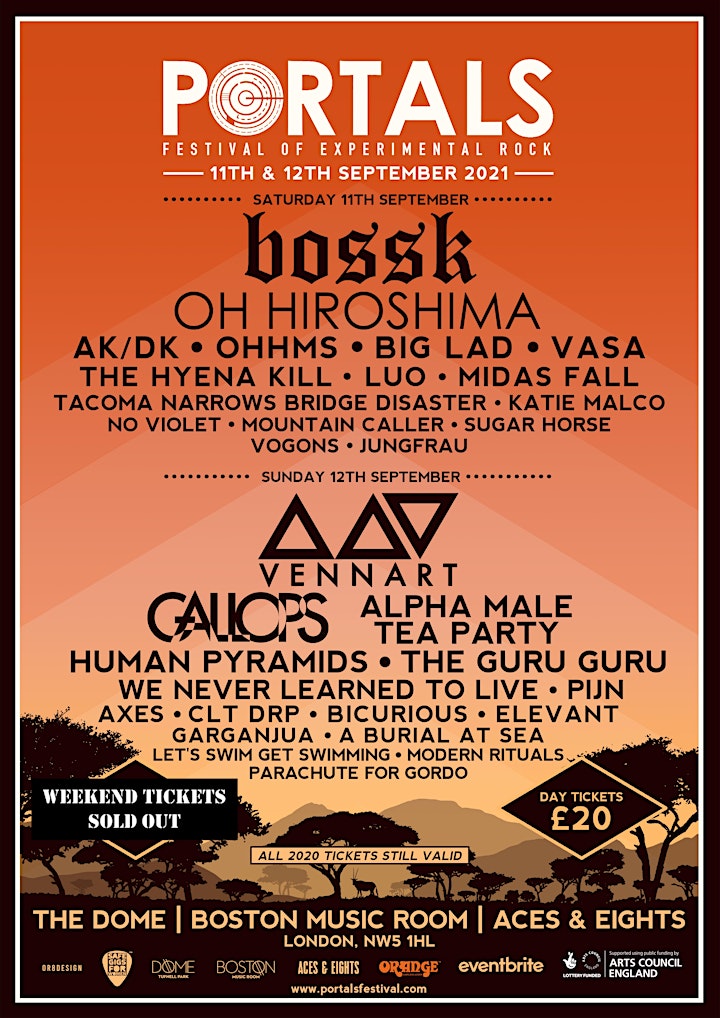 Portals Festival will take place on Saturday 11th and Sunday 12th September at The Dome, Boston Music Room & Aces and Eights Bar.
Performers
Bossk, Vennart, We Lost The Sea, Oh Hiroshima, AK/DK, Ohhms
Alpha Male Tea Party, Human Pyramids, Big Lad, Midas Fall, Flies Are Spies From Hell, The Guru Guru, We Never Learned To Live, Pijn, Axes, Luo, Clt Drp, Bicurious, No Violet, Elevant, Garganjua, a burial at sea, Let's Swim, Get Swimming, Modern Rituals, Mountain Caller, Vogons, Parachute For Gordo, Jungfrau
Location