PORTRAIT OF JASON - Shirley Clark [Documentary Donnerstag #3]

Thursday, April 11, 2013 from 8:00 PM to 11:00 PM (CEST)
Event Details
*Exclusive Screening of Shirley Clarke's recently restored & remastered landmark film! Lost for over 45 years, this is your chance to see this remarkable cinematic portrait.*
PORTRAIT OF JASON
Shirley Clarke | USA | 1967 | 105mins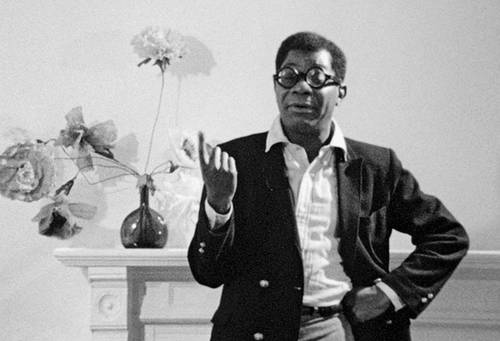 "Portrait of Jason says more about race, class, and sexuality than just about any movie before or since."
– Village Voice

"Portrait of Jason is a curious and fascinating example of cinema verité, all the ramifications of which cannot be immediately known."
– New York Times 
In this remarkable film, Jason Holliday aka Aaron Payne, house boy, would-be cabaret performer, and self proclaimed hustler recalls his life story for Shirely Clarke's unflinching camera. Revealing his former career as a servile house boy in San Francisco, vague recollections of orgies, unprofitable hustles, and traumatic family confrontations, this is an unforgetable and intimate cinematic portait. Jason offers us his gin-soaked pill-popped, view of what it was like to be black and gay in 1960's America.

This restored and remastered version of the film (funded in part by Kickstarter) premiered at the 63rd Berlinale in February 2013, having been lost for 45 years.

Facebook Event
_______________________________

as part of the 8-week programme... 
DOCUMENTARY DONNERSTAG
thought-provoking || award-winning || every thursday
sponsored by:
Pampero Colectivo 
PART I: 28 March – 18 April
PART II: 2 – 23 May
7pm || Open PAMPERO Rum Bar
9pm || Film starts
*Food & After Party hosted by Urban Spree*
__________________________
FILM PROGRAMME: PART I
28.03.13_____Marwencol (2010)
04.04.13_____Sans Soleil (1983) 
11.04.13_____Portrait of Jason (1967)
18.04.13_____The House I Live In (2012)
__________________________
FILM PROGRAMME: PART II
Released on 11th April to Berlin Film Society members and newsletter. Sign up to our newsletter here.
Public announcement on 18th April.
_______________________
CONCEPT
Documentary film was once described as the 'creative treatment of actuality' by the pioneering documentarian John Grierson in 1926. Since then, this genre of film has become an art form in itself, often combining innovative technique with cinematic eloquence and style. The Berlin Film Society has curated a unique programme of exemplary documentary films which explore topics as diverse as censorship, race, sexuality, cinematic history, collective and personal memory, war on drugs, and even the medium of filmmaking itself. The programme is intended to showcase significant new and archive films that deal with and communicate the addressed issues in creative, effective and imaginative ways. Ultimately, the programme will offer new perspectives in cinema and challenge the generally accepted views of society.
The programme features 8 thought-provoking and award-winning documentary films every Thursday for two months, separated into two parts: PART I: 28th March to 18th April; PART II: 2nd to 23rd May 2013.
_______________________
AWARD-WINNING FILMS
Each of the eight films chosen in this programme have prominently featured in the film industry's most relevant film festivals, including Festival de Cannes, Sundance, Berlinale, Toronto, SXSW and Raindance. MARWENCOL won the Competition Award at SXSW in 2010, SANS SOLEIL received an honorable mention at Berlinale 1983 and was screened at Raindance 2012, the recently restored version of PORTRAIT OF JASON premiered at Berlinale 2013, and THE HOUSE I LIVE IN won the Grand Jury Prize at Sundance 2012.
_______________________
NEXT WEEK: 18th April

THE HOUSE I LIVE IN
Eugene Jarecki | USA | 2012 | 108mins

From the dealer to the narcotics officer, the inmate to the federal judge, a penetrating look inside America's criminal justice system, revealing the profound human rights implications of U.S. drug policy.
http://www.thehouseilivein.org/
________________________________________________
SPECIAL THANKS TO OUR SPONSORS & PARTNERS:
When & Where

Urban Spree
99 Revaler Straße
10245 Berlin
Germany


Thursday, April 11, 2013 from 8:00 PM to 11:00 PM (CEST)
Add to my calendar
Organizer
Established during the Berlinale 2012, the Berlin Film Society is a monthly cinematic experience. Each month a specific theme, motif, director, or idea will be explored within the films that are screened. From Director Q&As and retrospectives, to themed culinary experiences and live music events, the Society aims to create a whole new approach to experiencing film. Previous events have included the German Premiere of the critically-acclaimed UK film, 'Dreams of a Life', with director Q&A, exclusive screenings of Alejandro Jodorowsky's controversial cult classics, 'The Holy Mountain' and 'El Topo', Chaplin's satirical masterpiece, 'The Great Dictator', and David Gelb's appetising documentary, 'Jiro Dreams of Sushi'.
Founded by Jack Howard. 
Feel free to get in touch: info@berlinfilmsociety.com