Description
Be part of the global street paper movement!
This is your chance to be part of a powerful movement for social change. Come along, network with street paper innovators and experience a powerful multi-media exhibition about homelessness in Washington State.
In June, street paper journalists, entrepreneurs and activists from around the world will descend upon Seattle for the Global Street Paper Summit. The summit is run by INSP – a nonprofit that supports 115 street newspapers all over the world, including Seattle's Real Change. Street papers are independent media that reach a unique worldwide audience of 6 million readers per edition, while helping 14,000 homeless and unemployed vendors to get back on their feet.
This evening event will begin at 7pm, when architect, photo-journalist and community activist Rex Hohlbein will introduce his exhibition Homeless in Seattle. His talk will be followed by a drinks reception during which guests will have the opportunity to experience the exhibitions whilst networking with an audience from street papers, social enterprise and beyond.
Dan Lamont's photos, the StoryCorps Recordings and American Refugees were funded by a grant from the Bill & Melinda Gates Foundation.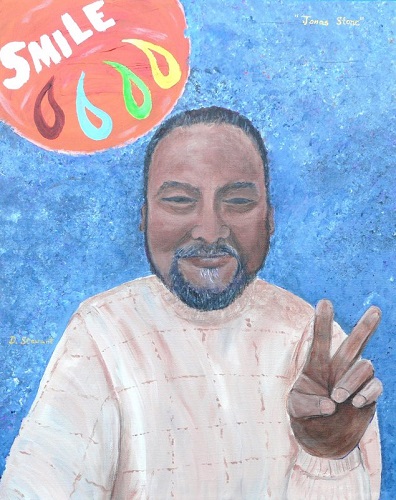 Real Change Portrait Project
The Real Change Portrait Project was founded by Jon Williams, Art Director at Real Change. Jon wanted to raise awareness of the mission of Real Change as the non-profit Seattle newspaper expanded from Seattle into Bellevue and Kitsap County. The project gives local artists a chance to paint a portrait of one of the vendors for the paper, all of whom are either homeless, or low income. The portraits give the general public an educated view of the challenges facing the homeless today, showing an ordinary face to the often misunderstood views on homelessness.
A Real Change vendor is a person who has independently chosen to sell Real Change and earn personal income by selling the paper. Vendors buy the paper for 60 cents and resell it on the street for a suggested $2. Most of our vendors are people who are presently or formerly homeless. All are low income.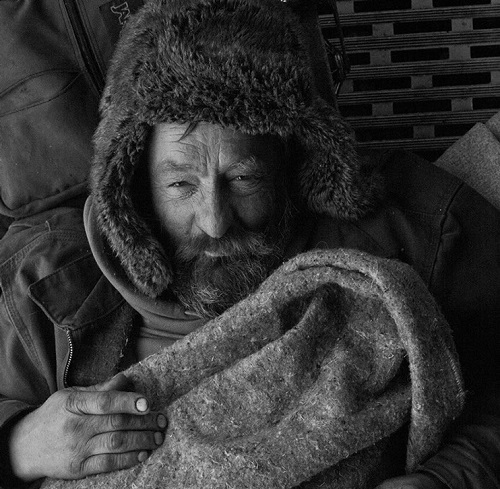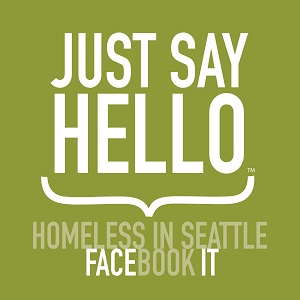 Rex Hohlbein: Homeless in Seattle on Facebook
Homeless in Seattle (HinS) is a Facebook community working to raise awareness for those living without shelter and other basic needs. Through the sharing of photos and personal stories each person's beauty is expressed as a means for moving community past the false negative stereotype.

So many people struggling with life on the streets feel invisible. By reaching out to 'Just Say Hello' we begin the process of turning a stranger into a friend and in turn find the beauty within all of us. Through these personal connections we create a healthier community, one that will then naturally move towards healing the crisis of homelessness.
HinS has over 16,000 active followers representing 45 countries. Over the last five years, every request made on behalf of those in need on the HinS Facebook page has been met by this community. HinS is currently creating new Homeless in City Chapters around the world to create a global movement of bringing a 'Critical Mass of Kindness' to the process of ending homelessness. If you are interested in beginning a Homeless in YOUR City, please contact them at their non-profit Facing Homelessness.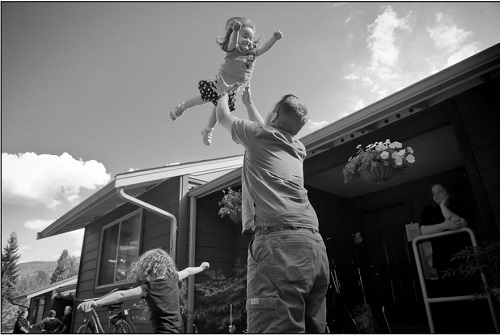 Dan Lamont: Family Homelessness in Washington
In 2010 photojournalist Dan Lamont chronicled the daily lives of Washington state families experiencing homelessness. In these striking photos, we meet a young mother of two who fled domestic violence; an Iraq War-era veteran raising his toddler daughter on his own; and four other memorable families whose courage and fortitude shine through in difficult times. Lamont, an internationally published and award-winning photojournalist, created this exhibit through the 2010 Seattle University Journalism Fellowships on Family Homelessness. Find out why these photos have been a powerful force for advocacy with lawmakers, faith community members, media and others shaping public policy.

Finding Our Way: Puget Sound Stories About Family Homelessness (StoryCorps)
The StoryCorps model – an intimate recorded conversation between two people who know each other well – has won worldwide acclaim. StoryCorps is an independent nonprofit organization dedicated to recording, preserving and sharing the stories of people from all backgrounds and beliefs. More than 50,000 people have recorded their stories, which are archived at the U.S. Library of Congress. A select few air weekly on National Public Radio in the United States. In 2014 StoryCorps partnered with Seattle University for Finding Our Way: Puget Sound Stories About Family Homelessness, to collect stories from local families. Listen to some of the most beloved stories.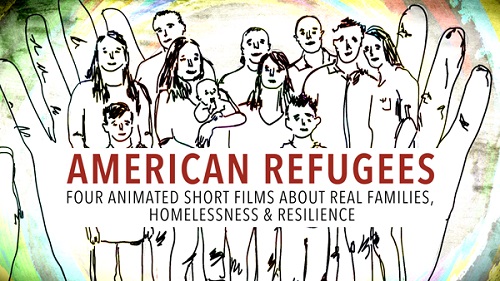 American Refugees: Animated Short Films
A child recounts her family's hard times. A couple ponders buying a foreclosed home. Families describe shelter living. A teen raps about homelessness. These stories come to life in four animated short films about real families, homelessness and resilience, American Refugees. Through the Seattle University Film & Family Homelessness Project, four teams of local filmmakers created the films, each about four minutes long. The films debuted at the Seattle International Film Festival in May 2014 and have been screened locally and nationally, as well as viewed hundreds of thousands of times via YouTube. Come watch and choose your favorite.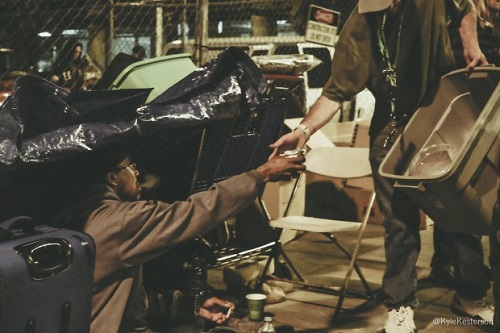 Kyle Kesterson: Search and Rescue
Twice a day, the Union Gospel Mission, a faith-based homeless services organization, deploys teams of volunteers throughout Seattle to provide assistance to homeless individuals and families. Known as Search and Rescue, the nighttime contingent of that program distributes food, drinks, clothes, shoes, socks, blankets and other personal grooming products to those living on the margins. Kyle Kesterson, the founder and CEO of Freak'n Genius and himself formerly homeless, is one of those volunteers. Here, he documents a night on the street.
FAQs
Are there ID requirements or an age limit to enter the event?
No. This event is all ages.
Where can I contact the organiser with any questions?
If you have any questions, please email events@street-papers.org
Do I have to bring my printed ticket to the event?
Please bring your ticket with you, either printed out or on your phone. These will be checked on the door.
Organizer of Portraits of Homelessness: multi-media exhibition and networking event
INSP supports and develops 110 street papers in 35 countries, like the UK's The Big Issue. 
Street papers are independent newspapers and magazines operating on a social enterprise and self-help model to reduce homelessness and unemployment. Street paper vendors buy copies of their local street paper and become micro entrepreneurs, selling their product on the streets. Street papers also provide vendors with access to social support and training.
Since INSP was established in 1994, almost 300,000 vendors around the world have changed their lives through selling street papers. INSP street papers are also an important independent media resource, with a combined global readership of over 5.8 million (per edition).
All profits from INSP events go towards supporting street papers.