Portsmouth's Creative Industries - Creating the Future
This informative and future-focused panel will bring together representatives from across the city's Creative Industries.
About this event
This informative and future-focused panel will bring together representatives from across the city's Creative Industries to explore collaboration opportunities, future developments, and their pivotal role in enabling our Covid recovery.
This panel is jointly presented by Portsmouth Creates, and the University of Portsmouth's Centre for Creative and Immersive eXtended Reality and will feature a diverse range of speakers from organisations who are committed to supporting and enabling Creative Industries. Collaboration is key to our joint recovery from Covid-19, and strategies to enable this will be discussed, alongside a discussion of upcoming opportunities and next steps.
About Portsmouth Creates: https://www.portsmouthcreates.co.uk/about-us/
Portsmouth Creates, founded in November 2019 with investment from Portsmouth City Council, Victorious Festival, University of Portsmouth, Arts Council England and local businesses, is a catalyst organisation, established to facilitate change, growth, improvement and to raise the aspirations and ownership of culture within the city. We believe that culture is a right, not a privilege, and that everyone deserves access to the benefits that cultural engagement brings.
By working in strategic partnerships and by fostering collaborations, we champion inclusivity and strive to improve access to arts and culture so that everyone within the city, regardless of background, can engage with what the city has to offer, from school children who have low levels of literacy and who may never have visited the beach, through the older generations, isolated during the Covid-19 pandemic.
Our vision is to pioneer a cultural-led regeneration, raising the bar and collaborating with our neighbours in the Solent, enabling Portsmouth to become revered as a city of creativity and culture.
Culture is linked to 42% of inbound-tourism related expenditure and with over 550 companies working across the Creative Industries in Portsmouth and a visitor economy worth £600m per annum, supporting 13,000 jobs, culture is integral to the lifeblood of the city.
About CCIXR: https://www.port.ac.uk/ccixr
The Centre for Creative and Immersive Extended Reality (CCIXR) is the UK's first integrated facility to support innovation in the creative and digital technologies of virtual, augmented and extended realities.
Funded by £5.2 million investment – including £3.6 million from Solent LEP – CCIXR will deliver immersive and creative extended reality (XR) facilities which enable, support and grow the significant Digital Creative Industries sector. Through innovation and the application of XR technology, CCIXR will support economic growth and enhanced productivity in a variety of sectors locally, nationally and globally.
Building on the University's recognised expertise and excellence in digital innovation and the application of emerging technologies to different markets, CCIXR will provide a specialist focus for innovation for a range of industries, consolidating and enhancing the strength of the creative, digital and cultural sectors in the Solent region.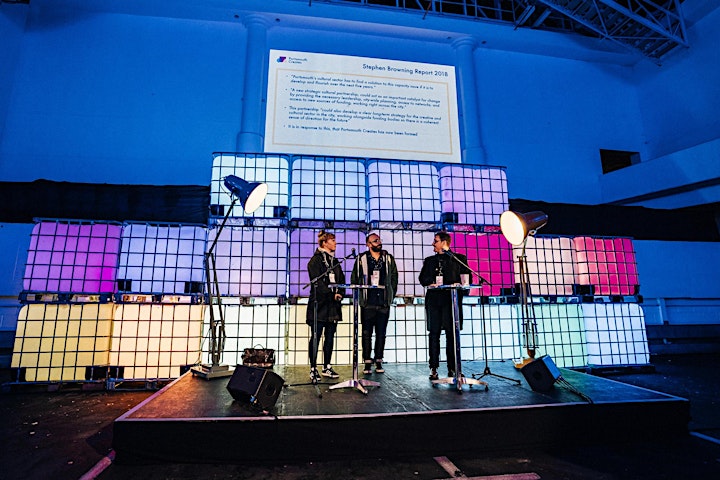 Organiser of Portsmouth's Creative Industries - Creating the Future