TRANSFORM TO BLISS RETREATS ~ PORTUGAL 2021
About this event
YOU ARE INVITED TO JOIN US IN BEAUTIFUL PORTUGAL!
​We are happy to present our latest offering, The Transform to Bliss Portugal Retreats 2021.
We feel so blessed to be offering retreats in the expansive space of the Algarve, Portugal & embrace the opportunity as the world & travel becomes more possible.
Our Transform to Bliss Wellness/Yoga Space is surrounded by lush nature gardens & a few minutes walk from the ocean.
Journey with the Transform to Bliss Team & enjoy..
Transformational Yoga & Meditation, Releasing Dance/Ceremony/Moon Connections, Ocean wild swims, Yoga Nidra, Kirtan, Ayurveda, Reiki, Massage & lots of free time to explore this beautiful area!
Join Joanne Merlini ~ Grand Master Transformational Yoga & Meditation Teacher, Energy worker & Ceremony space holder & her amazing partner Marco Merlini ~ Ayurvedic Practioner & Vegetarian Retreat Chef
We will hold the space for you, supported by others, that may include Masseurs, Cacao facilitators, Kirtan space holders & energy workers. 
In a wonderful location surrounded by beautiful gardens, views of the ocean & within walking distance of villages, our Retreats will facilitate a deepening of the connection to the authentic you & encourage a state of joy, calm & bliss. 
​We are offering the opportunity of a Transformational Retreat in various dates in September 2021
Your retreat can be 3, 5 or 7 days & have the flexibility to feel personal to you. 
(Prices vary dependent on the length of retreat & whether you take a solo retreat or share ~ see more below)
The location of our retreat space means you have the opportunity to be as anonymous as you feel, attend as many offerings as you feel & really connect to the nature surrounding you.
The openness of the retreat, in location, in dates, in length, encourages you to co-create a retreat that is perfect for you.
Let go & immerse yourself in a Transform to Bliss Retreat, enjoy yummy food & return home recharged, energised & relaxed for months to come.
Transformed to Bliss!
On our retreats we'll go deeper into Transformational Yoga, to the connection to you, releasing in a fun supportive way & explore ways to connect with our dormant energy.
To allow us to be our best selves, to feel calm & present, to stop the chattering mind, release blockages in our bodies, emotions, minds & hearts, connect with our hearts & inner guidance & to hopefully touch that place of bliss.
Encouraged by a beautiful setting, fueled by yummy varied vegetarian food & supported every step of the way.
​~ We have seen real magic happen on retreats since we started our offerings in 2018.
Big releases, realisations, life changes (incl a lady in her 70's moving to France to renovate a farmhouse, job changes to step into self employment & shifts in priorities) everything is possible when you take some time to go inwards!
In the time you are with us, we offer..
A private cottage/apartment within lovely gardens which enjoy air-con/en suite/ kettle/ terrace or balcony (solo, twin or double available)
Daily Yoga/ Meditations/ Pranayama in a dedicated studio space
Yummy food ~ Breakfast, Lunch, Dinner (other than when eaten out)
Access to 3 swimming pools & a tennis court
Optional Sauna time
Minutes from the ocean, which gives access to beautiful clifftop walks, sandy beaches & blue ocean swims. Walks to small villages along the cliffs where you can get coffee/drinks/etc, a short 10 min drive from Lagos.
Options of Releasing dancing, Meditations, Guided Ceremonies (think Feminine Embodiment/Moon/Releasing), Early morning sea view deck sun salutations, walking, options of Ayurvedic consultations to give guided advice on lifestyle & nutrition, Reiki healing & Massage.
Easy journey from the airport (Faro suggested)
Flexibility both of your retreat & your dates.

There will be plenty of time for cleansing Ocean swims & even the opportunity of Surfing, Kayaking & Paddle Boarding if you wish.
You may be joining others, it may be you're retreating solo.
This is the perfect option for those that love retreating but would prefer a more anonymous experience (this retreat is not in a shared villa, other retreaters will be within the same grounds, as may others on holiday). Be as social as you wish.
~ Style of Yoga ~
On our retreat we will be exploring & going deeper with Transformational Yoga.
A 3 level technique (stemming from Integral Yoga) that encourages a release of stuck energy within the body, mind & emotions, invites us to access our dormant energy & then allows us to connect with our best selves, hopefully touching that feeling of bliss!
It integrates the mind, body & spirit with the use of Classical Asana's & Hatha Yoga, Pranayama, Meditation & Mantra.
Joanne first connected with this style in Athens after exploring Hatha Yoga & Kundalini Yoga . Having made a connection with both, but feeling like they needn't be separate disciplines, Joanne found this beautiful style that melts Hatha, Kundalini, Raja & Prana Yoga together & recognised this was what was missing from her practice.
Going on to further training in Tamil Nadu, India, Joanne met her teacher Swami Vidyanand who guided her in first Master training & then Grand Master to bring this beautiful practice back to Europe & onto her 'Transform To Bliss' Retreats.
Joanne has since trained under the foot hill of Arunacahala & connected deeply to Sri Ramana Maharshi & his teachings whilst staying around his ashram. Ramana's teachings touch most elements of Joanne's offerings.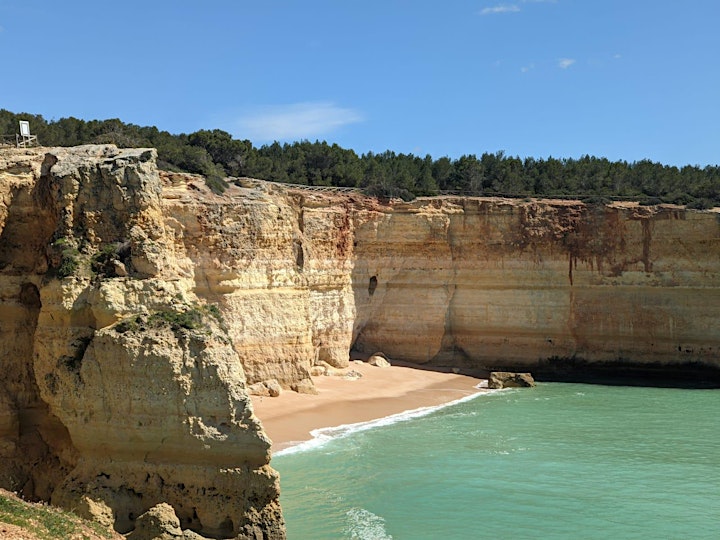 ~ Our Location ~
The location of our Portuguese retreat has views of the cliffs & down to the accessible blue ocean.
We have our own inside large & light 'Transform to Bliss' Studio set in beautiful gardens for some practices, the option of a Yoga Shala with sea views & various places to experience our teachings, including perched on the cliffs, over the ocean or on the beach! We have a treatment room & even a Sauna!
We are within walking distance of the fisherman villages of Luz & Burgau, in the beautiful Algarve area & within 1 hr of Faro airport.
There are stunning walking trails from villages to villages, the choice of some amazing secluded beaches, sandy beaches & so much nature & beauty it will take your breath away!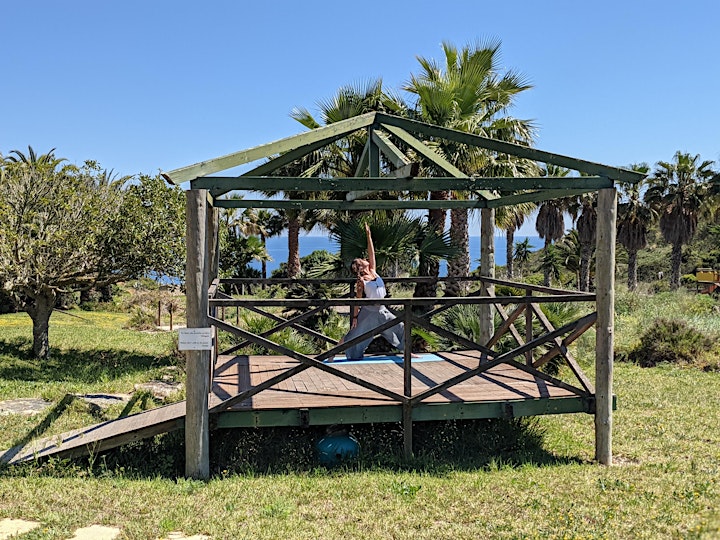 ​~ Our suggested schedule ~
8-8:30am Sun Salutations on the Yoga Deck (2 per week)
8:45-10am Yoga in the studio, on the beach or Meditation on the cliffs
10am Breakfast
11-1pm A walk, a talk, Nature Meditation or Free Time
1pm Lunch
2-5pm Beach time, Nature walk, Ayurvedic Consultation or treatment
5-6:15pm Early Eve Yoga/ Chakra Sequence/awareness
7pm Dinner
9-9:30pm Evening Meditation, Releasing Dance, Yoga Nidra, Kirtan, Moon Connection, Guided Ceremony
We can adapt to what you would like to receive from your retreat, everything is optional & all timings are flexible.
We will explore various other elements of Transformational Yoga
Walking meditations, trataka, Early energising Suriya Class, Ayurveda awareness, Breath work, Chakra Balancing & Awareness. 
There will be the opportunity for Yoga or Ayurvedic talks & deeper connections if you feel called. 
We may also throw in the occasional vipassana (inward observation), releasing dance, Conscious Journaling, Universal card readings, essential oil pranayama, beach yoga ~ in the words of my Swami & creator of Transformational Yoga ~ "Everything is possible!"
All Classes are optional.
Do as little or as much as feels right.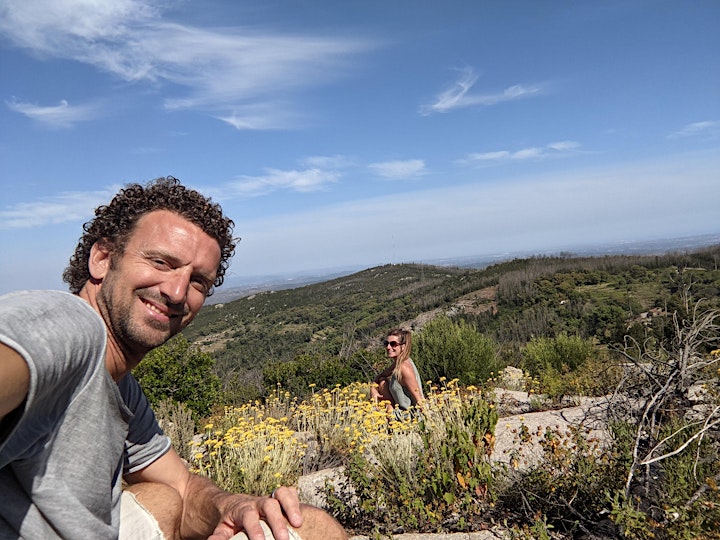 ~ Food ~
The food is healthy, delicious & home cooked by Marco.
Being half Italian, good food is in his genes. Marco has also spent time on Ayurvedic Retreats in Sri Lanka & brings this knowledge to his cooking & has spent 2020-2021 training to become an Ayurvedic Practioner.
He will be bringing the offering of Ayurvedic consultations to our retreat this year.
His food is a high light for many on our retreats!Read this review -
''Great food! So tasty, can Marco send a retreat recipe book?'
This is Marco, my soul partner, fellow Yogi, Ayurvedic practioner, great cook & all round cheerleader of our retreat!
When possible Marco will use fresh, local produce & meals will be healthy & varied.
We offer a balanced vegetarian retreat (although you are free to eat as you wish outside of our retreat). All diets & any allergies can be catered for, please ask.
Expect Italian evenings and Indian nights, healthy lunches & nourishing breakfasts.
Self-service breakfast, a served lunch & a yummy well earned evening dinner will be served to fit around our classes & tea will be available in your room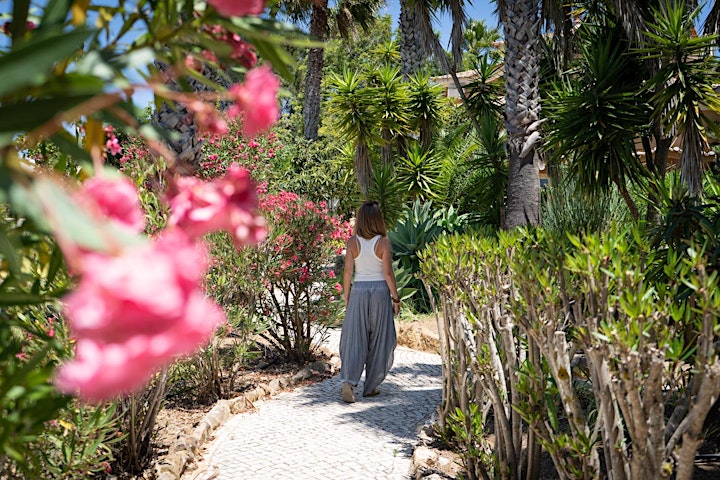 The Room Options, The Investment & How Do I Book? -
There are various date options on our wonderful open retreats
(This includes accommodation, all yoga & meditations, breakfast, lunch & dinner - except when eaten out, fruit & unlimited tea)
Exchange ~ Based on Length/Date/Occupancy​
SEPT
12th -15th (3 nights)
12th-17th (5 nights)
19th-22nd (3 nights)
19th - 24th (5 nights)
​3 Nights
Solo £405
Shared £325
5 Nights
Solo £650
Shared £495
​
Additional & Options..
£50 Airport Transfer Each way from Faro airport)
£35 1-2-1 Ayurvedic Consultation
£35 Reiki Treatment
£30 Universal Card Reading
Massages possible, please enquire.
​
£250 deposit secures your space.
Book in Confidence
COVID_19 ~ Should we feel the need or be forced to cancel the retreat, your payment will either be transferred to another date, to 2022 or be completely refunded.
Should you need to cancel the retreat due to flight restrictions, testing, quarantine ~ we can offer a full refund up to 14 days before your arrival date. 
Please also note, a visa to travel to Portugal may be required, as may tests. These will be your responsibility, although of course we will help in any way we can & have connections with a test centre in Luz (5 mins drive).
Please read our terms & conditions prior to booking. ​
​Payment by bacs transfer or Paypal
BACS
Deposit by Bank Transfer to -
Joanne Merlini
Sort Code - 40 40 22
Account Number - 11417290
Or Book through E​ventbrite & be guided through Paypal
​
Payment can be made in 3 installments 
Please talk to us is this is difficult - we are very open & flexible 
Please also know we have your best interests at heart & will be monitoring the situation closely going forward.
​This is an open retreat, so others may join your class or you may enjoy a private class.
We aim to hold space for you, but there may be occasions where your class/catering is held by another of our team (you will always be notified & we will only work with the teachers/facilitators we personally know & are very happy to cover us)​
​
​Need more convincing to treat yourself?
Read some of what the 2018 & 2019 Retreaters said at the end of their beautiful Retreats -
'So much more than a Yoga Retreat. Everything was so carefully thought out from
adventure to meditation - A joy!' 
'100+ - A beautiful retreat, very relaxing. Leaving feeling refreshed.
Great new friends made & enjoyed many new experiences.
Thank you - life changing in fact'
​
To see more of previous years retreats, pop over to the 'Past Retreats' page on our website.
​​​
​
Would you love to join us for some 'You time'?
Click the button below to reserve your space or ask any questions.
​
Read more about us on our social media links..
Facebook - joannemerliniyoga/ Transformtoblisswellness
Instagram - transformtoblissyoga​​/ transformtoblisswellness
We look forward to welcoming you in paradise!
Much love & Namaste
Jo x