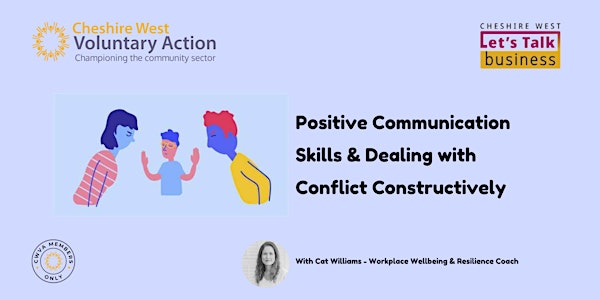 Positive Communication Skills and Dealing with Conflict Constructively
Location
The bluecoat building
Upper Northgate Street
Chester
CH1 4EF
United Kingdom
A session to focus on positive communication skills and dealing with conflict constructively.
About this event
Cat's "F.I.E.R.Y situations" session will:
highlight and discuss the main causes of stress or conflict and share a step by step way for understanding work-place or personal challenging situations.
provide an opportunity to discuss a real or imagined 'Fiery situation' and plan an effective strategy to bring about positive change
Cat is a Rapid Transformational Therapist, Relationship therapist, Strengths Psychology coach, speaker and author specialising in resilience, mind-set, mental health, communication and relationships.
Cat's link tree https://linktr.ee/cathelpingreachpotential for her free online webinar & download, Minimise Stress & Maximise Resilience self-led programme, book, podcast episodes, TEDx talk, website and social media links.
"Release your past, rise to your future"
Website : www.cat-williams.com
Email : cat@cat-williams.com