Event Information
Location
Central Glasgow
Glasgow
United Kingdom
Description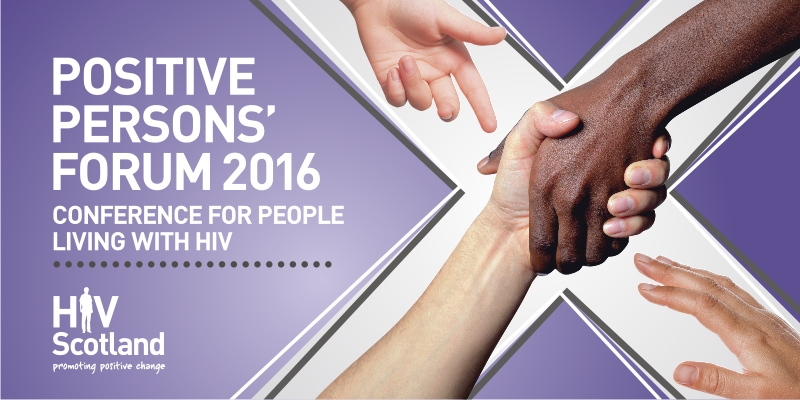 The Positive Persons' Forum is an annual conference in Scotland.
It's a one-day event for people living with HIV, providing a platform for people to connect with each other, hear the latest on topics relevant to them, and to identify shared concerns, issues and priorities for change.
This year's programme will include:
A conference address by Maureen Watt, MSP, Minister for Public Health

An update on treatment and cure developments

Project 100 and Peer Support across Scotland

Update on the Stigma Index Research for Scotland

What people living with HIV want to see from the new Scottish Parliament post the Scottish Elections in May 2016
Why you need to be there:
The Forum brings people with HIV in Scotland together to set the agenda for change in Scotland on HIV issues and to hear from experts about issues ranging from rights to the search for a cure. The aim is for those attending to meet and inspire one another, and to unite the voice of people living with HIV in Scotland so it's heard right across the country by decision makers and service providers.
It's a free event for everyone living with HIV. Do come along and listen, share your experiences and views, and help identify what must change in Scotland to make sure the needs of people living with HIV are met.
Each year a Positive Persons' Manifesto is published which captures the thoughts, dicsussions and calls for change from those people attending the conference. You can see this year's Manifesto here.
Details:
The 2016 forum will take place on 13th February in central Glasgow (we'll give you details when you register), and will run from 10.30am - 4.30pm. Registration is open from 10:00.
This is the only conference bringing people living with HIV together in Scotland. It is open to anyone living with HIV. We ask taht family members, partners, carers, support staff, etc, do not attend.
The event is free but registration is essential, so book now! Support for travel and childcare costs is available.
We have organised for the Minister For Public Health to come and talk to the forum. If you have any questions you would like to put to Mrs Maureen Watt, MSP, then please contact info@hivscotland.com with your question.
Date and Time
Location
Central Glasgow
Glasgow
United Kingdom