Post-Brexit Rights for the LGBTQ+ community and PLWHIV: What you need to know
About this event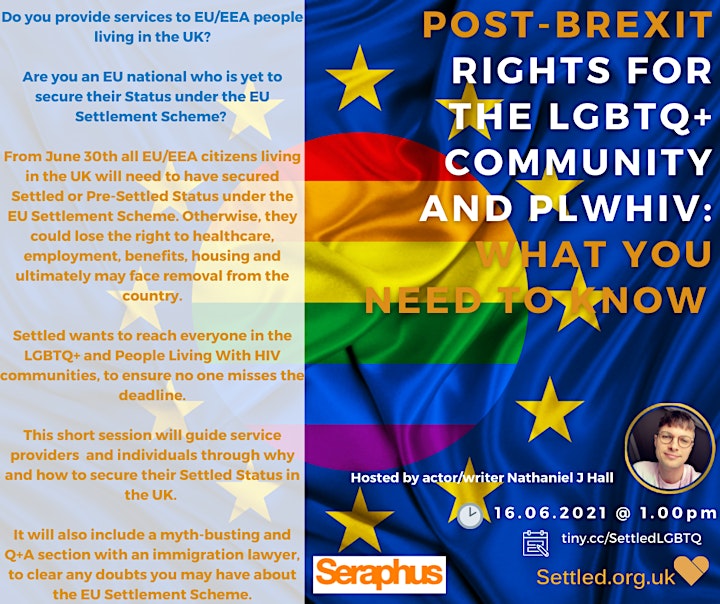 Do you provide services to EU/EEA people living in the UK?
Are you an EU national who is yet to secure their Status under the EU Settlement Scheme?
From June 30th all EU/EEA citizens living in the UK will need to have secured Settled or Pre-Settled Status under the EU Settlement Scheme. Otherwise, they could lose the right to healthcare, employment, benefits, housing and ultimately may face removal from the country.
Settled wants to reach everyone in the LGBTQ+ and People Living With HIV communities, to ensure no one misses the deadline.
This short session will guide service providers and individuals through why and how to secure their Settled Status in the UK.
It will also include a myth-busting and Q+A section with an immigration lawyer, to clear any doubts you may have about the EU Settlement Scheme.
Organiser of Post-Brexit Rights for the LGBTQ+ community and PLWHIV: What you need to kn
Settled provides impartial, non-political and non-partisan information on the EU Settlement Scheme, the Settled Status and pre-Settled Status applications.
All our legal advisers, Settled Status Angels, are OISC registered and we provide legally verified and reviewed information material.
Settled Status Angels operate on a non for profit basis to provide advice and services on the EU Settlement Scheme. Settled Status Angels are OISC Level 1 EU Settlement Scheme registered and can offer advice and services in this area only.
Settled Status Angels can make applications for EU/EEA and Swiss Citizens and their family members under the EU Settlement Scheme, where such applications rely on the straightforward presentation of facts to meet the criteria set out by the Home Office under the scheme.