Help keep everyone safe when you come back to Glasgow
About this event
The University together with The Royal Conservatoire of Scotland, Glasgow Kelvin College, City of Glasgow College and Glasgow Clyde College is providing free COVID-19 tests for asymptomatic students on our Glasgow campus to enable our students to return to the city safely.
If you are planning to travel back to Glasgow in January we strongly recommend you get yourself tested to see if you are COVID-free. Even if you DON'T have symptoms (which means you're what's called 'asymptomatic') you might still be carrying the virus and will potentially infect others. By getting tested, you will prevent the virus from spreading and help protect your family and friends.What you need to know:
You need to have two tests, with the 2nd test being three days after your 1st one.
Using the Eventbrite booking system you must book the two tests at the same time.
A campus map showing the STUDENT TEST SITE is below. Please do not go into the NHS COVID TEST CENTRE opposite (The ARC). This is for members of the public displaying symptoms of COVID
When you arrive on site you will be required to register with NHS Test and Protect online so you will need to use your mobile phone or a device capable of scanning a QR code. All the information you need will be provided when you arrive on site.
Please also wear a mask or face covering when you come to the test site.
Please bring your student ID or another form or photo ID with you.
If you have any questions about the process, or need to cancel your appointment, please contact studenttestsite@gcu.ac.uk
If you're new to Eventbrite, and want a bit of help booking your slots, you might want to watch this video walk-through of how to sign up.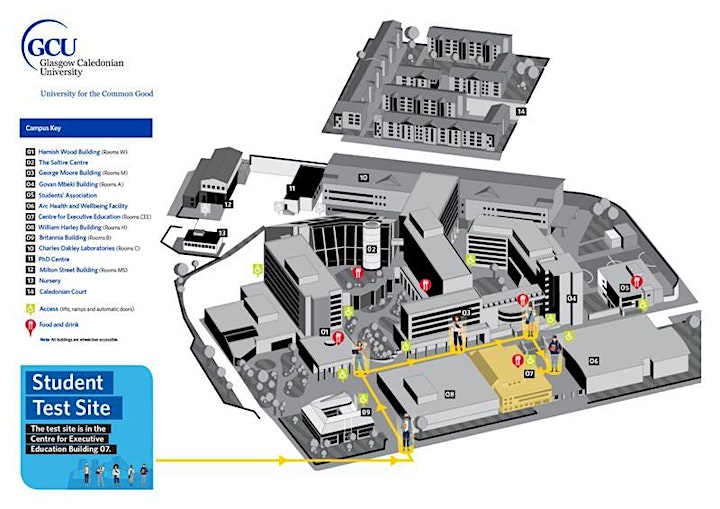 View a copy of our privacy notice here
Organiser of POST CHRISTMAS - Student Test Site - Book your appointments here