Description
Are the days of sending picture postcards over?

Since 2016, Tom Jackson's Twitter feed, 'Postcard From The Past' - @PastPostcard – has been obligatory reading, receiving more than nine million impressions a month. For anyone with an interest in the details of how we used to live, or in eavesdropping on other people's conversations, these postcard messages on faded views are funny, illuminating and addictive. In a talk illustrated with suspiciously blue skies, enormous Good Luck cats and a squadron of one-eared donkeys, Tom Jackson will draw on his alarmingly huge collection of everyday postcards to present the oddest, funniest, most touching postcard messages. Beyond the problem with Auntie Beryl's legs, where Dad left his sunhat or that time Kevin fell in the swimming pool, we'll discover hidden messages, cries for help, threats and mysteries and consider whether or not it's too late to revive the art of postcard writing.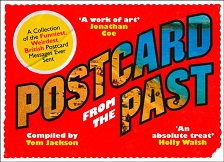 Join Tom at Heffers for an entertaining, often moving, evening of messages that were sent long ago but which resonate with us still. Tom's new book Postcard From The Past will be available at the event and he will be signing copies purchased from Heffers on the night.
Tickets for the event are priced at £5 in advance or £6 on the door, and can be purchased through this page, by calling 01223 463200 or in person at Heffers bookshop. Please note that tickets are transferable but non-refundable.
Like this? See a full list of our forthcoming events by clicking here.