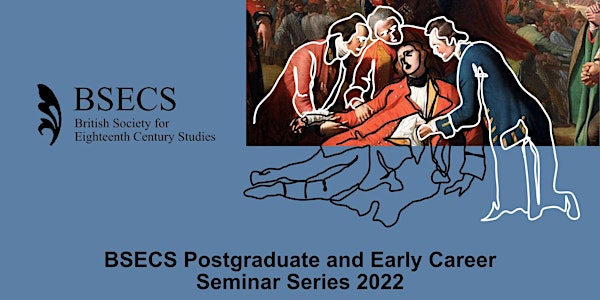 Postgraduate & Early-Career Seminar Series 2022: August
August BSECS PG & ECR Seminar - Fahime Serhattı and Roslyn Irving
About this event
The last Thursday of each month BSECS hosts a seminar specially aimed at postgraduate and early-career researchers. Each seminar consists of two papers presented via Zoom, followed by a discussion.
Fahime Serhattı, Middle East Technical University, 'Why all the Violence? Daniel Defoe's Crusoe Trilogy and The Fortunate Mistress'
Daniel Defoe's novels have long been studied as eighteenth-century novels of morality. According to traditional studies, they are about sins, repentance, and deliverance. Some scholars even suggested different narrative patterns based on Robinson Crusoe, such as 'necessity-crime-restitution' (Novak 1963), 'sin-conversion-mercy' (Starr 1965), and 'disobedience-punishment-repentance-deliverance' (Hunter 1966). First, I argue it is necessary to include all three volumes (Robinson Crusoe, Farther Adventures, and Serious Reflections) to understand Crusoe's sins better. Second, neither the Crusoe Trilogy nor The Fortunate Mistress fits these patterns entirely because Crusoe's (disobedience and ingratitude) and Roxana's original sins (adultery and childcare displacement) actually lead to more transgressions (violence and murder).
This presentation employs Joshua Pederson's 'moral injury model,' a sub-section of literary trauma studies. In this model, defying personal moral codes can result in moral injury (feelings of shame and guilt) and its associated symptoms (anger, isolation, poor self treatment, and demoralization). Transgressors can work through their moral injury by living up to their moral values, asking others to change their judgments, hiding, or committing violence. This model explains how one transgression can lead to more transgressions, how transgressors use violence as a defense mechanism, and how they reclaim agency through violence. Thus, violence as one of the defense mechanisms for working through moral injury explains why the Crusoe Trilogy and The Fortunate Mistress end with their narrators committing more transgressions in the form of violence and murder rather than with their deliverance. This approach would help us have a deeper appreciation of these novels' morality and endings.
Roslyn Irving, University of Liverpool, 'Ann Radcliffe's Eighteenth-Century Engagement with Female Education through The Romance of the Forest'
'You have seen the venerable matron encircled with a race of lovely daughters, all different from one another, yet all marked with an air of mutual resemblance, and taking jointly after their honoured parent ...'
(Fordyce 1766, Vol. 2, p.183).
Education is a central theme in Ann Radcliffe's third novel, The Romance of the Forest (1791). Recent scholarly attention has prioritised allusions to Rousseauvian doctrines in the text and fruitfully uncovered how the author co-opted and challenged this popular, patriarchal philosophy (Wright 2013, Richardson 2004, Miles 1995, Chard 2009). However, this line of enquiry necessarily privileges analysis of the inexperienced heroine, Adeline and her future father-in-law and clergyman, Arnaud La Luc. It fundamentally overlooks matriarchal sub characters and the integral role of women in female education. Using contemporary texts, namely James Fordyce's Sermons and Hannah More's Essays for Young Ladies, as exemplars of Christian conduct literature, this paper will explore the complex exchange between generations of women in the novel. It will draw upon two matriarch-teacher figures, Madame La Motte and Madame La Luc, who articulate the challenges and pressures women faced in modelling sobriety, communicating identities, raising and disciplining daughters. The paper seeks to broaden discussions of education and eighteenth-century womanhood explored in Radcliffe's texts through materials the author herself was likely familiar with, as a middle-class woman, growing up in London and Bath from the mid to late-eighteenth century.