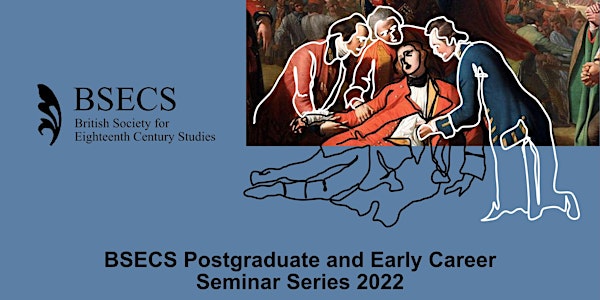 Postgraduate & Early-Career Seminar Series 2022: June
June BSECS PG & ECR Seminar - Samuel Dodson and Ellen Stokes
About this event
The last Thursday of each month BSECS hosts a seminar specially aimed at postgraduate and early-career researchers. Each seminar consists of two papers presented via Zoom, followed by a discussion.
Samuel Dodson, University of Leeds, '"Cressener, George Cressener": Diplomats as Spies During the Eighteenth Century'
On top of the political work that was undertaken by diplomats during the eighteenth century, during periods of war, they were similarly tasked with the development and maintenance of spy networks, and the communication of this intelligence back to their own government, as well as their allied armies on campaign. This paper will look at the actions of George Cressener, a man significantly understudied in history on the Seven Years War, but who was crucial to the war effort in Europe during this period. In his position as diplomat to the Free Imperial City of Cologne, he was perfectly placed behind enemy lines to develop a significant spy network that was the bane of Britain's enemies. This paper will look at how he collected this intelligence, such as the deployment of numerous agents, including a high-ranking official in the court of Versailles; then how he communicated this information, both through the use of the Imperial post system and Estafettes. We will look at the challenges that faced him during the war, such as when the French commandant of Cologne threw him out of that city, the careful development of friendships that yielded significant results, and the danger he was under when Cologne exploded into religious turmoil directed by the Catholic citizenry. Ultimately, this paper will identify how valuable diplomats were to the British war effort, in providing crucial intelligence that shaped the way the war was fought.
Ellen Stokes, University of Huddersfield, 'Europe's central Kapellmeister: Antonio Salieri and musical life in the eighteenth century'
As Director of the Italian Opera (1774-1792) and Imperial Kapellmeister (1788-1824) at the Viennese court, Antonio Salieri was one of the most influential figures of European musical life at the close of the eighteenth century. Following his arrival in 1766, Salieri's career developed entirely under the umbrella of the court, and his compositional oeuvre can be viewed as the result of zealous patronage and encouragement from a number of key historical figures.
This paper will explore Salieri's interactions with a number of figures across Europe and its cultural centres, and how these influenced and shaped the trajectory of his extensive career, from its beginning to end. The most important were Emperor Joseph II (who reigned 1765-1790), and Christoph Willibald Gluck (1714-1787), however there was an extensive network of connections within which Salieri operated that included fellow composers, librettists, emperors, and diplomatic figures. As a result, Salieri's musical output was both widespread and varied in its contents, and centred around 'phases' that were shaped by these external influences. My current PhD research is informed by the working hypotheses that Salieri's career worked within three such periods: instrumental, operatic, and revisionist.
The paper will explore the relationship between these 'phases' and the wider historical networks within which Salieri operated, in order to contextualise his oeuvre and comprehensively map out the compositional life of Europe's central Kapellmeister.