Postgraduate researchers will have the opportunity to present & promote their research to a general audience, and meet other scholars.
About this event
This year, we're hosting the Postgraduate Research Festival online. Join us for a celebration of postgraduate researchers and their work at the University of Birmingham.
Events take place on the 22nd & 23rd July, and are listed below. Individual registrations are needed for each event - just click on the link. Details of the events will be sent to you via email closer to the date.
Events are open to the whole university, however they are aimed at postgraduate researchers. All postgraduate researchers are encouraged to join the Research Poster Conference.
WELCOME ADDRESS & KEYNOTE SPEAKER
Join us for the introductory session of the Postgraduate Research Festival 2021, with our Dean of Postgraduates, Duncan Shepherd, opening the festival.
Following this, we are excited to host our keynote speaker - TBA soon!
The annual Research Poster Conference is the largest postgraduate researcher event at the University. The conference gives researchers the opportunity to produce a research poster for a general audience, promote their research and meet other researchers. This year, we confer online in a two-day event, giving postgraduate researchers the opportunity to showcase their posters and research to members of the public, postgraduate researchers and members of staff from across the University the opportunity.
If you're a postgraduate research at the University of Birmingham and want to sign up, click here!
An 80,000 word thesis would take 9 hours to present. Their time limit…3 minutes.
All members of staff and students (Undergraduate, Postgraduate and Research) are invited to join us for the Birmingham 3MT Final Viewing and live Prize giving.
Three Minute Thesis (3MT®) is a research communication competition developed by the University of Queensland, in which doctoral researchers have just three minutes to deliver an engaging presentation on their thesis topic, its originality and its significance.
The winning postgraduate researcher will go on to compete in the Vitae's national 3MT competition and the Universitas 21 competition.
You've seen the exciting work of postgraduate researchers throughout the Research Festival, but what research have our postgraduate taught students been working on?
Join us for the showcase of 'My PGT in 3', a competition developed by the University Graduate School to shine a spotlight on the innovative, unique and significant research being done by PGT students as part of their dissertations and special projects.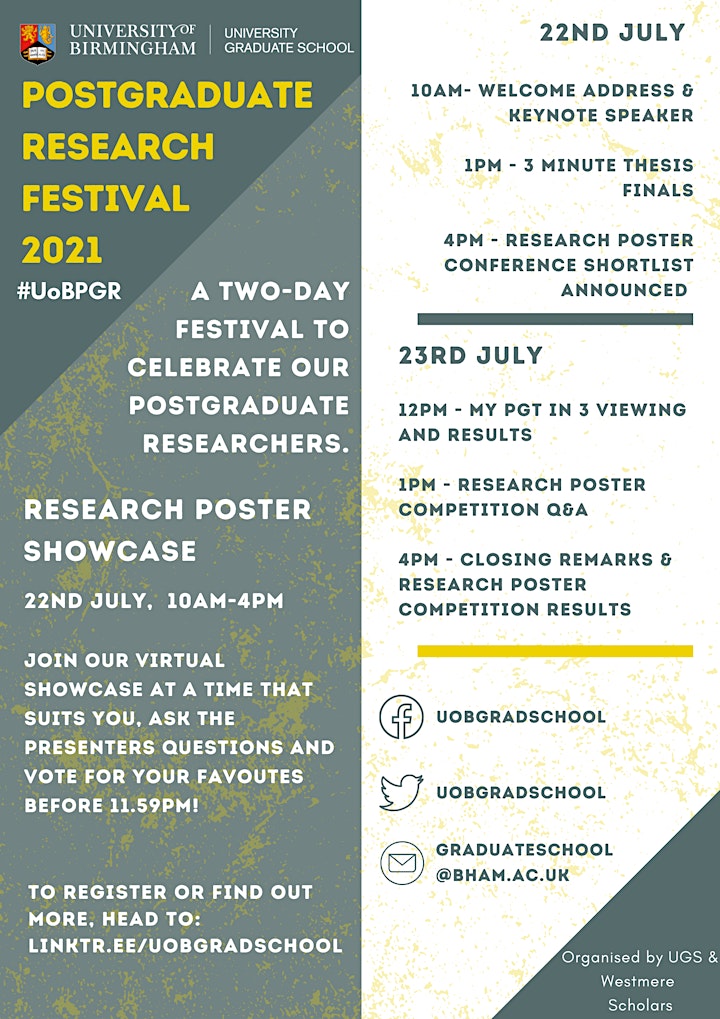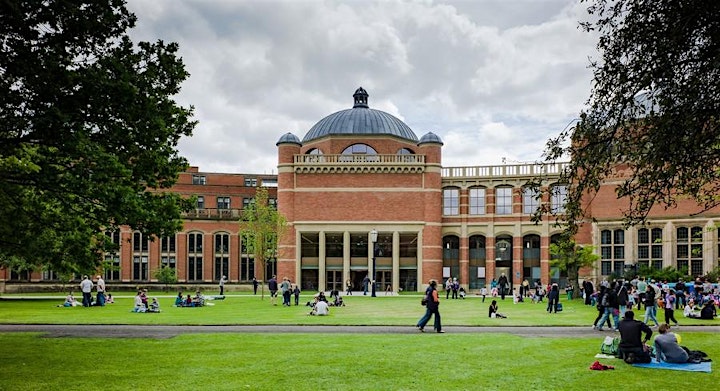 Organiser of Postgraduate Research Festival 2021