Postgraduate Training for Research at Cardiovascular-Engineering Interface
Description
Do you often find that your clinical collaborators have other priorities and needs? There are many different disciplines all working towards the same goal: understanding and improving cardiovascular medicine. Understanding the problem from another perspective is essential for ensuring the progress of research and professional relationships.The emphasis of this event is to give researchers information and training in aspects of cardiovascular medicine related to vascular disease, myocardial infarction, and heart failure from a new perspective.
This is a one day course suitable for GW4 students from multiple disciplines connected to cardiovascular health sciences, with a mixture of lectures, practical, and networking sessions, covering topics such as medical image analysis, cardiovascular pathologies, and clinical diagnostic practice.
Sessions will include:
•
Heart Attack: Life on the Hospital Floor –
Understand how cardiologists diagnose cardiovascular diseases in clinical practice and what advances they are looking for.
•
Cardiovascular Diseases In-Depth
– Learn the mechanisms of cardiac injury during and after myocardial infarction from world-leading cardiac surgeon and academic, Prof.
Raimondo
Ascione
.
•
Processing Medical Imaging Data
– Get to grips with processing cardiac MRI data with this hands-on tutorial run by Simpleware. Existing users will be able to receive personalised advice and assistance for advanced problems.
•
Networking Sessions
– Share problems and solutions in these rapid-fire interdisciplinary discussions.
Places are limited to 8 students from each university. If tickets are no longer available for your university and you wish to come, please contact the event organiser directly, and a waiting list will be created.
Lunch will be provided. If you have any specific dietary requirements, please let the organisers know well in advance.
Travel from Bristol, Cardiff, and Exeter (both campuses) will be reimbursed up to the amounts shown in the table below. Students travelling from the Exeter Cornwall Campus will also be reimbursed for a one night stay (please contact organiser for more information).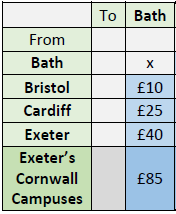 If you require any further information or for questions please contact Doyin Mansell at o.s.odunmbaku-mansell@bath.ac.uk
This event is funded by the GW4 Alliance.