Postponed- please see below. Supercharged SEO, Rocket powered Facebook, Google+ for Gods and the Perfect Social Media Flowchart to drive real business

Thursday, 27 April 2017 from 10:00 to 16:00 (BST)
Event Details
I am extremely sorry to have to let you know that I am going to have to postpone the course until further notice as I am in hospital overcoming the removal of a spinal tumour and learning to walk again in the aftermath. 
If you'd like to read the successful story so far it's here. 
Learning to Walk at 51
https://learningtowalkat51.wordpress.com/
Sorry to leave it so late. 
Kind regards 
Johnny
Supercharged SEO, Rocket Powered Facebook, Google Plus for Gods and the Perfect Social Media Flowchart to drive real business
This 100% practical class will take you from Novice or intermediate to  Social Media and SEO Superstar in just one day.
if you have any doubts about whether Social Media and SEO will be useful to your business, don't. There is no more effective set of marketing tool out there - And I can teach you all the secrets in just one day. We've had hairdressers, engineers, designers, PR agencies, visitor attractions, bars, restaurants and even a pet hotel on the course previously. This will be the seventh time the programme has run and the material is new and fully updated to be bang up to date. 
It is a very full on day and packed with real practical knowledge. No theory, just step by step guides to deliver success yourself, without the need for external SEO or social media agencies. I will show you how to make your SEO and social media massively more effective. Often from zero engagement to driving real paying customers overnight.
There will be tea and coffee breaks and a lovely lunch as part of the deal and with feedback from previous participants, the day has become more and more focused on success.
We will cover the following:
Creating differences (It's only worth SEO'ing anything when you know what your point of differences are!)
Understanding your customers. How to find out who they are and creating a profile you can use to market to them
Line by line SEO and how to do it yourself, with literally hundreds of examples of what you can do today, yourself.
Social channels - why images are critical along with proof in both B2B and Consumer businesses
Content marketing over content creation
Inside Facebook and all of its

 useful promotional tools - How to use it to drive genuine business

Why you need Google+ and how to make it work for you
Using LinkedIn to build a business following
A genuine image strategy that works across all platforms
Then leading onto
Bloggers and blogger outreach - long tail link building
Email marketing, the tips, tricks and how to make it work in today's business environment.
And finally
The Perfect Social Media Flowchart 
This will show you what to do when and how much to do every month. 
This is a proven formula that works. Ignore what most people tell you, less can often be more and you can do all of this yourself.
And then
Wrap up and looking at your own issues
What you get for your money
A full day's coaching with every trick I have ever learnt from running the marketing and social media campaigns for many different businesses in many different markets over many years.
Your lunch, tea and coffee throughout the day and all the presentation materials to keep, to make note taking easier.
Who is Johnny Lyle FCIM?
I'm a founder director of Ukandoo Academy an incredibly fast growing start up Online Academy showing people around the world how to make money online and an independent marketing consultant.
Here's a few facts. 
I ran a brand consultancy for 22 years and won over 55 awards across Europe and the World. These included the DBA Gold for Design Effectiveness - One of only 12 awarded that year  - which included the opening ceremony for the Beijing Olympics. 
I've also won a Drum Grand Prix for New Business Launch of the Year for the launch of BeWILDerwood, here in Norfolk and continued to drive their marketing until the end of 2014.
I have one client who has just IPO'd for £8 Million and another about to go through for £32 million. I show businesses how to create value, whether for sale or to just build their businesses.
I am a Fellow of the Chartered Institute of Marketing, so my experience is backed up with real training and qualifications.
Over the last few years I have run the social media and marketing for a number of businesses.
Search Engine Optimisation (SEO)
One single search term has delivered the biggest order one local B2B firm has ever seen and will keep them busy for three years, despite needing to double their workforce.
With an extraordinarily dull B2B engineering business I grew traffic to the website 116% and dwell time on the site by 318%
With one online business, over eight years, my work helped grow it from £84k turnover to just over £8million
Social Marketing
With one client, we saw an extra 30,000 paying visitors which brought them from 130-160k visitors. This made them an additional £500,000 in revenue with a smaller marketing budget and no full time staff.
I grew the Facebook likes from 9,000 to just under 23,000 in only nine months and the visitor numbers grew too.
With another one I've grown their business by 260% over two years, with a tiny marketing budget. From £250k turnover and loss making to £900k and good profitability - And it's still growing.
And with one Facebook post, I delivered over £60,000 of revenue in seven days and I can prove it
Summary
It is NOT rocket science, it's logic, understanding your customers and testing what works and what doesn't. I can shortcut you to the rules of what does work and allow you to deliver incredibly effective marketing without the need to spend a fortune.
And I am prepared to show you how I did it and what you need to do yourself....
The day is normally limited to 20 people, so you will get chance to discuss your own specific issues too.
But don't just believe me, read the feedback
Feedback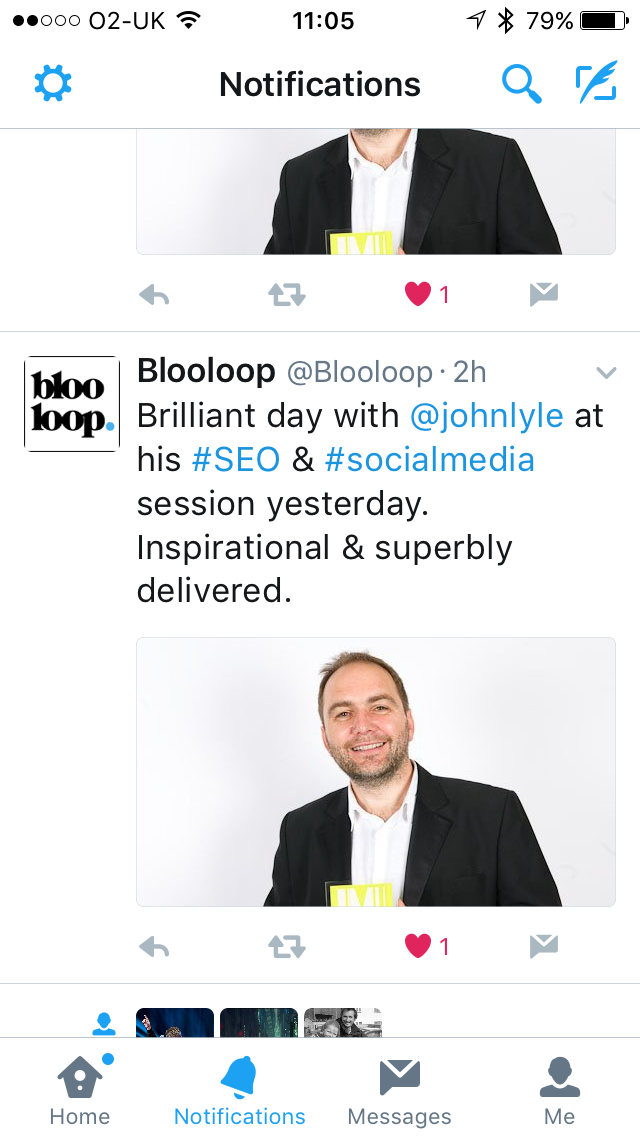 Do you have questions about Postponed- please see below. Supercharged SEO, Rocket powered Facebook, Google+ for Gods and the Perfect Social Media Flowchart to drive real business?
Contact Johnny Lyle Ltd
When & Where

No.8 Thorpe Road

NR1 1RY Norwich
United Kingdom


Thursday, 27 April 2017 from 10:00 to 16:00 (BST)
Add to my calendar
Organiser
Johnny Lyle is a Fellow of the Chartered Institute of Marketing and ran the design and digital agency Purple Circle for over 22 years. He holds a Design Business Association Gold Award for Design Effectiveness. He has a Drum Grand Prix Award for The Best Marketing Launch of the year with BeWILDerwood. He lectures at UCL (One of the top five universities in the world) in Business and Social Media and the training is totally practical. This is not about theory, it's about learning what has worked and what will work going forwards. He is also a founder director of The Ukandoo Online Academy and retained by different businesses of all shapes and sizes to advise and manage their social media and marketing.
Postponed- please see below. Supercharged SEO, Rocket powered Facebook, Google+ for Gods and the Perfect Social Media Flowchart to drive real business