POSTPONED: SARU Visiting Practitioner Series: Nisha Ramayya
POSTPONED: Nisha Ramayya (poet) The Sonic Art Research Unit Visiting Practitioner Series Monday 5th October 6pm-8pm GMT
About this event
POSTPONED
This event has been postponed but will be rescheduled at a later date (tbc)
Episode 1: Nisha Ramayya
In this session, Nisha Ramayya will introduce and read from her poetic sequence 'Now Let's Take a Listening Walk', part of the ongoing project Crossing the Rackety Bridge Between Tantric Poetics and Black Study. These poems began during a residency at John Hansard Gallery, at the exhibition Many voices, all of them loved, curated by poet and academic Sarah Hayden. The exhibition invited visitors to consider how 'our voices bring us into relation' by listening to embodied and disembodied voices in the art gallery; challenging the authority of the acousmatic; and dwelling in the unintelligibility of the marginalised, non-verbal, and other-than-human. In response, Ramayya's poetic sequence suggests a series of speculative soundwalks, through spirals, caves, divine ears, wormholes, whalesong, and vasculature. In an attempt to dismantle the hierarchy of visuality and attendant conceptualisations of knowledge in terms of seeing, light, and revelation, the poems experiment with what it means to learn through listening, to experience through obscurity, and to find sense through sound. Applying ideas about sound and language found in the Sanskrit-English dictionary and Tantric treatises on sonic metaphysics and mantras, Ramayya tries to write poems that listen and that make explicit their contexts and processes of listening. The playlist includes Fred Moten, Ellen Fullman, Moby Dick, Alice Coltrane, Star Trek, and more, as the poet explores relation, race and diaspora, the future, desire and disgust, aboutness, and what Dhanveer Singh Brar calls 'the racial policing of the experimental'.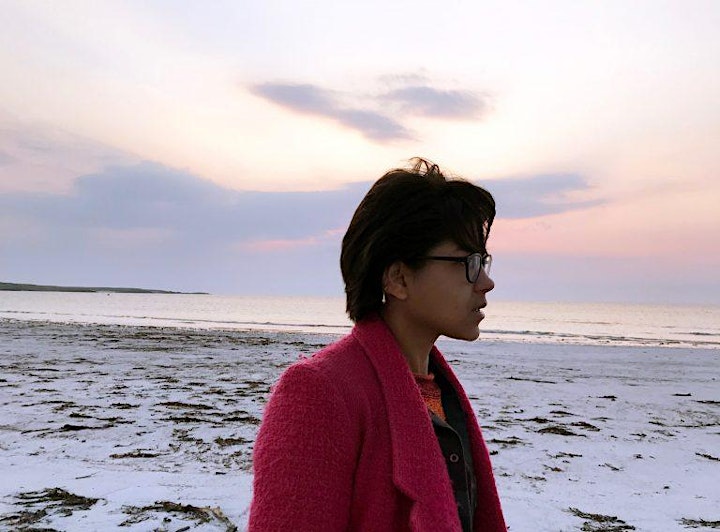 Nisha Ramayya grew up in Glasgow and is currently based in London. Her debut collection, States of the Body Produced by Love (2019) is published by Ignota Books. Other publications include 'Notes on a Means without End' (2020) in Poetry Review; In Me the Juncture (2019) published by Sad Press; Threads (2018), a critical-creative pamphlet co-authored with Sandeep Parmar and Bhanu Kapil, published by clinic. She is a member of the 'Race & Poetry & Poetics in the UK' research group and a lecturer in Creative Writing at Queen Mary University of London. In Spring 2020, Ramayya was Poet in Residence for the group exhibition Many voices, all of them loved at John Hansard Gallery, Southampton.
About SARU Visiting Practitioner Series
The visiting practitioner series is a bimonthly online seminar series interested in sonic/auditory culture and listening practice. The 2020/21 seminar series is co-curated by SARU members Matt Parker and Patrick Farmer.
Seminars are hosted via Zoom and free to attend for all. Please register in advance of attending to receive a link. Email mattparker@brookes.ac.uk to register and to make enquiries.
Sonic Art Research Unit
SARU provides a forum for dialogue and exploration between the fields of experimental composition and sound art. It is situated in the School of Arts at Oxford Brookes University between the fields of Music and Fine Art. Areas of interest include modes of listening, sound studies, language based composition, interdisciplinary practices, field recording, electroacoustics and auditory knowledge.SARU is bolstered by a community of practitioners and is home to audiograft, a festival of contemporary experimental music and sound art.
You can get involved in SARU through our Research Degree programme.
Organizer of POSTPONED: SARU Visiting Practitioner Series: Nisha Ramayya
Co-convened by Dr Matt Parker and Dr Patrick Farmer as part of the Sonic Art Research Unit, in the School of Arts at Oxford Brookes, The SARU Visiting Practitioner Series invites a selection of internationally acclaimed artists, writers, curators and researchers to host an online seminar in a format of their choosing. Attendance is free via Zoom but registration in advance is required.