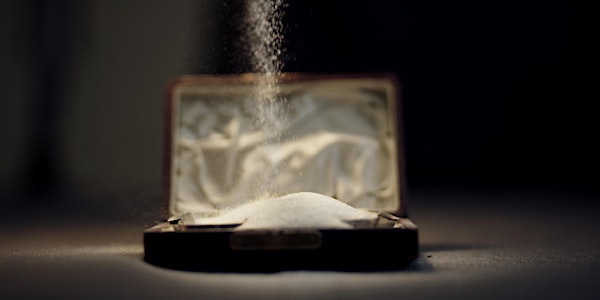 [POSTPONED] Sheila Ghelani and Sue Palmer – Common Salt (4 PM)
Location
Live Art Development Agency - LADA
The Garrett Centre
117A Mansford Street
London
E2 6LX
United Kingdom
A performance around a table – a 'show and tell' – exploring the colonial, geographical history of England and India.
About this event
UPDATE: LADA regrets to announce that this event has been postponed along with all events until the beginning of May, at the earliest. Our office and Study Room will also remain closed for the same period. Please check for updates and more info via our COVID-19 statement here. We are also gathering information and resources to support artists and arts workers hit by the COVID-19 pandemic.
---
This is for the 4pm Performance - if you wish to attend at 7pm, please CLICK HERE.
Common Salt is a performance around a table – a 'show and tell'. It explores the colonial, geographical history of England and India taking an expansive and emotional time-travel, from the first Enclosure Act and the start of the East India Company in the 1600s, to 21st century narratives of trade, race and culture.
Sue and Sheila activate insights into our shared past, laying out a 'home museum' of objects and stories; of the Great Hedge of India, of borders, and collections – all accompanied by original Shruti box laments.
Common Salt is a reckoning; the interconnectedness between history, empire, nature and memory is hidden in plain sight.
"Common Salt is an extraordinary ... intricately-woven story of history and power and race and...oh so much more. Can't recommend it highly enough - a unique and unforgettable experience. " Audience Member (2019)
Please note: Common Salt performances are at 4.00pm and 7.00pm.The running length is 70 minutes, with up to 30 minutes conversation following. There is a strictly limited capacity of 20 for each of these performances. As all of our events are free, please make sure you are definitely able to attend before booking.
Common Salt on tour this Spring:
Leicester Attenborough Arts Centre | Friday 6th March | 4.00pm & 7.00pm
Museum of London Docklands | Wednesday 18th March | 3.30pm & 6.45pm
Red Brick Building, Glastonbury | Thursday 26th March | 8.00pm
The Holburne Museum, Bath | Friday 27th March | 5.00pm & 7.30pm
Live Art Development Agency, London | Thursday 23rd April | 4.00pm & 7.00pm
Urban Room Folkestone | Saturday 25th April | 3.00pm & 7.00pm
The British Library, London | Monday 18th May
Booking information for the Common Salt tour here
Supported using public funds by the National Lottery through Arts Council England. Developed with support from b-side and One Final Act by Rajni Shah Projects.
Image credit: Salt Line. Common Salt, Paul Samuel White.
Please note: This event is free and capacity is not limited but reservation and early arrival are encouraged to ensure a seat.
"I take my responsibility to turn up when I've booked a free place maybe even more seriously than when I've paid for a ticket. Because with free tickets someone else is paying for that ticket, right? Maybe it's the organisers, maybe it's the artist, maybe it's a funding body, but I know that if I'm not paying then someone else is paying for me. So I want to be mindful of that gift, and make sure that it will really be passed on if I decide not to go." - Kate Stonestreet 2018
--
LADA's space is wheelchair accessible and has gender inclusive bathrooms. LADA welcomes parents to attend with children, and humans to attend with companion species.
We operate a policy of reasonable adjustment with regard to access requirements. Please get in touch with us to discuss this.