'Inequalities and LGBT+ Young People's Mental Health' - The SAYiT 2020 Noah Lomax Memorial Lecture with Keynote speaker - Richard Wilkinson
About this Event
'Inequalities and LGBT+ Young People's Mental Health'
Key Note Speaker - Richard Wilkinson
Co-founder of the Equality Trust which seeks to explain the benefits of a more equal society and campaigns for greater income equality. Co-author of 'The Spirit Level: Why More Equal Societies Almost Always Do Better' and 'The Inner Level', which explores the relationship between increasing levels of inequality and poorer mental health and well-being. Professor Emeritus of Social Epidemiology at the University of Nottingham.
Welcome by Abtisam Mohammed, Sheffield Councillor
Plus - 'What you can do to improve Young People's Mental Health' Voices of young people and Steve Slack, CEO, SAYiT
For all based in Sheffield and South Yorkshire working with young people i.e. school staff, youth workers, MAST workers, including Parents & Carers.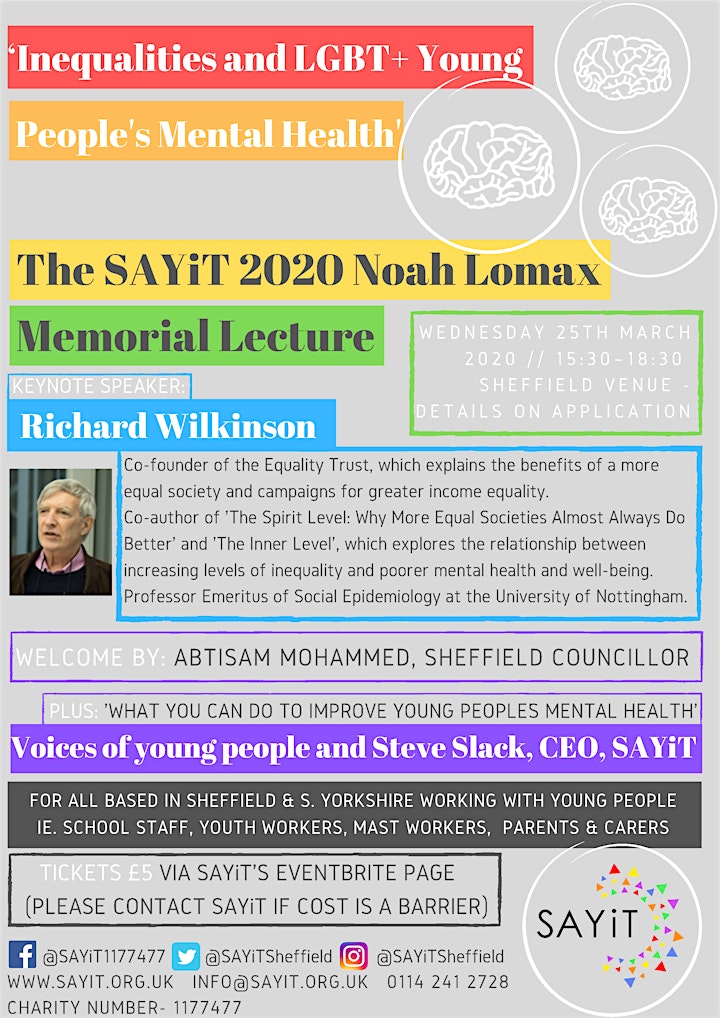 //
About Noah -
Noah Lomax died at the beginning of August 2018. Noah's parents and SAYiT have set up a fund in Noah's name to provide LGBT+ affirmative counselling and therapy, and a hardship fund for SAYiT's LGBT+ Young People.
"Noah's Passion for LGBT+ rights merely reflected his strong belief system that all people are the same and all should enjoy the same rights and protections...We are committed to helping young members of the LGBT+ community who suffer from mental health issues" Noah's Parents