POSTPONED UNTIL FURTHER NOTICE - A journey into Italian language in 4 steps
Description
Culturally rich and full of history, Italy is one of the most admired countries in Europe.
These 4 lessons will open the path and set the basis for learning Italian and finding out about its rich culture.
Through fun and interactive lessons we will see some of Italy's hidden treasures and traditions beyond pizza and pasta.
Taste one of the most popular Latin languages in Europe.
Introduce yourself while building the foundations of Italian.
Discover rich culture and classical traditions.
Discuss regional dishes beyond pizza and pasta.
Familiarise yourself with some of history biggest icons.
Expand your appreciation of Italy
Come a step closer to the Italian language


The spaces are limited so please book only if you can come (!) Please note that you may be asked to confirm attendance and that your booking may be offered to someone else if you fail to respond.
---
About the tutor: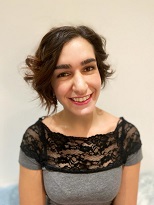 Selene Stefanini is a qualified Italian language tutor. Originally from Pisa, she moved to London 7 years ago. Selene is passionate about languages, travel and rock climbing. She loves teaching and sharing her passion and interests with others.