'Poverty and Environmental Sustainability' Participatory Planning Meetings

Multiple Dates
Event Details
The Humanitarian Centre invites you to participate in a planning meeting for the 2013 'Poverty and Environmental Sustainability Year".
Each year, the Humanitarian Centre focuses on a key theme in international development.  The theme for 2013 will be 'Poverty and Environmental Sustainability'.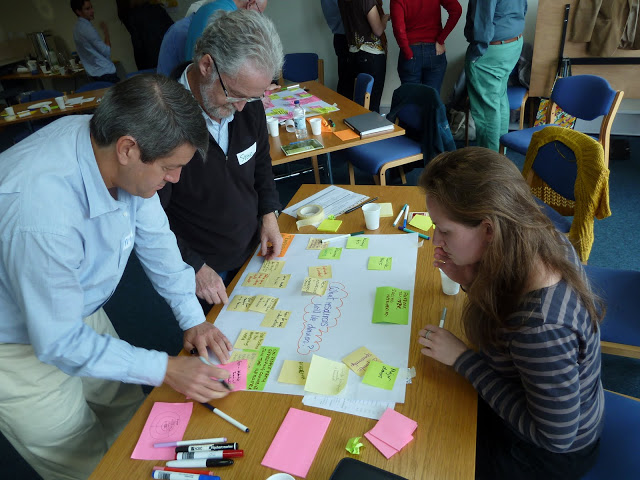 The programme will examine the links between global poverty and environmental sustainaility. It aims to bring together the range ofindividuals and organisations in our international development network with the many charities, research departments, policy-making organisations, and companies working on sustainability issues in Cambridge, for truly sustainable development.
To help scope the year, we are organising two planning meetings. These are open to all interested individuals and organisations. 

Please come and help us plan the year!
Over 30 people participated in the first meeting and brainstormed a 'long list' of possible issues to focus on during the year.  These were as follows:
·

         

what do you mean by 'poverty' an
d 'su
stainability' and how are they linked?"
·         climate change – how can poor people be supported to adapt to climate change?
·         food security – challenges of feeding a growing global population in the face of climate change and global shocks
·         biodiversity, conservation and ecosystems services – ensuring poor people benefit
·         water and energy security – emerging global challenges to achieving the MDGs
·         carbon footprint and consumption – the links between consumption patterns in UK and poverty reduction and sustainability in developing countries
·         the environment and the economy: 'business' as usual?
·         gender and environmental sustainability
·         peace and conflict and environmental sustainability
·         poverty and sustainability in a rapidly urbanising world.
During the second meeting at Hughes Hall on Monday, 3rd December (17.30-19.00),  we will:
·         choose a  short-list of key topics for the year;
·         brainstorm: what would events on these topics would look like? who would be involved? when would they occur? what would we want to come out of them?
·         identify individuals and organisations who should be involved with different events.
Previous themed years have focused on  ICT4D (2010-2011) and Global Health (2011-2012), bringing together a range of researchers, policy-makers, entrepreneurs, business leaders, and charity members working on these themes in Cambridge, the UK, and in developing countries.  We hope to increase communication and coordination during--and after--the themed year, as well as help translate outcomes from learning and networking events into improved projects and policies, resulting in more effective approaches to global poverty reduction.
What kind of events will be planned?
We plan to organise eight events in 2013. These could include, for example, one large conference, three smaller conferences or workshops, two 'innovative learning' events and two forums. We hope that 1,000 people will attend events in person, and an additional 500 people will participate in events online, especially people from developing countries.
What will come out of the year?
As in earlier years, we will produce a final report, in the style of our Global Health Year report to share the key messages from the year with an additional 10,000 people (through online distribution).
Outputs from events will capture learning, innovations and outcomes, and will be shared in Cambridge and beyond. A key output from the conference will be a policy brief that we will use to influence the UK Government and other organisations.  For other events, outputs could be guidelines for corporate social responsibility officers in Cambridge, or the development of a new enterprise to address a specific problem of poverty and sustainability.
Who is the year for?
Events during the year will be open to all comers directly and through the web. Based on previous years, we expect that those with the most to gain from the year's activities will be individuals and organisations in the Cambridge area, and their partners working in developing countries.  We will make sure that the voices of people from developing countries are included as speakers and participants in events and through web-based networking with organisations in the South. 
Where

Pavilion Room
Hughes Hall
CB1 2EW Cambridge
United Kingdom


Multiple Dates
Add to my calendar
Organizer
The Centre for Global Equality focuses the resources available in world centres of excellence such as Cambridge on evolving innovative solutions to global challenges. We contribute to greater global equality by improving access for the underprivileged to the intellectual, social and financial resources usually reserved for the elite. We are a network of NGOs, academics, businesses and individuals who work collaboratively towards reducing extreme inequality, a root cause of poverty and marginalisation globally. Based in Cambridge, we have over 50 member organisations that work on more than 90 projects in 27 countries.
The Global Challenges Initiative (GCI) is an official Strategic Research Initiative (SRI) of the University of Cambridge. GCI aims to enhance the contribution of its research towards addressing global challenges and achieving the United Nations' Sustainable Development Goals (SDGs) by 2030.