Powa: A Practice of Compassion for the Deceased day course with Gen Kelsang...
Description
Powa: A Practice of Compassion for the Deceased day course with Gen Kelsang Gomchen
Saturday 8 December | 10am – 4:30pm
Cost: £30 including lunch

Learn a special method to help those who have recently died, whereby through faith, compassion and concentration we transfer their consciousness to a Buddha's Pure Land.

This day course will explain how to engage in the profound practice of "powa" or 'transference of consciousness' on behalf of those who have recently died in conjunction with reliance upon Avalokiteshvara, the Buddha of Compassion. By engaging in this practice we can gain the ability to help others at the time they need it most and create our own pathway to the Pure Land through the power of such compassionate activity.

The day will include teachings and an opportunity to engage in the practice of a Powa Ceremony as a group at the end. It is customary to bring a white offering such as candles, flowers, incense or food, those who wish are welcome to do so.

ABOUT THE TEACHER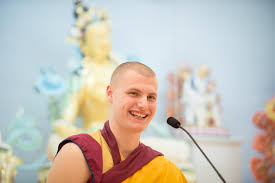 Gen Kelsang Gomchen is a qualified Kadampa practitioner and teacher of Kadampa Buddhism who has taught widely throughout the UK. He has received extensive teachings of both Sutra and Tantra including the empowerments of Highest Yoga Tantra from Venerable Geshe Kelsang Gyatso Rinpoche. He has completed an intensive Special Teacher Training Programme with our General Spiritual Director, Gen-la Kelsang Dekyong, and engaged sincerely in meditation retreats on both Sutra and Tantra.
Gen Gomchen is known for his ability to inspire others through sincere practice and to present the deeper meanings of Venerable-Geshe-la's books in a way that is practical and relevant to all who listen.