Power & Empowerment: Partnerships for Gender Equity in Higher Education
Sales Have Ended
Registrations are closed
Registration has ended for this event
Sales Have Ended
Registrations are closed
Registration has ended for this event
Power & Empowerment: Partnerships for Gender Equity in Higher Education, featuring Sophia Abbot
About this event
Gender & Education Association Virtual Seminar Series 2021
Power & Empowerment: Partnerships for Gender Equity in Higher Education
Online Event: Zoom link and password provided to registered attendees on the morning of the event
Speaker: Sophia Abbot, George Mason University
Chair: Maisha Islam, University of Winchester
About the event: For the last decade, international interest has been rapidly growing in the practice of student-faculty partnerships in teaching and learning in higher education. This field of "Students as Partners" describes the process of partnering with undergraduate or graduate students as colleagues—"to call to action members of higher education who are traditionally considered the recipients of knowledge, rather than the producers of it" (Cook-Sather, Matthews, Ntem, & Leathwick, 2018). Partnership has been proposed as a model to foster gender equity in higher education. This process may be especially transformative for women and non-binary and trans individuals who continue to seek equity as producers of knowledge in academia. This session will connect feminist theories of power and epistemology with work in partnership to explore the potential of partnership for advancing gender equity in higher education.
Sophia Abbot has worked in the realm of student-faculty partnerships and the Scholarship of Teaching and Learning since she was an undergraduate student partner in the Students as Learners and Teachers (SaLT) program at Bryn Mawr College. After graduating from Bryn Mawr in 2015, she worked as a fellow at Trinity University's Collaborative for Teaching and Learning, where she founded a pedagogic partnership program called Tigers as Partners. This past May, she completed a Master of Arts in Higher Education at Elon University. There, she worked in the Center for Engaged Learning developing web content and resources on partnership and high impact educational practices like undergraduate research and service learning. Along the way, she has continued to study and publish on the topic of student-faculty partnerships. In January 2020, she and Lucy Mercer-Mapstone published a co-edited collection titled The Power of Partnership: Students, Staff, and Faculty Revolutionizing Higher Education. Sophia serves as a member of the International Journal for Students as Partners' International Advisory Board, supporting the work and mission of the journal. This fall, she started her Ph.D in Higher Education at George Mason University where she continues to study student-faculty collaborations, and teaching and learning in higher education.
Recording: The event will be recorded and shared online after it is transcribed and closed captioning is added.
Access: Please email genderanded@gmail.com to discuss your specific access requirements by 28th June 2021
About the Gender & Education Association Virtual Seminar Series 2021: The series is organised by the GEA Executive Members, the volunteers who lead GEA. The series is funded in part by Taylor and Francis.
About GEA: The Gender and Education Association (GEA) is a volunteer-led international intersectional feminist charity. Our inclusive community of educators, researchers, activists, leaders, artists, and more have been working together since 1997 to challenge and eradicate gender stereotyping, sexism, and gender inequality within and through education.
Join GEA: We are a small, volunteer-led charity and we rely on membership fees to make GEA's continued work possible. Please consider becoming a member of GEA: http://www.genderandeducation.com/join/
GEA Website: http://www.genderandeducation.com/
GEA Twitter: https://twitter.com/genderanded
Event Hashtag: #GenderAndEd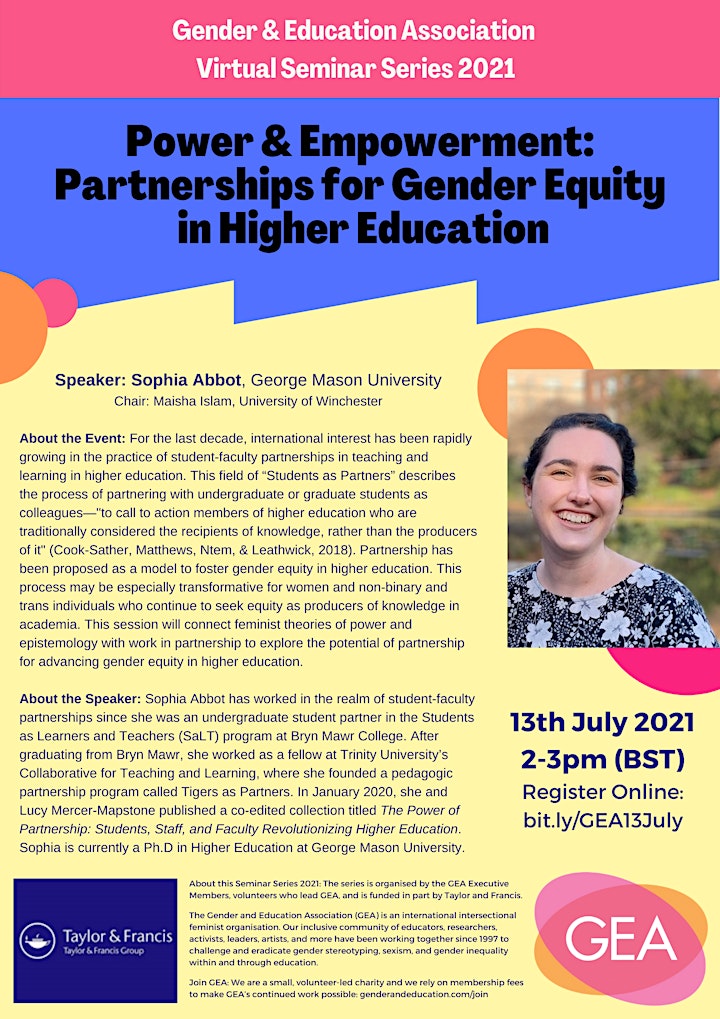 Organiser of Power & Empowerment: Partnerships for Gender Equity in Higher Education