Power of Human Storytelling - What B2B firms can learn from B2C strategies
About this Event
The Mayor's International Business Programme, together with Edelman, invite you to join this event on storytelling, and what B2B tech companies can learn from B2C strategies when it comes to telling your story brilliantly - and succeeding as a result. Edelman is a global communications firm that works with companies (from startups to Fortune 500) to evolve, promote and protect their brands and reputations.
Agenda
Welcome and introduction to Edelman and Emerge (Edelman's dedicated PR branch for high-growth companies).
In discussion with What3Words: Fireside chat with Giles Rhys Jones, W3W's CMO, to recount his experience working with Edelman and developing W3W's storytelling journey. Tim and Giles will discuss the importance of human/emotional content in B2B PR and how human-centric owned and earned content are worthwhile tactics to generate leads.
Q & A and Discussion.
Dial-in details will be shared with attendees ahead of the event.
About the Speakers
Tim Weber, Editorial Director at Edelman: Tim is a storyteller, content and technology expert. He leads the team at Edelman UK that helps all clients tell their story with content, making sure it is underpinned by an editorial approach and journalistic rigour. He also provides media training, helps CEOs define their messaging, and writes books, by-lines and speeches for top executives of some of the world's largest companies; he also offers strategic counsel to clients large and small. As an Executive Director (EVP), he is a member of the management team of Edelman UK. Among his clients are ABB, Asics, GSK, HP, IFA Berlin, J&J, Lego, McKinsey, Microsoft, Nissan, Samsung, Unilever - as well as fast growth tech companies like What3Words and Exscientia, as part of Edelman's Emerge offer.
Before joining Edelman in 2012, Tim was the business and technology editor of BBC News Online. He was a regular commentator – online and on air – on the technology industry and global economic issues. While at the BBC, he attended for nine years running the annual meeting of the World Economic Forum in Davos as a media leader; he now supports clients attending the WEF.
Giles Rhys Jones, CMO at what3words: After 20 years in advertising agencies and marketing consultancies Giles joined the 5 person what3words team in 2014. As CMO he has helped take them from a quirky, seed-funded, idea to a globally recognised, award-winning brand. With offices around the world, they are backed by investors including Intel, Sony & Daimler, and used by business, governments and millions of individuals in over 170 countries.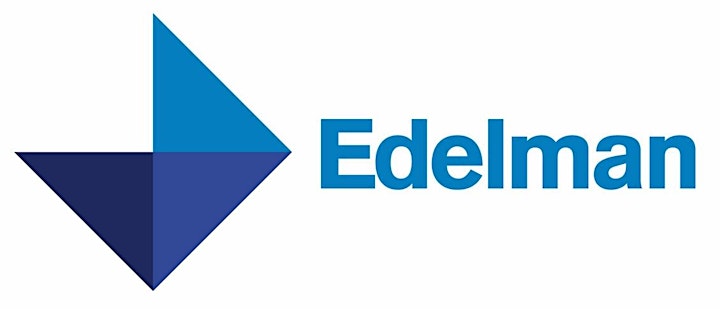 Thanks for your interest in our event. This event may be taking place as a webinar which we may record. If the event is face-to-face, we may have photographers at the event who may be taking photographs and video footage. In either situation your image may be captured in this content. We use event content for our promotional purposes on our website, in our promotional materials, and on other platforms for example, our social media accounts. If we are running this event in partnership with other organisation(s) they will be named in the event description above. In these cases, we may share the content with them. For more information about how we use content (and other personal information about you) please see our Privacy Policy (https://www.londonandpartners.com/about-us/privacy).
If you do not want your image taken, or do not wish it to be shared with our partners, please let us know by contacting us at the email address in the event overview quoting the event name. If the event is face-to-face you can also let our staff know at the event. If you are registering someone else for this event, please ensure that they are aware of the above information. Please also make sure that you enter accurate contact details for them. You may also be contacted for post event feedback, either by us or by someone acting on our behalf. This is so we can understand our impact and improve our events.  
Webinars:
Webinars may be made available on Wistia post the event and these will be made available to companies that either participated or were unable to attend and would like to watch the session at a later date. 
Face to face events:
If someone turns up for an event who has not been registered, they may be refused entry on health and safety grounds.
If you have any special physical access requirements or dietary requirements, please let us know by contacting us at the email address in the event overview quoting the event name. We will only use this information for the purpose of making sure that we consider (and, where possible, meet) these requirements during the event. If you provide us with this information, you are giving us your consent for this information to be used for this purpose.