POWER OF PODCASTING - PLAN, PRODUCE, LAUNCH, GROW AND MONETISE YOUR SHOW

Saturday, 25 May 2019 from 08:00 to 18:00 (BST)
Event Details
POWER OF PODCASTING - Launch Your TOP 20 Podcast IN JUST 1 DAY!
Saturday 25th May @ Hilton London Stansted Airport: 8am - 6pm
Only 6 spaces remaining (as this has been pre-launched to our inner circle)
How to plan, produce, launch, grow and monetise your podcast.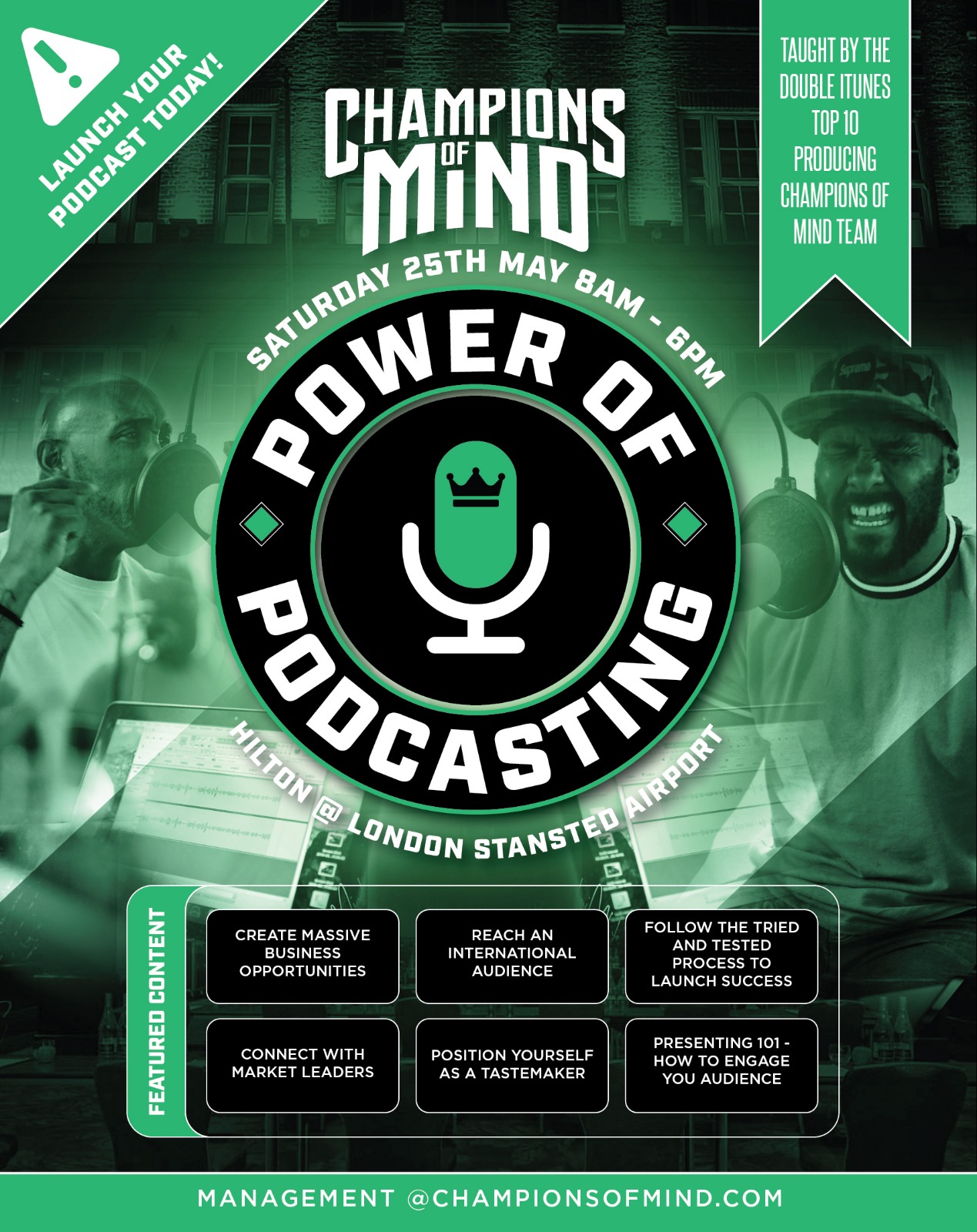 We launched podcast less than two years ago and it was the catalyst to our million pound business; it enabled us to deliver keynote talks around the world, share the stage with Les Brown and collaborate with the likes of Grant Cardone and make £1,000,000 in clear profit in the first 18 months of business... and it all started from one little podcast!
And on Saturday 25th May we're going to show you how we've done it and how you can do the same.
We've already helped dozens of entrepreneurs, PTs, experts, coaches, influencers, investors and even intrepid explorers get their shows into the iTunes Top charts so we have developed a replicable process to plan, produce, edit, launch and monetise your own show.
The power of audio is absolutely exploding at the moment and having branded audio (i.e. a podcast) is going to be as essential to your personal brand building marketing as having a Facebook profile. Seriously.
You might be thinking 'can it really be taught in one day' and the answer is YES. We have a success rate of over 90% in getting client's podcasts into the Top Charts and they have all been taught in one day!
If you're thinking 'how is it possible to teach everything in a single day' well, that's because Brand Director James brings 13 years of media, marketing, PR, content-production and radio presenting experience to the training so he's essentially condensing over a decade in audio expertise and knowledge into 10 packed hours!
During this exclusive day of tangible, usable and actionable content will be covering:
* Podcast Format - interview / solo round / mastermind / roundtable
* Presenting 101 - how to engage you audience
* Show Creation - name, content category, frequency
* Media Hosting - content syndication setup and Apple Podcast approval
* Creating your Ideal Listener Avatar - crafting a plan for who is your perfect listener
* Show Values, Missions Statement, Goals - What do you really want to get from hosting your own show
* Artwork - creating images that work for multiple platforms
* Intro Music - Licence-free audio options that make you
* Voiceover - pre-recorded intro and outro options
* Equipment Setup - getting a professional studio sound on a budget
* Software Setup - Online platforms that help you reach more people fast
* Editing Setup - How to make your recording sounds like it was made by a pro
* Audio Production Overview - Adding production value to make your show sound big
* Launch Plan / Marketing Strategy - How to get lots of ears from Day 1
PLUS James will do 2 x 30 minute 1-2-1 video calls with you after the training to make sure you have all the systems, softwares and platforms setup correctly before you launch your show.
Whether you are looking to gain traction, awareness and reach an international audience for your brand or you simply have a passion to that you want to get into the ears of thousands of listeners around the world podcasting is how you do it and we are the best trainers in the UK to show you exactly how you do it.
Spaces are only £750+VAT for the full day so book your space now, check out https://www.championsofmind.com/power-of-podcasting or if you have any more questions email the team via management@championsofmind.com 
Do you have questions about POWER OF PODCASTING - PLAN, PRODUCE, LAUNCH, GROW AND MONETISE YOUR SHOW?
Contact Champions Of Mind
When & Where

Hampton by Hilton London Stansted Airport
Bassingbourn Road
CM24 1QW Stansted
United Kingdom


Saturday, 25 May 2019 from 08:00 to 18:00 (BST)
Add to my calendar