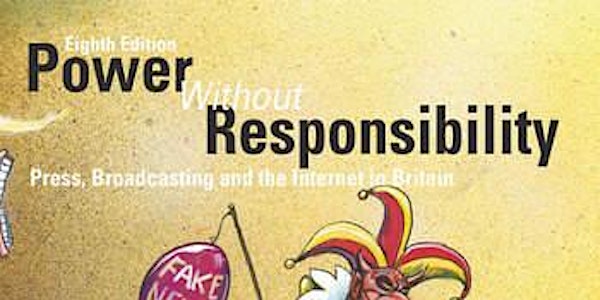 Power Without Responsibility: Comparative national overviews
The first in a series of workshops centred on the legacy of James Curran and Jean Seaton's Power without Responsibility
About this event
Update: In response to the 'recovery plan' imposed by senior management at Goldsmiths that involves up to 46 redundancies, the University and College Union (UCU) has censured Goldsmiths by introducing a global academic boycott. This 'greylisting' means that members of trade unions and the international academic community are invited to express their opposition to the announced staff redundancies and restructure by refusing to participate in events organised at Goldsmiths. It is the ultimate sanction, designed to exert pressure on the senior management of the institution to reconsider its position.
As a result, this series of workshops will be relocated to the University of Westminster for the duration of the boycott. The new hosts, home to Professor Jean Seaton, are the obvious choice and have kindly offered their support at short notice.
The changeover will be made as smooth as possible. Registration for the first workshop will continue unchanged. Please register through this Eventbrite page as before. Those who have already registered to attend do not need to re-register, and will soon get instructions on how to access the event. More details on the international boycott can be found on the UCU website.
The Goldsmiths Leverhulme Media Research Centre is organising a monthly series of workshops celebrating 40 years since the publication of the seminal book on the UK media, James Curran and Jean Seaton's Power Without Responsibility. Now in its eighth edition, the book has been translated into five languages and has influenced generations of media academics, students and wider readers. With a scope ranging from the 1830s to the present day, the book focuses on how market distortion and state sponsored public service, among other influences, have shaped the UK media and influenced the conduct of politics, entertainment and society more generally. The workshops will examine central themes of the book - including discussions about market corruption, media reform, public service and radical journalism - with presentations by international scholars and journalists. The workshops will take place online from January to May 2022 and will be open to academics, teachers, students, historians, media activists and anyone interested in the history and the future of the UK media.
This first workshop in the series will reflect on themes developed in the book from the perspective of different national contexts. It will explore the contribution of Power Without Responsibility in our understanding of media in a variety of political and cultural settings.
Workshop one: Comparative national overviews
CHAIR: Toby Miller (Professor, Universidad Autónoma Metropolitana, Cuajimalpa)
Introduction: Natalie Foster (Routledge)
John Durham Peters (Professor, Yale)
Kaori Hayashi (Professor, Tokyo)
Tom O'Malley (Emeritus Professor, Aberystwyth)
Vibodh Parthasarathi (Jamia Millia Islamia)
This event will take place on Zoom. If you have any access requirements please contact us at media-comms@gold.ac.uk. Please note that we will not be recording the workshop in full, only the speakers' talks.