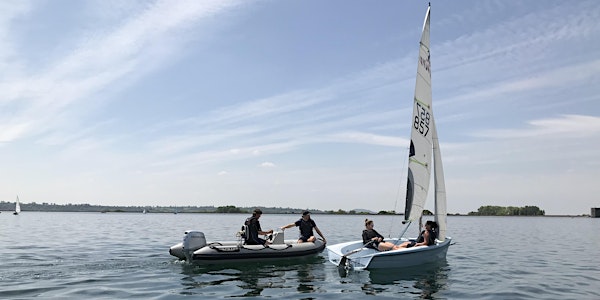 Powerboat and Club Introduction Course for BCYC Members (2022 Dates)
Location
Bristol Corinthian Yacht Club
Cheddar Reservoir
Axbridge
BS26 2DL
United Kingdom
An introduction to the safe operation of BCYC powerboats and the essential skills required to undertake club patrol boat duties.
About this event
The Powerboat Introduction Course is a free 1-day training course for new and existing Bristol Corinthian club members. No previous boating experience is required.
The course introduces the basics of safely launching and operating the club's powerboats at BCYC Cheddar. There will also be simple rescue exercises, designed to help you when on duty at the club.Although the course content is drawn from some elements of the RYA Powerboat scheme, this course is not certificated.
New members will be introduced to the club procedure for unlocking equipment, layout of the club, storage and use of club assets.
Our day will run from 9:30 am until 4.30 pm and most sessions will be out on the water, hands-on. It's also a fun way to meet other new members! Upon successfully completing the course, your club membership will be upgraded to allow you to drive the BCYC powerboats on club duties.
Please note: Although this course is open to all members, priority for places will be given to those members needing training for club duties / Corinthian days. As we have a backlog of new members requiring training, course places for the foreseeable future will ONLY be available to adult members over 18.
FAQs
Is this course open to the public?
Sorry, no. This training course is only available to current Bristol Corinthian Yacht Club members. Other courses are available to members of the public. For more information, and if you are considering joining, please see the club's website www.bcyc.org.uk
As a BCYC club member, do I need to complete this course?
The club operates a duty rota system and relies on its members to provide adequate levels of patrol boat cover. For everyone's safety, only competent people are allowed to provide that cover. As a minimum, we ask that at least one person from each membership has completed this course.
Are there minimum age requirements?
Yes, to meet RYA and club safety requirements, the minimum age is 16. Since the main purpose of the course is to allow members to safely complete their Corinthian duties, priority will be given to members over age 18.
I completed a Powerboat Level 2 course elsewhere. Do I still need to do this?
Holders of the Level 2 certificate will normally be requested to complete this course, as it covers elements of rescue techniques not covered in the PBL2 course. Those with wider experience and more advanced RYA Powerboat qualifications are requested to contact us to discuss.
What should I wear?
We spend most of the day afloat, so please bring appropriate clothing for the weather. A dry suit or wet suit, with additional layers in cold weather, is recommended as you may get wet, Warm waterproofs are advised for the winter, plenty of sun cream in the summer. You will also need wet shoes/old trainers and a buoyancy aid (although we can provide one if you do not have your own).
Will there be a lunch break?
Tea and Coffee are provided, Hot Food is available from the professionally run Galley. We take a working lunch break of 30 minutes.
Are there any books I can look at beforehand?
The RYA Start Powerboating and RYA Powerboat Handbook are useful references, as is "Powerboating: The Rib and Sportsboat Handbook" by Peter White
Do the organisers need any other information from me?
We need you to tell us about any medical conditions that might affect your safe participation on the course. Some elements of the course involve mild physical exercise - launching and moving boats, climbing aboard, etc. Your instructor will need details of any medical treatment being received, or if you suffer from epilepsy, giddy spells, asthma, diabetes, heart condition, back problems or anything else you believe may affect you during your time with us. Please note that medical conditions need not prevent you from taking part, but it is important we are aware. If you are in any doubt about your fitness to take part in a practical powerboat course, your GP should be able to advise.
How can I contact the organisers with any questions?
You can send email queries to our Powerboat training co-ordinator pbtadmin@bcyc.org.uk