Description
A workshop exploring the shifting of power in care relations using exercises which draw on movement and performance practices.
You are invited to come and take part; to explore, support and witness each others perceptions and experiences of care in an open shared space.
Katherine and Hamish will guide everyone through movement exercises, holding a space to explore questions like:
- are we secondary to each other?
- who has control over your body?
- what does performing care look like?
FREE to attend and lunch is included.
The day will involve simple moving, discussion time and light contact. No dance experience is needed but we recommended wearing comfortable clothing for moving in and wear indoor trainers or bare feet. Wheelchair users are also welcome.

11-5.30pm, Brewery Studio, on corner of North Street and St Francis street (opposite the school and behind Bristol Beer Factory).
---
Morning with Hamish MacPherson
Working with a simple structure for warming up collectively. Looking after each others needs, working with passivity, consent, force and intimacy. Somewhere between exercise and performance offering physical caring as a relational and aesthetic practice; as a negotiation of constantly fluctuating needs, capacities and interests.
Hamish MacPherson is a London based dance/choreography artist who makes workshops, performances, games and other 'choreographic ecosystems' for people to think and be together. Current projects include THIS MOVEMENT, looking at how we use our bodies to make politics and Hard Care looking at care as an aesthetic, choreographic and political practice.
Lunch - We will take an hour for lunch. Katherine will provide a vegan chilli with rice for everyone to eat or there are local cafes along North Street and an Aldi supermarket across the road.
Afternoon with Katherine Hall
Some suggest that the origin of care lies in the action of giving focus to another. Katherine will guide the group through a simple exercise 'giving and taking focus' to consider where actions of care exist amongst a group of people. Over time the exercise will evolve from moving objects to moving with others, exploring care as a shifting power which can come in different choreographic shapes and actions.
This workshop is part of Katherine's research project into performing care, supported by Arts Council England, Theatre Bristol, Tetrad, Attenborough Arts Centre and Dance4.
Katherine Hall is a Bristol based dance-maker who creates performance through using movement and text improvisation practices, initiated by a feeling, a vision, a protest, a light joy, a balancing, being with movement or in movement. Her previous solo work Fill in the___ explored people's experiences and perceptions of time to consider how we 'manage' relationships with others. Katherine is now looking at shapes and actions of caring to develop a new choreographic performance.
www.katherine-hall.com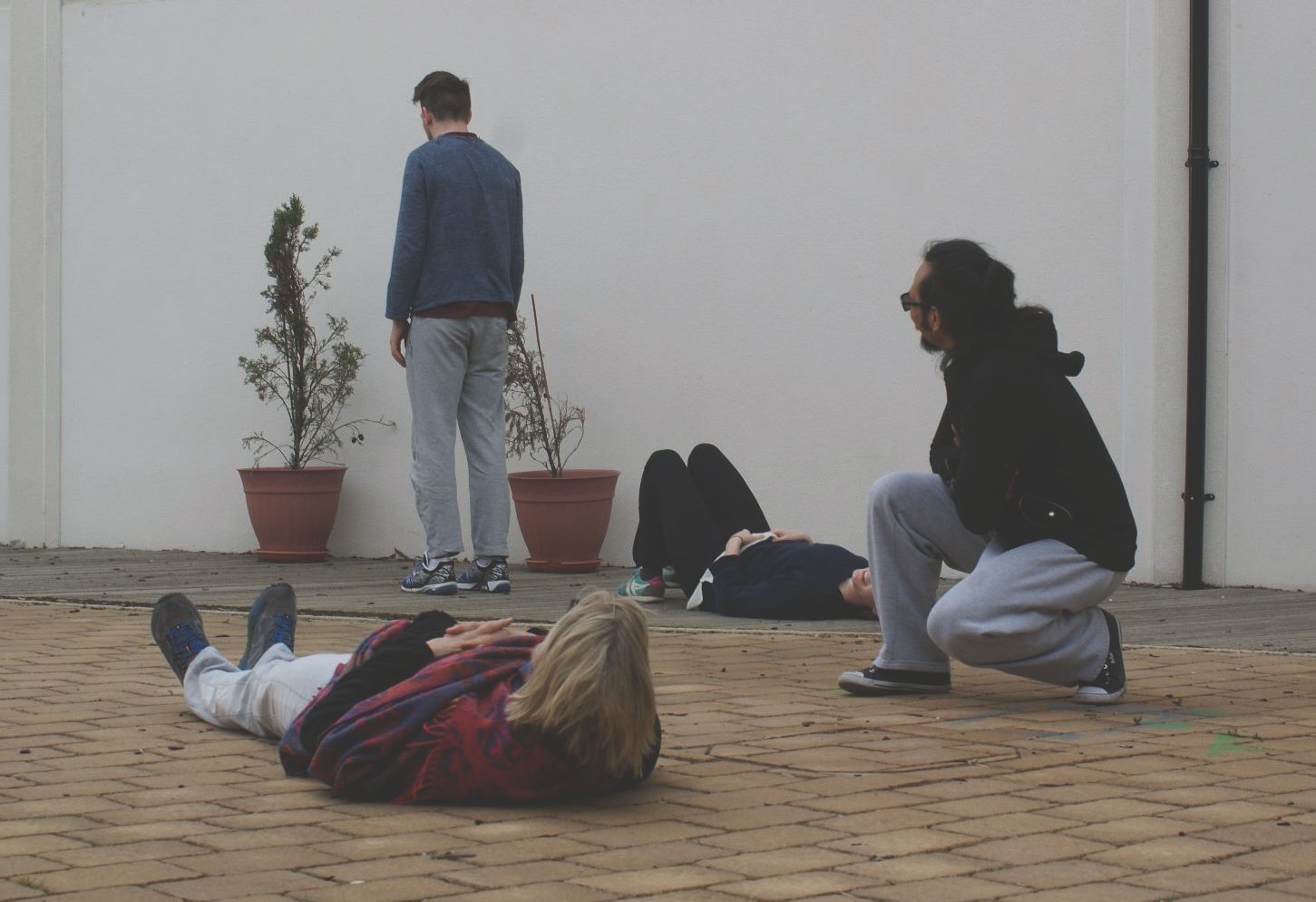 Photos: Katherine Hall and Matt Cawrey