Location
The National Conference Centre
Coventry Road
Bickenhill
B92 0EJ
United Kingdom
Refund policy
Contact the organiser to request a refund.
Eventbrite's fee is nonrefundable.
Wurth Electronics UK brings their second Powering the World of Electronics event to Birmingham.
About this event
Further to the successful workshop held in Reading in 2019, Wurth Electronics are excited to team up with Rohde & Schwarz to bring you the 2022 edition of Powering the World of Electronics - Power Supply Design and Optimisation.
We are inviting you to join us for Powering the World of Electronics 2022, which will be taking place at the National Conference Centre in Birmingham on Monday 10th October 2022.
Field Application Engineers from Wurth Electronics, as well as Engineers from Rohde & Schwarz, will present on a number of topics with a mix of theoretical examples and live demonstrations of the technology in action. This will include power converter practical design considerations, tools and tips, power modules and test instruments, as well as an introduction to Wurth Electronics' free REDEXPERT tool.
This is a great opportunity to tap into the knowledge of these engineers. The design support they can offer is invaluable to anybody who may be looking at selecting and optimising their power converter topology or interested in the practical considerations as part of their product designs.
Each attendee will receive a FREE copy of our ABC of Capacitors, along with a bag of Wurth Electronics goodies.
All attendees will be entered into a raffle for a prize draw to win a range of prizes, including Wurth Electronics UK demo boards, reference guides and development kits!
Coffees and lunch will be provided at the venue. Any COVID-19 policies will be assessed closer to the event and all attendees will be made aware of any protocols in the week before the event.
Please note that we reserve the right to share attendee information with both Wurth Electronics UK and Rohde & Schwarz.
If you have any questions regarding the event, please contact joseph.butterfield@we-online.com.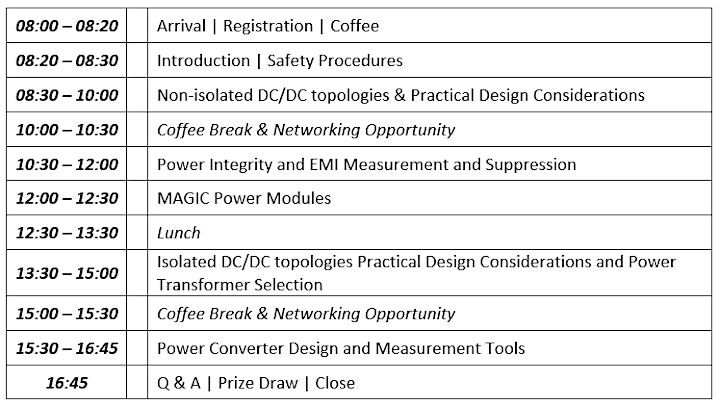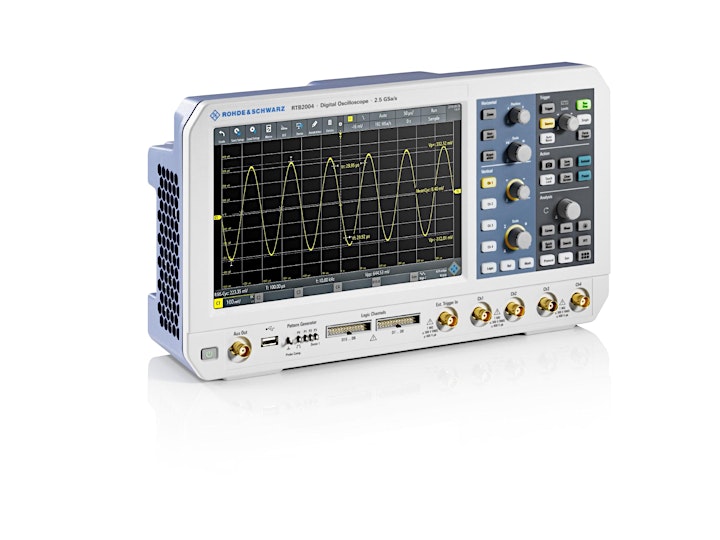 Presentation Topics
1. Non-isolated DC/DC Topologies & Practical Design Considerations
The aim of this session is to go beyond the basic operation of Buck, Boost and SEPIC converters and discuss Practical Design considerations and tips. This includes maximum power theorem, SEPIC leakage inductance, Current Mode Control IC parameters, a root cause analysis of converter audible noise and more. LT Spice simulations will also be used to investigate behaviour and performance of input filtering and impact on stability.
2. Power Integrity and EMI Measurement and Suppression
This session includes a live demo of a practical converter design. This is used to highlight good and bad design practice. The importance of using the right type/quality of test equipment to identify signal and noise:
Which instruments can be used for EMC debugging?
Time Domain vs Frequency domain measurements
What accessories are really needed?
How to qualify EMC during the development cycle with oscilloscopes?
3. MAGI3C Power Modules
A brief overview of the technology, advantages/key features, range of specs and how to select. This is followed by a presentation of voltage and current regulated modules' evaluation boards/reference designs. LED driver, current sharing interleaved topology and bench power supply are some of the reference designs we will look at.
4. Isolated DC/DC topologies Practical Design Considerations and Power Transformer Selection
Investigate flyback converters, design equations for CCM and DCM, including design examples based on different ICs, power transformer selection and LT Spice simulations. This session also includes a practical demo as well as design considerations and tips for different ICs. Key R&S Oscilloscope features and capabilities will be demonstrated as part of this practical session to highlight the latest and greatest in Oscilloscope technology.
5. Power Converter Design and Measurement Tools
Web Design Tools: Overview of various IC Houses' (TI, LT, ST etc.) power converter design tools, the Do's and Don'ts of these tools, as well as useful features.
REDEXPERT Tool: How to optimise passive components' selection.
Utilising the R&S Oscilloscope Software for EMC based measurements as a test receiver.
Practical Session: Key R&S Oscilloscope features and capabilities will be demonstrated as part of this practical session to highlight the latest and greatest in oscilloscope technology.
Speakers
Mohamed Al-Alami (Wurth Electronics)
Mohamed comes from a power supply design and development background. He worked in the Aerospace Industry for 10 years designing power supplies on various civilian and military projects. In addition, he was responsible for EMC testing, filter design and compliance. In the past 5 years before joining Wurth Electronics, he taught a variety of subjects at University towards a BTEC degree in electronics engineering. He joined Wurth in April 2015 as a Field Applications Engineer responsible for the South of the England, Wales and Ireland.
James McAlonan (Rohde & Schwarz)
James started out at BAE Systems as an apprentice working in the EMC lab testing both component and system level products in the Military and aerospace sector. This lead to collaborative work with the production teams and helped develop the links between design and testing and consequently being able to analyses EMC issues at earlier stages in a product life cycle. Whilst at BAE systems, James also worked with a number of third party companies including Lockheed Martin and EADS on various programs which allowed insight into other views and directions in EMC that helped develop the EMC lab.
After ten or so years, he moved towards the south coast and started working at an external independent EMC group called Element Materials Technology and did a further two years in EMC testing crossing a little into commercial but still predominantly Military.
It was at this stage that Rohde and Schwarz had a job opportunity revolving around EMC for both supporting and growing the customer base, helped by the relationships built over thirteen years in EMC, but also designing EMC systems for old and new customers to meet the ever changing, fast paced world of EMC, OTA and antenna measurements across multiple market sectors.
Ibrahim Chamali (Wurth Electronics)
Ibrahim's interest in Electronics was sparked when studying physics at A-level. This pushed him to study Electronic Engineering at the University of Surrey. He was particularly interested in the power electronics module and for this reason he spent a placement year in industry designing high voltage power supplies for a company in London.
Ibrahim wanted to learn more and joined Wurth Electronics to increase his exposure to a variety of applications. Starting as a regional business manager for 3 years, he supported customers with a range of different projects and particularly enjoyed working on highly technical challenges going into detail to ensure customers were provided with the best solution.
This steered Ibrahim into a role change within the company joining the Field Application Engineers team.
Chris Mountford (Rohde & Schwarz)
Chris started by completing a foundation year in Engineering which took him in the direction of Electronic and Electrical Engineering at Aston University. Part way through his studies, he completed a Placement year at Keysight Technologies, which involved the roll out of customer chargeable technical support, sales projects revolving around the Automotive EV market and service and repair in the service center. Upon completing his degree, he secured a Oscilloscope product manager role at Rhode and Schwarz where he is now responsible for the growth of oscilloscopes and a technical specialist responsible for supporting the sales engineers.