About this Event
We are inviting you to join us for our first Powering the World of Electronics event, which will be taking place at Green Park Conference Centre in Reading.
Our Field Application Engineers will present on a number of topics with some theoretical examples and some live demonstrations of the technology in action. This will include Power Converter Design, REDCUBE technology and Wireless Power Transfer, as well as an introduction to our free REDEXPERT tool.
This is a great opportunity to tap into the knowledge of our Engineers and the design support they can offer is invaluable to anybody who may be looking at optimising their power converter topology or interested in incorporating Wireless Power Technology into their own product designs.
Tickets for the event will cost £30, with each attendee receiving a FREE copy of either our Trilogy of Wireless Power Transfer or our Trilogy of Connectors, along with a bag of Wurth Electronics goodies. Every attendee will also be entered into a raffle to win Flir One Thermal Imaging Camera worth over £200.
Coffees and lunch will be provided at the venue.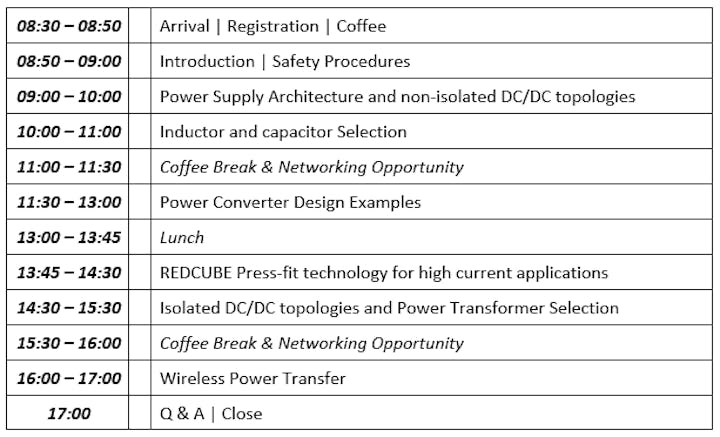 TOPICS TO BE PRESENTED
1. Power Supply Architecture and non-isolated DC/DC Topologies
This covers the basic operation of Buck, Boost and Sepic converters, including design equations in both CCM and DCM. Design examples are investigated and LT Spice simulations are presented.
2. Inductor and Capacitor Selection
The key selection criteria are presented. A practical demonstration of the electrical parameters is given, including a live demo of REDEXPERT showing efficiency and losses using a thermal camera.
3. Power Converter Design Examples
Here, various Control ICs from different IC Houses (TI, LT, ST etc.) will be reviewed. We will examine reference designs, design examples and evaluation boards, highlighting a wide range of applications and capaibilities. We will also touch on design for EMC including optimisation of layout and tracking using Altium.
4. REDCUBE
Press-fit technology for high current applications. This includes a demonstration of using a press to fit and remove a connector.
5. Isolated DC/DC
Investigate flyback and forward converters, design equations for CCM and DCM, including design examples based on different ICs, power transformer selection and LT Spice simulations.
6. Wireless Power Transfer
A brief overview of the technology and governing standards, followed by detailed design examples based on our 15W demo kit (760308MP2) as well as ST Micro's coil array evaluation board.