How To Academy presents...Powers and Thrones – An Epic New History of the Middle Ages | Dan Jones
About this event
The bestselling author of The Templars joins us to tell the story of how the world we know today came to be built.
The story of the medieval era is a thousand-year adventure, moving from the ruins of the once-mighty city of Rome, sacked by barbarians in AD 410, to the first contacts between the old and new worlds in the sixteenth century.
Historian and broadcaster Dan Jones joins us to tell this riveting tale: showing us how, from a state of crisis and collapse, the West was rebuilt and came to dominate the entire globe.
Blending his trademark gripping narrative style with authoritative analysis, this talk will show how successive western powers thrived by attracting – or stealing – the most valuable resources, ideas and people from the rest of the world. It will cast new light on iconic locations – Rome, Paris, Venice, Constantinople – and features some of history's most famous and notorious men and women.
This is a talk about – and for – an age of profound change, asking the biggest questions about the West both then and now. Where did we come from? What made us? Where do we go from here?
Praise for Dan Jones:
'An audacious, entertaining page-turner. Dan Jones covers a thousand years of history with elegance and panache' Dan Carlin, Hardcore History, on Powers and Thrones
'Dan Jones is in a class of his own ... Read this book to wrap your head around 1,000 years of history with as much ease and enjoyment as relaxing into a good novel' Professor Suzannah Lipscomb on Powers and Thrones
'Exhilarating, epic, sword-swinging history ... Jones enlivens the narrative with bloodcurdling details and arresting turns of phrase' TLS, on The Templars.
'When it comes to rip-roaring medieval narratives, Jones has few peers, and in The Templars he finds the perfect subject' Sunday Times History Books of the Year.
'Stonking narrative history told with pace, wit and scholarship' Observer, on Magna Carta
Dan Jones is a historian, broadcaster and award-winning journalist. His books, including The Templars, Crusaders and, with Marina Amaral, The Colour of Time and The World Aflame, have sold more than one million copies worldwide. He has written and hosted dozens of TV shows including the acclaimed Netflix/Channel 5 series, Secrets of Great British Castles. His writing has appeared in newspapers and magazines including the London Evening Standard, Sunday Times, Daily Telegraph, Wall Street Journal, GQ and the Spectator.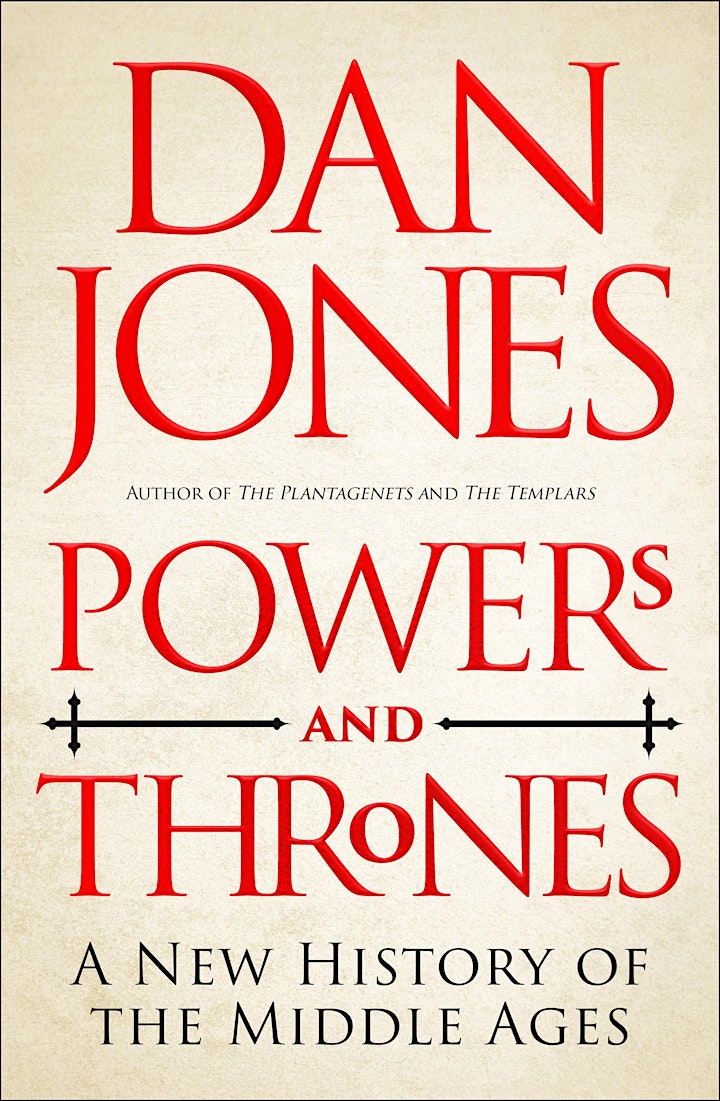 Organizer of Powers and Thrones – An Epic New History of the Middle Ages | Dan Jones
How To Academy is an organisation for people who think big. From Nobel laureates to Pulitzer Prize winners, we invite the world's most influential voices to London to share new ideas for changing ourselves, our communities, and the world. 
We host leading artists and thinkers in an unrivalled programme of public talks, debates and conferences – from Yuval Noah Harari to Natalie Portman, Emma Watson to Eric Schmidt.
We help businesses discover transformative new strategies, anticipate the future, and inspire their staff with keynotes and workshops by internationally-acclaimed economists, psychologists, politicians, and thought leaders. 
We offer masterclasses live and online with experts in essential twenty-first century skills, like leadership, public-speaking, decision-making and resilience. And we make books, podcasts and films to share insight and innovation around the world.