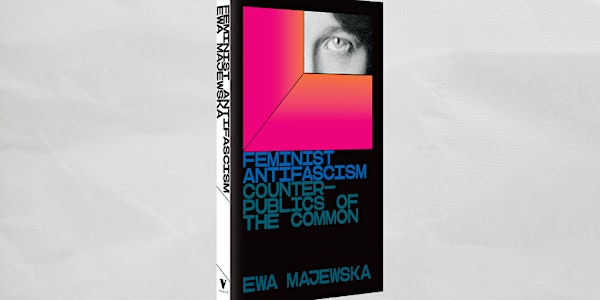 PPV #27: Book Launch: Ewa Majewska's Feminist Antifascism
Event Information
Location
UCL Main Campus
Gower Street
London
WC1E 6AE
United Kingdom
A PPV & FRINGE Centre event with Ewa Majewska, Tariq Ali, Tim Waterman, Marsha Bradfield, Diane Bauer
About this event
In these dark times of fascism returning under the guise of conservatism, fundamentalism or even "defense of basic freedoms", grassroots as well as institutional responses typically follow. In the times of the International Women's Strike, #metoo and Black Lives Matter and trans-solidarity however, these resistances most often have a woman's face or that of many queer/ LGBTQI+ and POC identities. Is it true that the heroic versions of political agency, based on male socialization and privilege, are now being replaced by a plethora of weak, marginalized subjects working in solidarity? Do we witness a shift of power in the antifascist theory and movement? What happens in the borderlands of our political experiences and with our visions of utopia? Do we have a feminist future ahead?
These and further questions will be discussed, please come and join us!
The book launch of Ewa Majewska's book "Feminist Antifascism: Counterpublics of the Common" (Verso 2021) will take place on 18 March at 6pm and will be held at The Forum, Institute of Advanced Studies, University College London. It is co-organised by PPV (Perverting the Power Vertical: Politics and Aesthetics in the Global East), a seminar and research platform based at UCL's School for Slavonic and East European Studies; and Verso publishing House, London. We would love to invite you to participate! The event will consist of a short round of comments on my book from the invited respondents, followed a short response from the book's Author, and a general discussion. A small reception will follow after the seminar. Entrance is free of charge.
About the Speakers
Tariq Ali – has written more than two-dozen books on world history and politics—the most recent of which are The Clash of Fundamentalisms, The Obama Syndrome and The Extreme Centre—as well as the novels of his Islam Quintet and scripts for the stage and screen. He is a long-standing member of the editorial committee of New Left Review and lives in London.
Diann Bauer – is an artist and writer based in London. Much of her practice is interdisciplinary, projects include; Laboria Cuboniks, with whom she collaboratively wrote and published Xenofeminism, A Politics for Alienation in 2015. (laboriacuboniks.net) and A.S.T. (http://a-s-t.co/), a working group of artists, architects and curators focusing on urbanism and climate change. Bauer has screened/exhibited at Tate Britain, The ICA, The Showroom and FACT Liverpool, Deste Foundation, Athens, The New Museum, and Socrates Sculpture Park, New York. She has worked with Arts at CERN and was part of the team working on the German Pavilion at the 2021 Architecture Biennale in Venice.
Marsha Bradfield – rides the hyphen as an archivist-artist-curator-educator-researcher-writer-and, and, and. Her practice variously considers the subject of interdependence. Recent work in dialogic art explores authorship, value systems, organisational structures and the economies/ecologies of collaborative cultural production. Marsha is the Course Leader of MA Intercultural Practices at Central Saint Martins, University of the Arts London.
Ewa Majewska – is a feminist philosopher and activist, living in Warsaw. She taught at the University of Warsaw and the Jagiellonian University in Kraków, Poland, she was also a visiting scholar at the University of California, Berkeley; ICI Berlin and IWM in Vienna. She published one book in English, Feminist Antifascism. Counterpublics of the Common (Verso, 2021) and four books in Polish, as well as 50 articles and essays, in journals, magazines and collected volumes, including: e-flux, Signs, Third Text, Journal of Utopian.
Tim Waterman - is Associate Professor of Landscape Theory at the Bartlett School of Architecture, University College London. He is the author of The Landscape of Utopia: Writings on Everyday Life, Taste, Democracy, and Design and editor of Landscape Citizenships with Ed Wall and Jane Wolff, Landscape and Agency: Critical Essays with Ed Wall, and the Routledge Handbook of Landscape and Food with Joshua Zeunert.
Michał Murawski (Chair) – is Lecturer in Critical Area Studies School of Slavonic and East European Studies, University College London, the Director of FRINGE Centre for the Study of Social and Cultural Complexity and Convenor at PPV *Perverting the Power Vertical* Politics + Aesthetics in the Global East. He published The Palace Complex: A Stalinist Skyscraper, Capitalist Warsaw and a City Transfixed (Indiana University Press, 2019) and is co-editor (with Jonathan Bach) of Re-Centring the City: Global Mutations of Socialist Modernity (UCL Press, 2020).
Date and time
Location
UCL Main Campus
Gower Street
London
WC1E 6AE
United Kingdom