Description
DISRUPTIVE STARTUPS TAKE OVER NEWS AGENDA!
Are you an entrepreneur looking for ways to generate more awareness of your brand and don't know where to start? Do you wish you had a PR agency but the time isn't right to commit to their high fees? You're not alone! As a leading European equity crowdfunding platform, Seedrs understands startups better than most. We know that to grow and scale your operation you cannot always commit to external suppliers, but you still need a media presence to help your brand become famous.
The purpose of this event is to empower you to build relationships with journalists who can help bring your brand to the attention of investors and customers with a few tips. We will cover the basics of PR including how to pitch yourself and your brand to the media, how to define interesting news-hooks that will get the interest of the press, tips on drafting an engaging press releases and most importantly how to make contact with the right journalists.
GUEST JOURNALIST SPEAKER: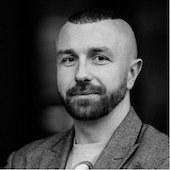 Andrii Degeler is a tech journalist and podcast host covering the entrepreneurial ecosystem for Tech.eu, Europe's premier technology industry information portal and market intelligence platform. Over the past 10 years, he's written for Engadget, The Next Web, Ars Technica UK, and more, and led the brand and community team at the Rockstart accelerator in Amsterdam.


THE PROGRAMME:
17:30 – Registration and arrival drinks

18:00 – How to PR your startup by Seedrs

18:30 – How startups can engage with the press by Andrii Degeler and Q & A session

19:00 – Interactive elevator pitches from founders – what are the news hooks?

19:30 – Networking drinks & nibbles

20:30 – Event closes
FOOD & DRINK:
Drinks & nibbles will be provided

If you are a food & beverage entrepreneur and you would like to bring your products down for everyone to sample - you will have a receptive audience!

Dress code is comfortable casual, so there is no need to dress up
MEET THE TEAM:
In addition to meeting the Seedrs PR team, you will have an opportunity to chat with our Benelux Campaigns Team who are based here in Amsterdam, and ask them questions any you might have about raising funds for your startup.