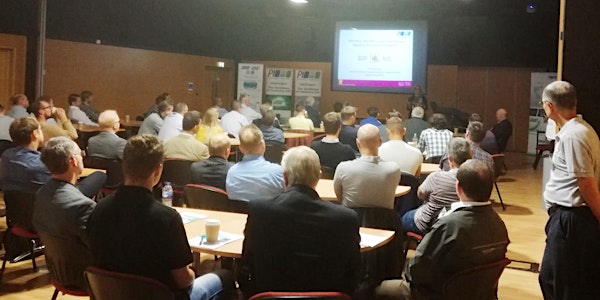 Practical Aspects of PROFINET, PROFIBUS and IO-Link - Birmingham 2021
Location
National Conference Centre at the National Motorcycle Museum
Coventry Road
Solihull
B29 0EJ
United Kingdom
Sales Have Ended
Registrations are closed
Sorry if you've missed out on booking a place at this event. Please call Ann in Admin on +44 207 193 8018 to see if there have been any last minute cancellations.
Key practical issues for using digital communications, Industry 4.0 and IIoT in automated manufacturing and process industry
About this event
This free-to-attend seminar addresses the key practical issues arising from the use of digital communications technologies in automated manufacturing and process industry applications, with particular attention being paid to Industry 4.0 and the Industrial Internet of Things (IIoT).
Covering key application areas such as control systems and energy management, pulp & paper, chemical, utilities, pharmaceutical, packaging and printing, mechanical handling and logistics, robotics, automotive engineering, electrical and electronics assembly, it focuses on the practical aspects of using PROFINET, PROFIBUS, and IO-Link, from system design and safety & security considerations through to fault-finding and maintenance.
!!! For information about our Covid safety arrangements, please scroll to the end of this page !!!
If you would like to reserve a place and be kept updated, please do register. 
Agenda (subject to change)
09:00 – 09:35 Welcome and introduction to PROFIBUS & PROFINET International (PI) and its technologies - Derek Lane, WAGO & Peter Thomas, Control Specialists
09:35 – 10:20 Industry 4.0 and the Industrial Internet of Things (IIoT) - Derek Lane, WAGO
10:20 – 10:50 Coffee and exhibition
10:50 – 11:35 Network gateway technology - Peter Thomas, Control Specialists
11:35 – 12:20 PROFINET Network Design - Andy Williams, Siemens
12:20 – 13:05 Industrial network commissioning and testing - Dave Tomlin, Hitex
13:05 – 14:00 Lunch and Exhibition
14:00 – 14:30 PROFIBUS and PROFINET device configuration tools - Phil Waterworth, Endress + Hauser
14:30 – 15:00 Distance Learning: How to get PROFIBUS or PROFINET Certified remotely - Peter Thomas, Control Specialists
15:00 – 15:30 Update on ETHERNET - Advanced Physical Layer - Phil Waterworth, Endress + Hauser
15:30 – 15:35 Questions & Close - Peter Thomas, Control Specialists
15:35 - 15:45 Quick break for refreshments and exhibition
********************************************************************************
15:45 – 17:00 (approx.) Presentation about the museum followed by tour
Live Demonstrations
Supported by an exhibition with demonstrations of actual tools used in configuration and maintenance, the seminar will be of great value to Designers, Production/System Engineers, Instrument Technicians/Engineers and C&I Engineers involved in the design, operation and maintenance of modern automated factories and process plant.   
Places are limited so don't delay - book today!
Abstracts
Introduction to PI Group – including highlights of new supported technologies
Derek Lane, WAGO and Peter Thomas, Control Specialists
An overview of the Group's structure and global representation, taking a look at the protocol basics and their differences, plus showing the progress of the number of installed devices from the group's supported technologies and relating these figures to their market share.
Industry 4.0 and the Industrial Internet of Things (IIoT)
Derek Lane – Process Automation Manager - WAGO Ltd (Deputy Chairman – PI-UK)
A short journey to explain IIoT, The Industrial Internet of things, IND4.0 and Big Data. How PROFINET is placed as the ideal Industrial Fieldbus to fulfil the above for Factory and Process Automation, how it is implemented and why you should consider it. Some of the myths explained.
Network gateway technology
Peter Thomas, Director, Control Specialists
A vendor-independent overview of how to connect PROFINET networks to existing fieldbuses and expose the data to IOT technologies using OPC-UA. This presentation, including live demonstration, will take a "how it's done" approach using products from several well-known manufacturers and will include:
Profinet - Profibus DP
Profinet - Profibus PA
Profinet - CANOpen
Profinet - IO-Link 
Profinet - OPC UA
PROFINET Network Design
Andy Williams, Siemens
It is widely accepted that the most important decisions are made at the design stage of a project. This presentation examines the fundamental principles of good network design for PROFINET systems, although many of the ideas are applicable to PROFIBUS and other networking systems. The presentation will discuss the main factors that must be considered at the design stage of an automation system. Practical examples will show how facilities for health checking, fault-finding and maintenance can have a crucial impact on plant availability. The presentation will also examine how properly thought out network monitoring and redundancy can drastically affect plant up-time and thus profitability.
Industrial network commissioning & testing
Dave Tomlin, Hitex
Take a walk through the process of certifying a new PROFINET (or any other industrial Ethernet) against the standards and see how easy it can be, then look at a few gotchas that can easily be avoided by careful planning. Learn how to simplify the process of testing both cabling and networks in Industrial Ethernet networks that utilise the PROFINET protocol, how to prevent network failures and resolve cable and network issues faster.
PROFIBUS and PROFINET device configuration tools.
Phil Waterworth - Project Engineer - Endress+Hauser Ltd
A look at the available device configuration tools and their development including the move to unify the different types into one format – FDI. This will be followed by a live demonstration of PROFIBUS and PROFINET device configuration using an existing open platform and web browser option.
An update on Ethernet – Advanced Physical Layer (APL)
Phil Waterworth - Endress+Hauser Ltd
Ethernet APL brings Ethernet technology and ethernet protocols, like Profinet, to the field of process plants, where topics like explosive environments, loop powered devices and longer cable runs all have to be considered, meaning traditional ethernet networks are not always suitable. This section will provide an overview of what APL is, its benefits for process plants and timelines for availability.
PI's Technologies
With over 80 million nodes installed worldwide, PROFINET, PROFIBUS and IO-Link are truly market leaders, providing state of the art digital communications addressing all the needs of manufacturing and process industries, significantly lowering capital expenditure on installation, commissioning and maintenance. They offer unprecedented integration of automation, control, monitoring and safety systems using standardised and widely supported communications and networking solutions.
This seminar is ably presented by specialists from PI UK member companies. Attendance is free of charge to pre-registered delegates from the User community, i.e. companies that own, operate, design, build or maintain automated process plant and manufacturing facilities. The event will provide delegates with an excellent networking opportunity and the ability to speak to experts.
............................................................................................................
Important Message re: COVID precautions at PROFINET, PROFIBUS and IO-Link Seminar
With the recent relaxation of restrictions due to the coronavirus, you may be wondering what's going to happen at our seminar at The National Conference Centre, Birmingham on November 17th.
In order to minimise risk, we are putting in place the following arrangements:
Ventilation, cleanliness and social distancing
We have changed our seminar room to now take place in the Premier Suite, which is a very spacious room on the ground floor with air conditioning plus windows that could be opened to increase ventilation. The room will be cleaned thoroughly before we take possession. The venue provides hand sanitisers in the reception area and we will provide more on the exhibition tables and around the room.
The room can accommodate 360 people seated banquet style - we're expecting around 60 so there will be plenty of room for social distancing with adequate space between seats. In addition, we will encourage delegates to consider:
• Wearing a face covering when moving around
• Maintaining reasonable social distancing
• Using the hand sanitisers provided regularly throughout the day.
You can find out more about the venue and the room at: https://www.nationalconferencecentre.co.uk/interactive-room-finder/
Food and refreshments
The venue's catering staff will be wearing masks and gloves when they deliver food and refreshments to the self-serve buffet area. The staff will then only return to the buffet / refreshments for replenishment purposes.
In order to avoid queues, we are planning on calling delegates up to the buffet in limited groups.
General
The venue management has assured us that they are following Government guidelines closely and will apply any new instructions that may have come into effect by the time of our event.
At the present time, there are no plans to cancel the event, but with the situation changing daily, we may have to postpone it, in which case we will let registered delegates know as soon as we know.
Places are limited so don't delay - book today!