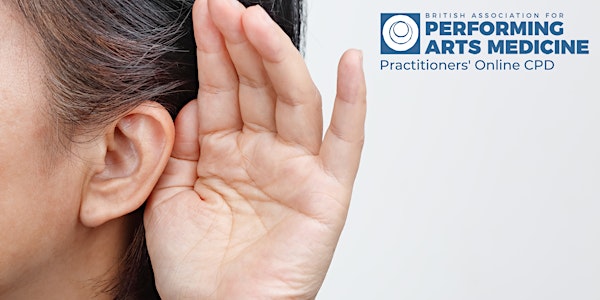 Practitioners Online CPD: Hearing Problems in the Performing Arts
Refund policy
Contact the organiser to request a refund.
Eventbrite's fee is nonrefundable.
Talks by professionals working to prevent, manage and treat hearing problems in the performing arts
About this event
Speakers:
Dominique Perrissin-Fabert, Health and Safety Manager, Royal Opera House
Applying the Noise Regulations to the music industry is enormously challenging. In April 2018, the Royal Opera House was successfully sued by a viola player for hearing damage caused by one rehearsal of Wagner in 2012. The judge ruled that an opera house was no different from a factory, and that hearing protection must be worn by all performers, conductors, technical and creative teams if 'noise' levels are likely to exceed 85 dB Laeq. This judgement sets an alarming precedent for the entire European live-music industry. In response to the court ruling the ROH developed a project to systematically investigate all possible controls for moderating the sound exposure of their performers, particularly in the orchestra pit, to comply with the legislation without having to make the wearing of hearing protection mandatory. Dominique will focus on control measures other than hearing protections to explore what has worked and what has not worked so well!
Dominique started her career as an Environmental Health Officer for Westminster City Council in 1998. She quickly specialised in the entertainment sector covering theatres and other entertainment venues such as casinos and private members club in the West End. She has led on some high-profile investigations such as the Apollo ceiling collapse.
She joined the Royal Opera House in 2015 as Health & Safety Manager with responsibilities across all operations from new productions to stage activities to managing occupational health. She believes in finding practical solutions in a fast-paced industry and fostering trust between management, staff and the health safety and wellbeing function.
She is a Chartered Fellow Member of the Institution of Occupational Safety and Health (CFIOSH) and hold a Master's in Public Health and Health Promotion. She was the Chair of the IOSH Theatre Advisory Group until March 2021.
-
Fiona Butterworth, Senior Clinical Audiologist, Harley Street Hearing/Musicians Hearing Services
Fiona will give an overview of hearing tests, including how frequently they are needed, how to interpret them and the limitations of various tests, red-flag symptoms all clinicians and performers should be aware of, and hearing protection - what it is, how to use it, the importance of custom moulding and limitations.
Fiona joined the team at Harley Street Hearing in 2018. She studied at the Institute of Sound and Vibration Research (part of the University of Southampton), completing a joint honours undergraduate degree in Acoustical Engineering and Music before starting her masters in Audiology.
As a musician in her spare time, Fiona uses her own experiences to inform her work, and is continually broadening her understanding of how hearing, hearing aids, and music are linked. Fiona has also given presentations to several London orchestras, raising awareness and educating on the importance of using hearing protection within all musical environments.
-
Finola Ryan, Occupational Medicine SpR with special interest in Performing Arts Medicine & Musicians' Hearing Disorders, UCL
Finola will give a brief overview of the functional anatomy of hearing with a focus on music, introduce the BAPAM hearing conservation guidelines and present findings of a recent audit of musicians' hearing concerns among performers presenting to BAPAM.
Finola is a medical doctor and musician who specialises in Performing Arts Medicine, combining her interest in music with her training in medicine. Finola graduated from medical school 2013 after completing a primary degree in music and MA in performance. She moved to London to do an MSc in Performing Arts Medicine at University College London and now works as a Specialist Registrar in Occupational Medicine at King's College Hospital, London. She is Trainee Representative to the Faculty of Occupational Medicine.
Finola is particularly interested in performers' hearing. Her MSc thesis was recently published by the Journal of Voice, and examined the impact of rehearsal sound exposure on choir singers' hearing. She is now an Honorary Lecturer at University College London, member of the Sound Study Group at the Royal Opera House, Covent Garden, London and chair of the BAPAM Audiology Working Group.
Finola is now putting her experience in Occupational Medicine to use alongside BAPAM to recognise and manage musicians' hearing concerns, through producing guidelines and health promotion activities such as webinars and infographics. She plays Irish fiddle.
-
BAPAM CPD is ideal for healthcare and education professionals working in the performing arts.
We explore key topics in current performing arts medicine practice and share unique insights into performance health and wellbeing. The approach is multidisciplinary: physiological and psychological care, preventing as well as treating problems, supporting healthy and sustainable creative practice.
Sessions are held on the last Wednesday of the month from 7pm.