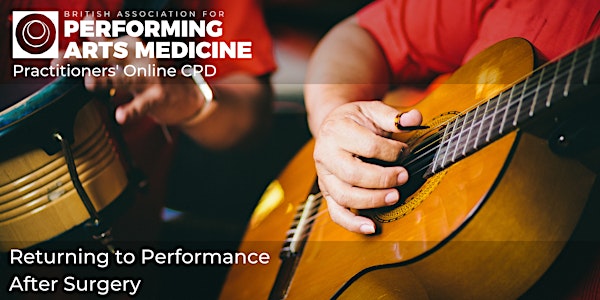 Practitioners Online CPD: Returning to Performance After Surgery
Refund policy
Contact the organiser to request a refund.
Eventbrite's fee is nonrefundable.
Expert clinicians highlight best practice in recovery from surgery and rehabilitation
About this event
BAPAM training events are ideal for healthcare and education professionals working in the performing arts. We explore key topics in current performing arts medicine practice and share unique insights into performance health and wellbeing. The approach is multidisciplinary: physiological and psychological care, preventing as well as treating problems, supporting healthy and sustainable creative practice. Sessions are held on the last Wednesday of the month from 7pm.
This session covers neuromusculoskeletal rehabilitation including the recovery of movement and control after surgery, pain management, limiting tissue damage, controlling the inflammatory response, mobilising and maintaining the joint's range of motion and regaining flexibility, strength, endurance, balance and coordination.
We will also look at hand surgery for musicians including common problems such as carpal tunnel syndrome, arthritis and trigger finger, as well as the considerations needed when thinking of having hand surgery, how to look after hands post-surgery and hand therapy.
Mr Mark Phillips, Hand Surgeon
Mark Phillips began his medical training at Cambridge University. He then trained as a surgeon in south London.
Before becoming a consultant, Mark did fellowships in hand and wrist surgery (Queen Victoria Hospital, East Grinstead) and trauma in the University of Pisa, Italy.
Whilst the majority of his work is general hand and wrist surgery, much of which is related to sport and exercise, He has developed a particular interest in treating hand and wrist problems in musicians. He was very fortunate to inherit much of the hard work previously done by Mr John White and Mr Ian Winspur. Both of these surgeons had spent many years setting up specialist practices looking after musicians.
As was their experience (and the experience of other hand surgeons in this field), surgical intervention is much less likely to be required in this subspecialty. Whilst many hand surgeons are happy to advise against surgery for about 80% of all their new patients and suggest other treatments, I find that for musicians in my practice this is more like 90% who are well advised to avoid surgery.
Mark is a keen amateur musician himself and plays trumpet and flugelhorn and performs in small jazz groups in South London.
Michael Mehta, Osteopath
Michael Mehta has been working with student and professional musicians from his City of London practice for the last 18 years. A potential career path as a musician moved sideways into training in movement and performing professionally for 7 years. Experiencing first hand the need for physical rehabilitation and support for performers encouraged him to study osteopathy at the University College of Osteopathy. Michael has been working with BAPAM for the last decade and as an Assessing Clinician for the last 6 years.