Thy King Cometh - A Prayer Book Advent.
About this Event
Join us for an afternoon of reflection on the Prayer Book Collects appointed for Advent. Our four distinguished speakers will help us identify distinctive Advent themes in the Prayer Book tradition that will enable us to have a richer experience of the season.
"Almighty God, give us grace that we may cast away the works of darkness..."
The Revd Canon Dr Daniel Inman
"Blessed Lord, who hast caused all holy Scriptures to be written..."
The Revd Canon Angela Tilby
"O Lord Jesu Christ, who at thy first coming didst send thy messenger..."
The Ven Edward Dowler
"O Lord, raise up thy power and come among us..."The Revd Dr Hannah Cleugh
There will also be an opportunity for questions and discussion, and the event will conclude with Evening Prayer at 4.15pm.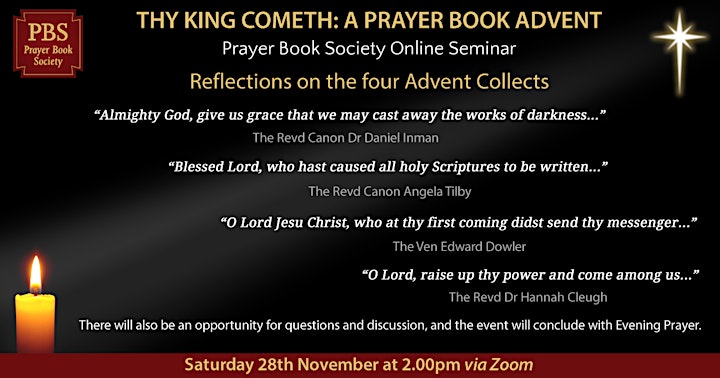 When you register for our free Advent seminar you will automatically be sent an e-ticket. In the days before the seminar you will receive the Zoom invitation.
For further information please contact Bradley Smith on 07931 527724 or email bradley.smith4@gmail.com