About this Event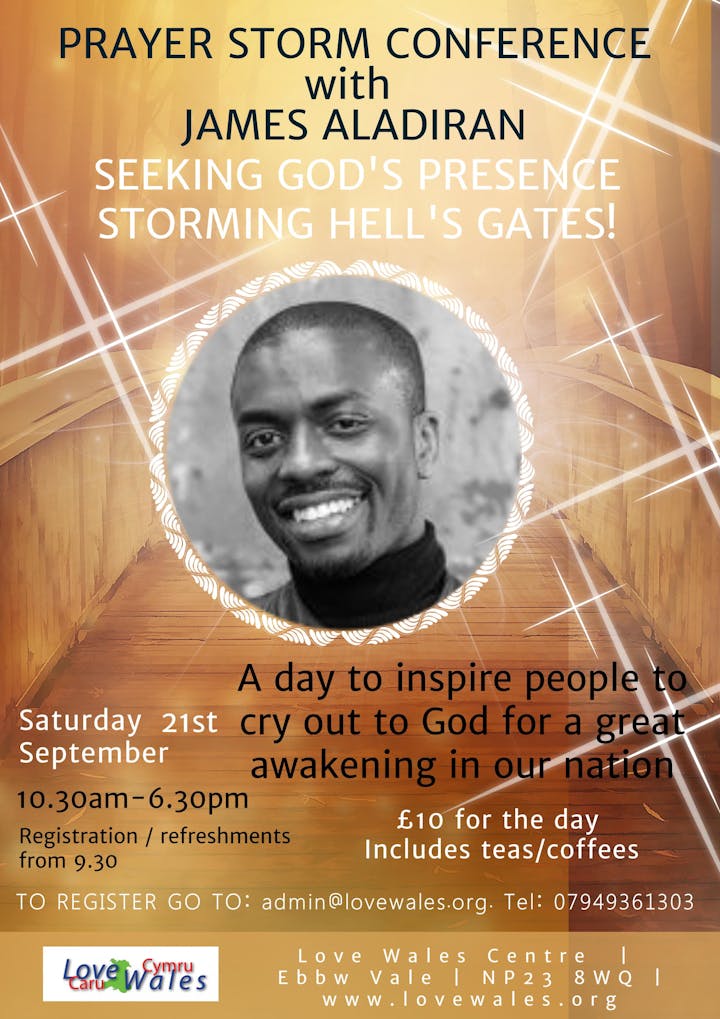 Love Wales invites you to our Prayer Storm conference with James Aladiran!
Prayer Storm is a movement of worship, prayer and fasting crying out to God for a great awakening in our nation.
James Aladiran, the Founder and Director of Prayer Storm, is an evangelist for prayer. He leads a team with a burning vision to see God's people awaken to the power of prayer. We are delighted to have him come to minister at the Love Wales Centre in Ebbw Vale, South Wales, and invite anyone with a heart for our nation, the lost and needy, to come along and be challenged, encouraged and inspired through this conference.
Prayer Storm is a movement of worship, prayer and fasting which exists to provoke a spiritual awakening by raising an army of praying warriors. They have a vision for the mass mobilisation of a prayer army who are consecrated to a lifestyle of prayer because they are so gripped with the conviction that only a revival of prayer in the church can revive the heart of a nation.
The vision of Prayer Storm is to get Christians praying! So come along and join with us on Saturday September 21st at the Love Wales Centre, Ebbw Vale and be prepared to be challenged to a new level of prayer and intercession in your walk with God!
Registration is from 9.30-10.30am. The conference will run from 10.30am to 6.30pm with a lunch break around 1-2.15pm.
There is free parking at the Love Wales Centre (NP23 8WQ). We are situated next to the Festival Retail Park in Ebbw Vale. For trains there is Parkway Ebbw Vale just a few minutes walk away. There is plenty of accommodation close by for those travelling from outside the area. Teas and coffees will be available throughout the day, feel free to bring a packed lunch with you, there are also numerous eating places within easy reach of the centre (eg Costa, Brewers Fayre, Tesco, KFC etc)
For more information contact us at admin@lovewales.org, call 07949 361303, or go to our website at Love Wales.
For more information on Prayer Storm click here.