Pre-Christmas Indulgence Fayre 2014 - Pinner (29th November 2014)

Saturday, 29 November 2014 from 12:00 to 17:00 (GMT)
Event Details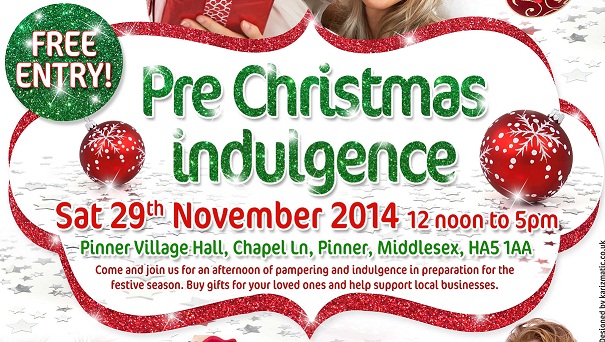 This event is OPEN to public and is FREE to attend. Come and join us for an afternoon of pampering and indulgence in preparation for the festive season. Why not buy gifts for your loved ones and support local businesses as well.
As we are promoting local business, ideally all stall holders will be from Pinner, Harrow and surrounding areas. To enquire about stall hires, please email events@prosperityevents.co.uk
Our exhibitors so far:
EE's Cosmetics: Natural handmade and herbal therapies and their application in health and beauty. Dedicated to creating a superior product using only the very best of natural ingredients, hand blended with great care and attention. They aim to supply you with products that are gently beneficial in nurturing and protecting your skin against the environment and the effects of time. EE is confident you will find their natural & refreshing Aromas as pleasing as their effects.
Bhavini Dattani – Independent Forever Living Distributor: Manufacture and sell, exclusive beneficial wellness products based on Aloe Vera. The products start with 100% inner leaf gel, delicately adding just enough other ingredients to produce outstanding products.
Less Stress More Zest: Stress Management, Health & Wellbeing Training, Workshops & Treatments. She will be offering pampering sessions on the day and gift-vouchers as well.
DesignRaaga: Handcrafted Home Décor Business. Each piece of home décor and accessory that you see here is carefully and specially curated so that you are able to choose something from an array that will blend into your life's narrative, yet stand out enough to be a conversation starter.
Reeva Jewels: Ethnic and contemporary jewellery. The exquisite collection has a variety of designs and is hand-crafted, made of  semi-precious stones, pearls and other gems that are fused together with metals of finest quality.
BNU Suppliers:  An online business and home business for Hand made variety of items including handicraft and imitation jewellery items in UK.  Home based business, supplying home decor, handicraft, jewellery, gift items etc. All of the merchandize are procured directly from artisans who have acquired national and international prominence in their work for their craftsmanship.
Ashiana Trust:  Formed in 2000 by a group of like minded professionals to serve the needs of children and young adults with learning difficulities on a volunteering capacity. Started with a group of 10 members, 15 carers and 6 volunteers. Since then the organisation has expanded with more members, carers, volunteers and services. They  achieved a charitable status in 2008. Ashiana's mission is to empower and support their members to improve independence, choice and well-being through participation, social awareness and integration.
Satya Special School: A South Indian villages mothers and disabled children are thrown out of the house as the husbands' family think they are a bad omen. The school provide them with all the therapy.  All the products are handmade by these mothers and children.  The School's mission is Empowering the children thereby making them confident and self-reliant
BeadsMyth UK:  One of a kind handmade jewellery using aesthetic beads, semi-precious stones and crystals from all around Africa which can be customised to your own taste. At the core are recycled glass beads, hand selected through long hours of scouting around offbeat bazaars and markets in Africa.
When & Where

Pinner Village Hall
Chapel Lane
HA5 1AA Pinner
United Kingdom


Saturday, 29 November 2014 from 12:00 to 17:00 (GMT)
Add to my calendar
Organiser
BizHelp events are business support and are business support and networking sessions for local SMEs and micro businesses. We will have a number business service and advice providers to work with us and a number of speakers who will offer talks on various subjects that business owners will be interested in and would benefit from.
At every meeting all members in the group will have an opportunity to present their business to others with a 90 seconds introduction and members can also request to have a speaker slot opportunity at future networking events.      
Having run a number businesses in the last 15 years and working with various industries we have launched this venture to support local businesses to promote themselves using online strategies and offline events, fairs and exhibitions.
We are very passionate about keeping business local and helping local business owners raise their profile and exhibit their expertise by showcasing their products and services at our themed events.
We are creating local  networking events, exhibitions for local businesses in the local communities within London and the surrounding areas.