Known knowns, known unknowns, unknown knowns and unknown unknowns are all precarious states but also vital aspects of the research process.
About this event
This one-day conference seeks to interrogate, provoke, explore, unpick, exposethe various nuances of precarity, the (un)known and the complexities of how these states manifest and are conceptualised inarts, design, mediaresearch. Precarious Futures invites a range of responsesto these 'difficult' events and states as a platform to expose and articulate their potential, vitality andchallengesthat bring into question disciplines, paradigms, and methods.
The conference will take place online on Zoom. Meeting code: 984 6784 5933
You can download a pdf of the conference programme on the PGR Studio website here.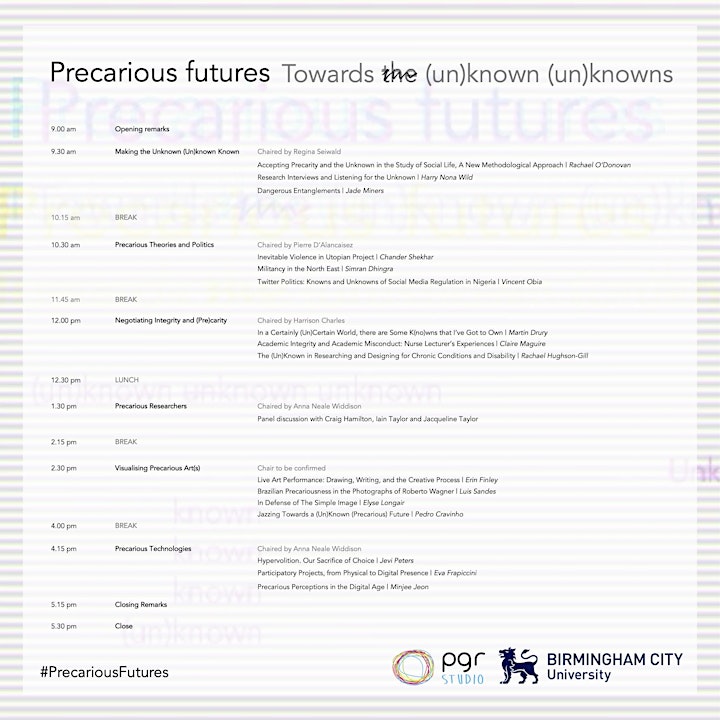 Organiser of Precarious Futures: Towards the (un)known (un)knowns
A critical mass of activity and information about postgraduate research student (PGR) provision at the Faculty of Arts, Design and Media at Birmingham City University. We seek to promote an experimental, creative and practice-based space that resonates across all our academic Schools and disciplines, with a clear focus on research degree students and enhancing the PGR research community.