By Invitation Only: Summit on Predatory Marriage - A Call for Action
About this event
Joan Blass was 91, widowed, with vascular dementia, cancer, and a hearing impairment when she was married to a 68-year-old man without her family's knowledge. It is very unlikely that Joan had capacity to consent to the marriage, which only came to light after her death. The person who married her then inherited her estate, despite Joan's pre-existing Will and the fact that her daughter had Power of Attorney. Joan's story has been repeated many times, leaving victims at risk and families shocked. This summit has been convened to bring about the changes needed to make predatory marriage less easy to perpetrate.
What is predatory marriage and what are the consequences?
Predatory marriage is when a person grooms or coerces another (usually older) person into marriage in order to receive an inheritance or another form of benefit. If a person lacks capacity to marry, such a marriage is also a Forced Marriage under the Anti-social Behaviour, Crime and Policing Act (2014). In essence, any marriage of a person without capacity to consent is unlawful.
Under current UK law, a marriage revokes any previously made Will, making the new spouse likely to inherit the victim's estate as next of kin. Additionally, it is not possible to annul a marriage upon the death of a victim. Family members are disqualified from arranging the funeral and the wishes of the victim, for example for their funeral and who should inherit their estate, may not be followed.
Predatory marriage of a vulnerable adult is a safeguarding issue. In addition to being a Forced Marriage, predatory marriage falls within the remit of the Care Act (2014) which places safeguarding adults on a statutory footing. The Care Act and the Mental Capacity Act (2005) impose duties on Marriage Registrars to protect vulnerable older people and to assess mental capacity to consent to marriage.
A Call to Action – Changes Required
Marriage to no longer revoke a legally registered Will
The 1982 Administration of Justice Act introduced the revoking of a Will by marriage. A spouse inherits the first £270,000 of the estate, which is often all of it. If marriage no longer revoked a Will, this would remove almost all incentive for predatory marriage.
Power of Attorney to be linked with marriage
There is currently no link between marriage and either Enduring Power of Attorney or the newer Lasting Power of Attorney, which can be both for Finance and for Health and Welfare. Joan Blass was not able to make the simplest financial decision, yet she was permitted, in marrying, to make a financial decision that revoked her Will.
Notification of marriage to be published on the Internet, in an easily found national website
Marriage is a public event; therefore, notification of civil marriage is published in individual Register Offices. A modern equivalent would be to publish the notification on the internet with public access. A 2009 update to the 1949 Marriage Act states that "The Registrar General may approve forms of electronic communications or electronic storage for the purposes of a provision of this Act".
Better statutory guidance and training for all marriage registrars
Marriage Registrars may be the only people who can protect a victim from a predatory marriage that is arranged in secret. In May 2020, responding to a question from Baroness Bennett, the Ministry of Justice spokesperson Lord Elie confirmed that the Government had no current legislative plans to change the existing safeguards around predatory marriage and that 'a registration official' has a duty to stop marriage proceedings if they believe that either of the parties does not have the capacity to marry. It is a heavy responsibility, both to recognise the risk and to respond by delaying or stopping a marriage. We know from research that Marriage Registrars lack confidence to deal with mental capacity issues and many feel pressure to continue with ceremonies despite their misgivings. We therefore suggest a few procedural changes for discussion:
• Improved questions both at notification and the ceremony stages of marriage
• Separate Interviews at the Notification of Marriage
• Audio-visual recording of the notification and the marriage
• Better understanding of (in)capacity to consent as a legal impediment to marriage
• Clear procedures for Registrars to address suspected mental incapacity
• Improved procedures for investigating a predatory marriage.
• There should be consequences if a ceremony proceeds when one party lacks capacity to consent to marriage.
You are invited:
We will explore all the issues raised here in more detail at the Summit on October 6th, 2021. With your participation, its aim is to ensure that the necessary steps are taken, quickly, to protect vulnerable adults from being groomed or coerced into a predatory marriage.
Contact us:
Daphne Hibberd-Franks, Predatorymarriage.co.uk. daphne@franks.org.uk
Rachael Clawson, Associate Professor, Director of the Centre for Social Work, University of Nottingham. rachael.clawson@nottingham.ac.uk
Justine Schneider, Professor of Mental Health and Social Care, University of Nottingham. justine.schneider@nottingham.ac.uk
Amanda Chukwudozie, Programme and Project Manager, Institute for Policy and Engagement, University of Nottingham. amanda.chukwudozie@nottingham.ac.uk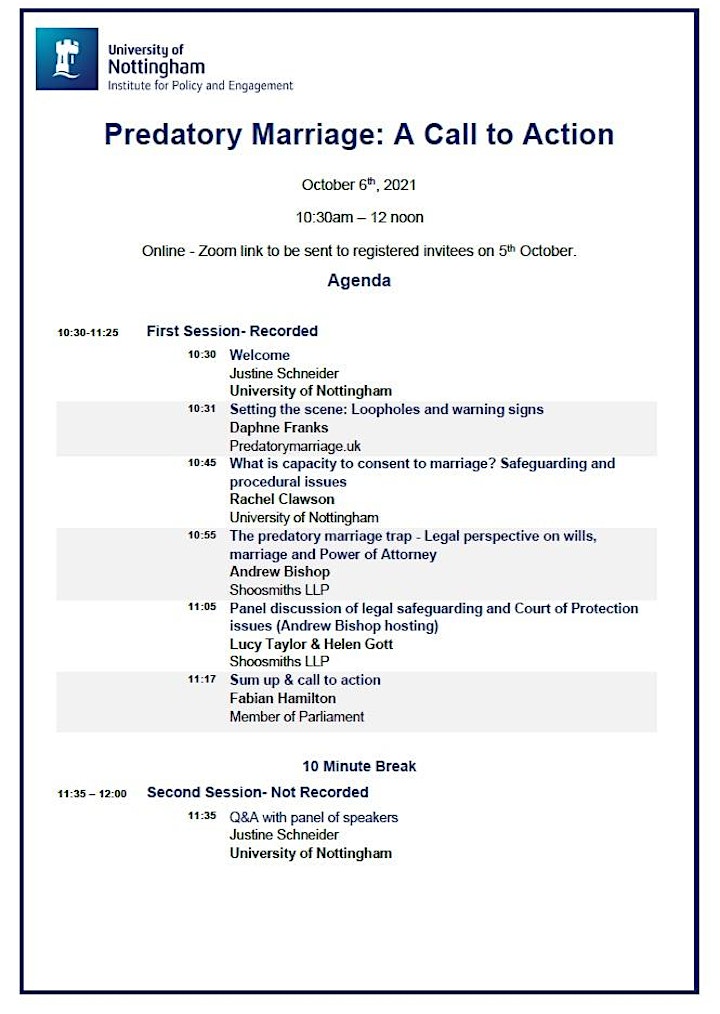 Organizer of Predatory Marriage Summit