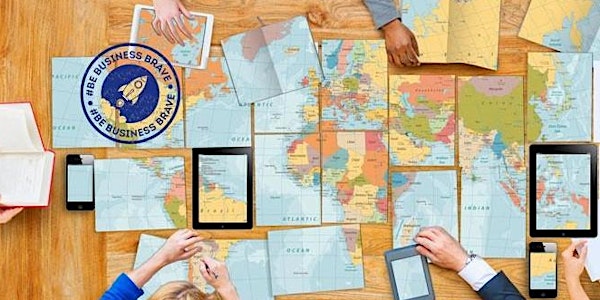 Preparing for international virtual missions and conferences - Jan 2021
Sales Have Ended
Registrations are closed
Please note the workshop is now full however you can register on the waiting list and we will notify you if a space becomes available. We plan to re run this workshop in February and will be promoting details of dates shortly.
Maximise the opportunities for your business, ensure you are fully prepared and comfortable in this new virtual international environment.
About this event
Virtual meetings, missions and conferences are now replacing face to face events for international businesses - and look set to stay.
This online interactive workshop webinar, split over two mornings, will help you maximise the opportunities for your business, ensuring you are fully prepared and comfortable in this new virtual international environment.
It will cover all aspects including pre-research, polishing your pitch, finding new ways of presenting/pitching digitally and will help you consider the different international cultures in the digital world. You will also have the opportunity to test your online pitching and presenting in a follow up 1-2-1 online roleplay session with the trainer. This will help you to put what you have learned into practice, leaving you ready to make the most of virtual international opportunities for your business.
AGENDA
Group workshop webinar
Day 1 - Tuesday, 19 Jan 2021
09.30: Welcome and introductions (Elevator Pitch)
10.00: International etiquette / netiquette
10.15: Identifying and researching your buyer
10.45: Putting yourself in the buyers' shoes (considering their cultural perspectives)
11.00: Break
11.15: Understanding your product / value / USP
12.00: Introducing yourself online in e-mail and social media
Day 2 - Wednesday, 20 Jan 2021
09.30: New ways of presenting / Developing your presentation (Pitch)
10.30: Preparing for Online Sales Meetings and Presentations
10.45: Break
10.55: Spin selling
11.50: Summary and homework prep for follow on 1-2-1 session
12.00: Close
Homework
> Identify three potential buyers of your product / service
> Send an e-mail to the buyer (the webinar trainer) asking for the meeting
> Prepare for a sales meeting / presentation to one of these buyers
Follow on session
> Pre-booked 1-2-1 session to take place at a later date (45 minute sessions)
> Details will be discussed on the webinar
> Role-playing buyers from the company's ideal buyer
> Giving feedback on presentation
Reserve your place today! Once you register you will be issued with a link to the GoTo Webinar.
For more international trade information: www.hie.co.uk/InternationalTrade 
These events are partly funded by both HIE and ERDF under the European Regional Development Fund Scotland Programme 2014-2020. It is therefore essential that you fully complete the application form, please. Failing to do so, might compromise your participation.
*The workshop is free of charge but is a form of EU State Aid and counts towards your overall De Minimis Aid allowance. Each company is allowed a total of €200,000 in De Minimis Aid over a three-year period (with a lower limit for fisheries and some other categories).
Our full privacy statement is available to view online https://www.hie.co.uk/legal/privacypolicy