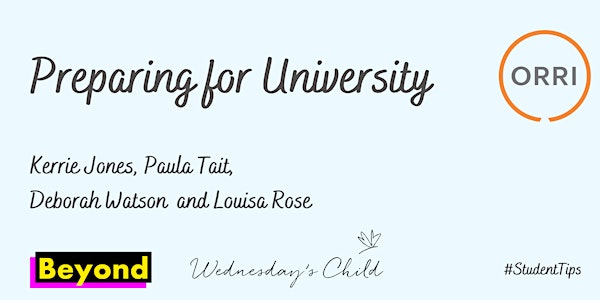 Preparing for University - Orri, Wednesday's Child and Beyond
Leading UK mental health organisations come together to discuss how to prepare for university and sustain eating disorder recovery.
About this event
In this FREE webinar, we are focusing on how to prepare for university and how to sustain eating disorder recovery and good mental health. Hosted by Orri.
Orri's CEO and Founder, Kerrie Jones, is joined by Debbie Watson, Founder of Wednesday's Child, and CEO of Beyond, Louisa Rose.
They will engage in a panel discussion on the experiences of this transitional period, for students and for parents, and will offer useful ways to overcome any challenges that may arise to benefit recovery and mental wellbeing for all.
What they will discuss:
Preparing for University:
Fear of change: how to cope with transition and tips for preparation
The current landscape for young people: the impact of shifting social environments and influences in the development of mental illness
Establishing a new way of life:
How to recognise if there is a problem
Barriers to seeking support and accessing treatment
Recovery, relapse and resilience:
How to develop resilience with mental health issues and sustain recovery during relapses;
The importance of community and connection
Everyone is welcome to this event, however, it will be particularly useful for students (existing and now starting), parents and carers, individuals attending educational bodies.
There will be a Q&A opportunity during the event however if you had a question you would like to ask beforehand, please do email across to AskOrri@orri-uk.com.
This event will be recorded.
-
About Orri
For those of you that don't know Orri, we are a Specialist Eating Disorder treatment service for recovery offering day treatment both in person (at our London clinic) and online - for wherever clients may be. Orri takes a stepped approach to treatment so that every person's programme is appropriate to their individual needs and evolves with them over time.
Our service is rated 'Outstanding' across all five categories by the CQC.
Kerrie Jones is a leading Psychotherapist in the treatment of eating disorders, previous lecturer on an MSc in Attachment Studies at Roehampton University, and the CEO and Founder of Orri.
Kerrie has delivered training throughout the UK on Eating Disorders and Attachment, and is a former Eating Disorder Lead at The Priory where she worked with clients in both inpatient and outpatient settings.
The culmination of this work – along with feedback and experiences of clients and colleagues Kerrie has worked with over the last 15 years – paved the way for the formation of Orri.
About Wednesday's Child
Wednesday's Child is a not for profit organisation, providing support, signposting and befriending for those impacted by an eating disorder.
In addition to directly delivering work for individuals on an eating disorder journey, their services inform, educate and upskill parents, carers, teachers and healthcare professionals who seek to have greater knowledge of eating disorders and their impact.
Debbie Watson is a former journalist and award-winning businesswoman with her own PR consultancy. She launched Wednesday's Child as a social enterprise in 2019.
Having experienced an eating disorder for nearly 20 years before fully embracing recovery, Debbie felt motivated to create an alternative compassionate solution for families and individuals who were seeking empathy, knowledge and understanding.
As well as heading Wednesday's Child's strategic direction, Debbie is a befriender for a number of people within the eating disorder community, and co-hosts the organisation's informative and engaging podcast.
About Beyond
Beyond is a youth mental health charity that exists to improve young people's mental health in the UK. Led by the well-known activist and founder Jonny Benjamin MBE and CEO Louisa Rose, it is driven by an impassioned youth board who are determined to instil new attitudes and drive change so that young people can go 'beyond just surviving'.
Beyond is home to the UK's only mental health festival for educational settings, Now and Beyond, reaching over one million young people, parents and teachers through two annual festivals since February 2021. They are also the founders of the UK's only cross-sector, multidisciplinary and geolocated database of approved youth mental health and wellbeing experts.
Louisa Rose is CEO of Beyond and the founder of Now and Beyond, the UK's only national mental health and wellbeing festival for the educational community. Previously, Louisa spent over ten years as a social media consultant and is particularly interested in reinforcing healthy social media habits for young people. Louisa is diagnosed with depression, anxiety, Tourette's and OCD and publicly reflects on her personal mental health journey. Louisa is married and a mother of two young boys.