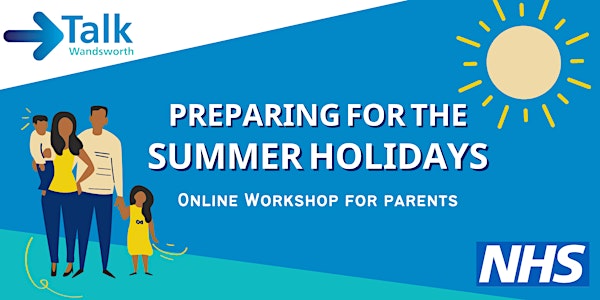 Preparing Parents for the Summer Holidays - Online Workshop
A fun and creative online workshop aimed at providing key skills to parents preparing for the school summer holidays.
About this event
About this event
The school summer holidays can be a challenging and stressful time for parents to balance home and work life. It's important to look after your child's and your own wellbeing during this time, but this is often not as easy as we'd like. This workshop aims to provide you with helpful information and advice on maintaining wellbeing during the summer holidays through discussing different topics such as coping with challenges and stress; practically balancing work and family life; guilt and overburdening yourself; connection and boundaries; social media and gaming; preparing a schedule and signposting to useful events, organisations and resources for support.
This workshop will be delivered online via Microsoft teams. It is free to attend for all residents of the London Borough of Wandsworth or those registered with a Wandsworth GP who are over the age of 18. Our Wellbeing team is focused entirely on improving the emotional, physical, spiritual and overall wellbeing of the residents of Wandsworth. We want to work towards providing a more inclusive and socially adapted service for the borough whilst lowering the stigma and discrimination attached to mental health & wellbeing and the services that exist to support these areas of our lives.
By learning how you can prepare for the summer holidays in a confidential setting, this wellbeing workshop aims to help you understand more about overcoming barriers, becoming comfortable interacting with others and finding solutions, techniques and learning practical skills to help you improve your own and your child's wellbeing. Our sessions are held on a regular basis in a private setting and led by a Wellbeing Practitioner from the service. Prior to the workshop you will be asked to complete a short questionnaire aimed at ensuring we offer you all the support you require. If you have queries regarding this, please speak to the Practitioner at the start of the session.
We all have mental health, it's ok to talk.
For more information please visit our website on; www.talkwandsworth.nhs.uk
Alternatively call the service on 0203 513 6264
To stay connected and keep up to date with our latest info, you can also follow us on social media:
Twitter: @talkwandsworth
Instagram: @talk.wandsworth.wellbeing
Nextdoor: NHS Talk Wandsworth