Description
"A series of workshops hosted by Ayse Balköse"
You can attend all workshops indipendent from previous one.
Feed back screenshot from Sisterhood Social orginiser Julie: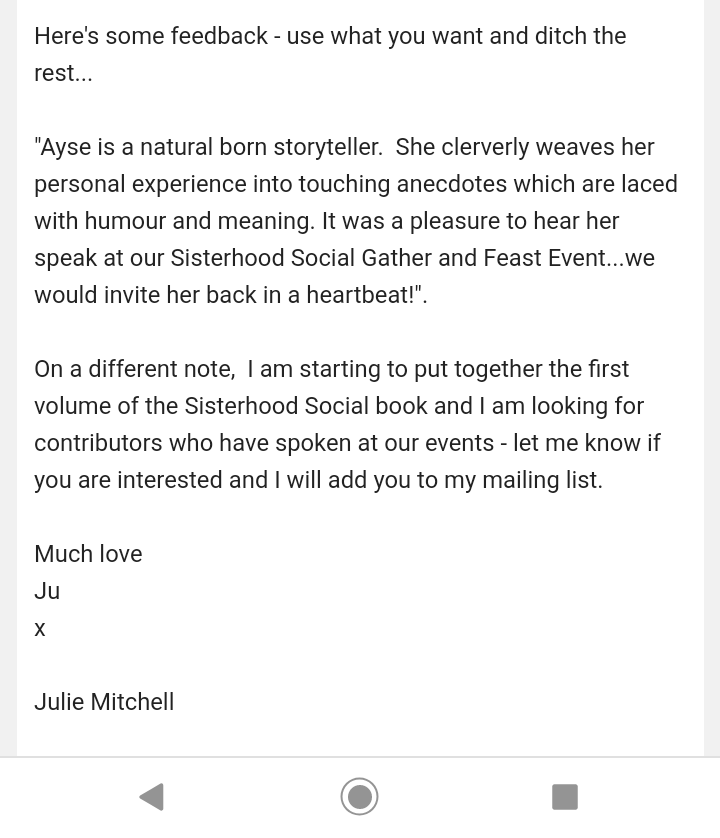 The second chapter will explore how to prepare presentations through preparing a lay out by cross referencing images with our ideas and our audience. This workshop is more aimed at creatives who find it challanging to lay out and present their ideas and reasons. We will touch base on the importance of our auditorial capacity, the use of our body language and the power of images during the structuring and delivering of our presentations whilst our focus is to create long term impact.

You can attend each workshop individually or as a series so do not worry if you didn't make the last one.

Thıs is a donation based workshop.
PayPal: aybalse@gmail.com
Please feel free to brıng a pen and paper.
All ages and abilities welcome.

"Over the last couple of years, I have had to prepare various talks, presentations and blog posts professionally. During the process, as English is my second language, I had to develop a methodological guiding system that helps me to stay on track, to develop the content and put it out as a finished piece of work in the most acurate and efficient way. In these series of workshops I would like to share these methods with you. They are not concerned with grammar, however, they will be looking at forming the structures through weaving emotional stories with factual /statistical research and centred content in order to aim at a specific type of audience." - Ayse Balköse


See you on the 2nd!