Sales Have Ended
Registrations are closed
Thanks for your interest in attending "Prescription for success: the drive for more personalised care in the Digital Age". We have reached maximum capacity but we will be in touch shortly, but you can request to attend and if any more spaces open up we will let you know. You can drop us an email too on ignyte@despark.com.
Sales Have Ended
Registrations are closed
Thanks for your interest in attending "Prescription for success: the drive for more personalised care in the Digital Age". We have reached maximum capacity but we will be in touch shortly, but you can request to attend and if any more spaces open up we will let you know. You can drop us an email too on ignyte@despark.com.
Description
From digital diagnostics to wearables, AI and integrated data, the health tech revolution offers huge opportunities to transform health and social care. But how do we take patients and customers with us?
We are living longer but more unhealthy lives. Rates of obesity, heart disease, Type 2 diabetes and dementia are rocketing, sending health care costs spiralling and putting already creaking healthcare systems under unprecedented pressure. With proposals to increase the use of health apps, monitoring devices and "virtual appointments" to bridge the £22 billion NHS funding gap by 2021, how can we make the most of technology and is that the right thing to do?
This is your chance to learn and discuss the opportunities and challenges within health and wellbeing and explore what the fundamentals are to make successful human focused digital products.
---
Introducing the Panel: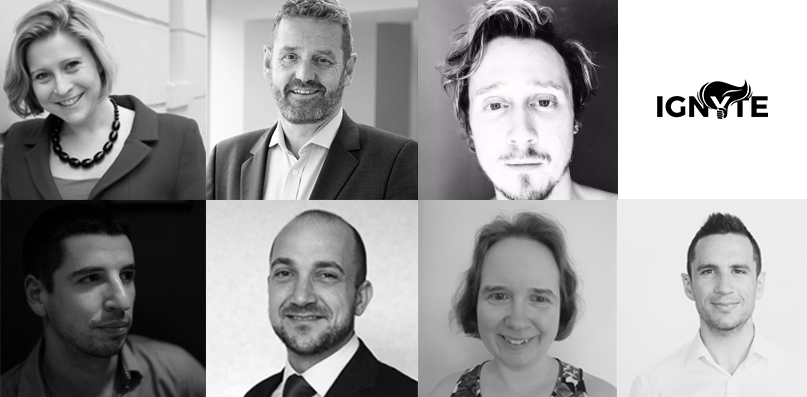 Lawrence Petalidis - Head of Innovation and Impact for CW+
Keynote: Steps towards personalised care
Lawrence is Head of Innovation and Impact for CW+, the Health Charity for Chelsea and Westminster NHS Foundation Trust. There he supports a Grants programme that funds innovative, quality improvement and service transformation projects aiming to improve patient care and experience. Recent projects include a heart failure remote patient monitoring pilot with Novartis and Hounslow CCG, wearable and sensor acute pilots, gynaecological medical device development, digital ward auditing and the development of a minor burns telecare solution.
Lawrence is a NICE specialist advisor and an NHS Navigator for the Digital Health.London Accelerator, where he focuses on linking ChelWest to current digital health solutions. In addition, he leads impact strategy for the Charity, across a range of digital, patient environment and arts in health interventions. He has a PhD in molecular neurooncology from Addenbrookes Hospital, University of Cambridge and 12 years of experience across business, technical sales, knowledge transfer, digital change and innovation roles.
Alison Baum OBE - Founder and CEO - Best Beginnings
Keynote: Proof of concept - the need for data-driven and co-creation to make an impact
Alison founded Best Beginnings in 2006 and since has used her leadership and executive production experience to pioneer the development of innovative resources to support the emotional and physical transition to parenthood.
In 2017 Alison was recognised in the Queen's Honors list and was awarded an OBE for services to tackle child health inequalities. Alison has also received the prestigious Sheila McKechnie "Campaigner of the Year" award for her work in creating the Breastfeeding Manifesto Coalition, uniting 40 organisations, including five Royal Colleges and UNICEF, to lobby Government to deliver on seven objectives designed to allow women to make fully informed choices about how to feed their babies.


Joop Tanis - Director at SBRI Healthcare Programme
Joop is responsible for the UK wide delivery of the SBRI Healthcare Programme which awards large-scale development contracts. As well as supporting the development of innovative health solutions, SBRI healthcare stimulates economic growth and entrepreneurship in this sector.
Throughout his career, Joop has developed an in-depth understanding of the interplay between innovation, entrepreneurship, health and financial outcomes, commissioning, service provision and users' perspectives.
Previous roles include Head of The Young Foundation's Health Launchpad Innovation Fund, Head of Innovation (Service Delivery) at Health Enterprise East as well as his previous clinical career as a Physiotherapist and clinical manager in the NHS.
Guy Donnelly - Global Digital Performance Lead - GSK
Guy is an award winning Digital Marketing Strategist and multi-channel professional. He is an expert in the creation of integrated strategy and planning, to both local or global consumers. With 13 years digital experience, he has spent the last 4 years working on the client side of GSK & Novartis Consumer, and 7 years of agency experience leading the digital strategy and online campaign execution across some of the world's leading health and retail brands - GSK, NHS, Reckitt Benckiser, COI and J&J.
With a focus on online consumer targeting and consumer behaviour, Guy has designed and managed digital strategies utilising multiple channels, including organic and paid search, social media, digital display and VOD. He has excelled in ensuring that cross device planning for the growth of mobile is always catered for and, more recently, has concentrated on the rise of programmatic media buying.
Nina Blackett - Head of Digital Development - Macmillan

With over 20 years experience, Nina has worked at BMJ and Oxford University Press, and most recently she has spent 2 years as Head of Digital Development at Macmillan Cancer Support. Nina has unique expertise in setting up and running interdisciplinary digital teams that work collaboratively with clients, producing world-class digital solutions. In 2014, Nina graduated from the London School of Economics and Political Science with a PhD examining communication between developers, editors and clinicians in digital healthcare publishing.
Stoyan Ilchev - Chief Strategy Officer - Despark
Keynote: Making a big impact through small design changes
As Chief Strategy Officer at Despark, Stoyan is responsible for shaping Despark's future and bring his production, strategy and product design experience and passion to create successful products that change how people experience the world. Stoyan has spent years working with clients within the health and wellbeing sector to ideate and iterate new ideas into successful products such as AI chatbots, gamification apps for corporate wellness, councilling platforms for mental health in young adults and children and the successful Baby Buddy app by Best Beginnings .


Hristo is an energetic business leader, social entrepreneur and has a passion for the digital world, web technologies and startup endeavors. Hristo is CEO of Despark, an International digital specialist in developing brands and products. He is also Co-Founder of two NGO's Tuk Tam & Foundation lll.
Follow @IgnyteSeries on Twitter for more speakers and panellists announcements.
---
The Morning Agenda:
8:30am start for breakfast and networking
8:55am welcome message by Hristo Boyadzhiev
9.00am keynotes by CW+, Best Beginnings, GSK and Despark
9:35am panel conversation
10:10am Q&A
10:40am Networking
11am/11:30am close
The Venue
Nearest tubes are Goodge Street, Tottenham Court Road and Warren Street - across Victoria, Central and Northern Lines.
Contact details:
Email Ignyte@despark.com or call 07940 247 512.
Past videos from Ignyte Series 2016:
**This event is not for attendees from agencies, only for healthcare and wellbeing professionals. Any signups that are not within this industry will have their tickets cancelled.
We look forward to meeting you there!
From the Ignyte Team