Presented by Imperial Amnesty - Private Screening of award winning, Free Ch...
Description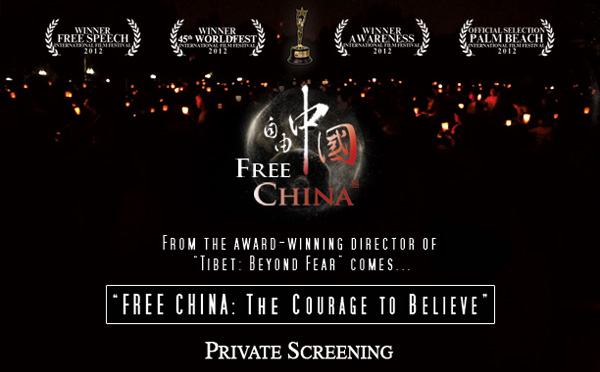 presented by
Imperial Amnesty

Thursday 21st March 2013
7pm Film Screening (6:30pm registration)
8-8:45pm Panel with Producer & Guest Speakers
Lecture Theatre 144, Huxley Building,
Imperial College London
180 Queens Gate, South Kensington
London, SW7 2AZ
For more information regarding the film please visit
FreeChinaMovie.com & FreeChina.NTDTV.org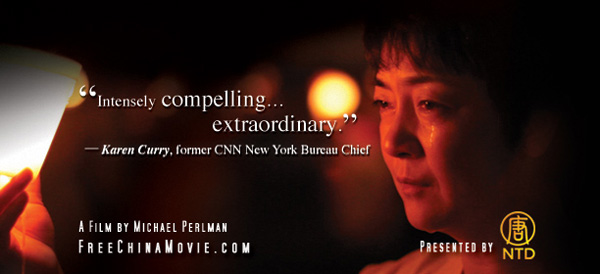 Free China: The Courage to Believe is a new documentary by Michael Perlman, the award-winning director of Tibet: Beyond Fear. In telling the courageous stories of Jennifer Zeng and Charles Lee, who were persecuted by the Chinese government for their practice of the ancient meditation of Falun Gong, the film exposes the widespread human rights violations that still take place today in China. It examines the conditions in the Chinese prison re-education program, the brutality of an authoritarian state, and the efforts by people of conscience to end the persecution and abuse.

"INTENSELY COMPELLING…EXTRAORDINARY." Karen Curry, Former CNN Bureau Chief New York
Imperial Amnesty & NTDTV is proud to bring to you a private screening for 'Free China: The Courage to Believe.

The award winning "Free China: The Courage To Believe" tells the story of a mother and former Communist Party member, Jennifer Zeng, who along with more than 70 Million Chinese were practicing a belief that combined Buddhism and Daoism until the Chinese Government outlawed it. The Internet police intercepted an email and Jennifer was imprisoned for her faith. As she endured physical and mental torture, she had to decide: does she stand her ground and languish in jail, or does she recant her belief so she can tell her story to the world and be reunited with her family? A world away, Dr. Charles Lee, a Chinese American businessman, wanted to do his part to stop the persecution by attempting to broadcast uncensored information on state controlled television. He was arrested in China and sentenced to three years of re-education in a prison camp where he endured forced labor, making amongst other things, Homer Simpson slippers sold at stores throughout the US.

As political scandals surface and tensions rise along with more than one hundred and fifty thousand protests occurring each year inside China, this timely documentary highlights the issue of unfair trade practices with the West, organ harvesting of prisoners of conscience and widespread forced/slave labor. The film also highlights how new Internet technologies are helping bring freedom to 1.3 billion people in China and other repressive regimes throughout the world.

"Free China" is a co-production between NTD Television, and World2Be Productions. It is scheduled for worldwide theatrical and online release in June 2013.
Special Private Screenings Include
The US Congress
European Parliament
Google Headquarters

Bios of the panelists:
Ethan Gutmann, Foundation for Defense of Democracies, DC
Characterized as a "mammoth sociological, political whistleblower" by National Review, Ethan Gutmann is the author of Losing the New China: A Story of American Commerce, Desire and Betrayal.
Following Encounter Books first printing in 2004, and subsequent translation into Chinese by Taiwan-based Broad Press, Gutmann's book garnered several awards, including the "Spirit of Tiananmen," New York Sun's "Best Book of the year," and the "Chan's Journalism Award" for outstanding writing. At the government and intelligence level, Gutmann's seminal research into Chinese Internet surveillance, the Laogai System, and the intersection of western business with Chinese security objectives has received sustained attention in Washington, London and Brussels.
Kean Wong, Producer of Free China
Kean is an award-winning filmmaker, TV producer/host and founder of Parigon Partners, a strategy and marketing consulting firm specializing in new media and social entrepreneurship. With an eclectic mix of actuarial finance training and passion for personal development, Kean moved into the world of management consulting, before venturing into new media start ups and television production. In 2001 he met Jennifer Zeng, the main subject of the film and helped her apply for asylum in Australia. Years later, in New York, he met Michael Perlman and shared her incredible story with him, thus beginning the journey of the film 'Free China'.
Jennifer Zeng
Jennifer Zeng is a mainland Chinese-born human rights activist, journalist and author, best known for her practice of Falun Gong, the subsequent government suppression of the movement, and the best-selling book she wrote about her experience regarding Falun Gong: Witnessing History: One Chinese Woman's Fight for Freedom and Falun Gong.
Registration will start at 1830 and the documentary will start promptly at 1900. Following the movie, there will be a panel discussion.