The Event is open to women from any professional background, especially those who have a keen interest in technology.
About this Event
Presenting - an Art or Science?
Networking event for women. The Event is open to women from any professional background, especially those who have a keen interest in technology and wish to learn from other inspirational women within the technology sector. Our aim is to bring together like-minded women to build strong and supportive networks.
We are delighted to have a special guest speaker:
Liz Avery - Senior Manager: Astronomy Education | Royal Observatory Greenwich
While working in a nano physics research group Liz developed a taste for science communication and has been hooked ever since.
Since leaving the world of research for a career in science communication, Liz has worked around the UK in a variety of science and discovery centres, universities and museums promoting public engagement with the sciences.
She has spent her career creating, training and developing learning programmes for people of all ages on all aspects of science from bio-medical science to Astronomy.
She has presented thousands and thousands of different sessions from conference talks, science theatre shows and workshops to TV, and radio segments and large-scale festival shows.
She now works at the Royal Observatory Greenwich managing the Astronomy Education Programme and is the founder and leader of The Presenter Network.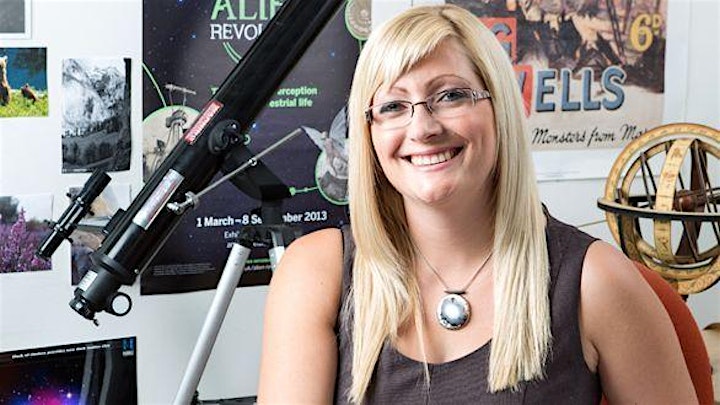 Cyflwyno - Celf neu Wyddoniaeth?
Digwyddiad Rhwydweithio i Fenywod.
Mae'r digwyddiad yn agored i fenywod o unrhyw gefndir proffesiynol, yn enwedig y rhai sydd â diddordeb brwd mewn technoleg ac sy'n dymuno dysgu gan fenywod ysbrydoledig eraill yn y sector technoleg.
Ein nod yw dod â menywod o'r un anian ynghyd i adeiladu rhwydweithiau cryf a chefnogol.
Rydym yn falch iawn o gael siaradwr gwadd:
Liz Avery - Uwch Reolwr: Addysg Seryddiaeth | Royal Observatory Greenwich
Wrth weithio mewn grŵp ymchwil ffiseg nano, datblygodd Liz flas ar gyfer cyfathrebu gwyddoniaeth ac mae hi wedi gweithio yn y maes ers hynny. Ers gadael y byd ymchwil ar gyfer gyrfa mewn cyfathrebu gwyddoniaeth, mae Liz wedi gweithio ledled y DU mewn amrywiaeth o ganolfannau gwyddoniaeth a darganfod, prifysgolion ac amgueddfeydd yn hyrwyddo ymgysylltiad cyhoeddus â'r gwyddorau.
Mae hi wedi treulio ei gyrfa yn creu, hyfforddi a datblygu rhaglenni dysgu i bobl o bob oed ar bob agwedd ar wyddoniaeth, o wyddoniaeth bio-feddygol i Seryddiaeth.
Mae hi wedi cyflwyno miloedd ar filoedd o sesiynau gwahanol o sgyrsiau cynadledda, sioeau theatr gwyddoniaeth a gweithdai i deledu, a segmentau radio a sioeau gŵyl ar raddfa fawr.
Mae hi bellach yn gweithio yn y Royal Observatory Greenwich yn rheoli'r Rhaglen Addysg Seryddiaeth a hi yw sylfaenydd ac arweinydd The Presenter Network.