Understand grace, righteousness and our mental health. Learn how to preserve your peace within.
About this event
Welcome to the Mind Clinic with Dr Nkiru.
THE OVERCOMING DEPRESSION , LIVING WITH JOY SERIES is a series of sessions where we share scripture based keys to enable you to live a life full of joy.
This is a monthly virtual meeting with other believers where we share tools for building a mindset to live life with an unshakeable identity in Christ, peace and joy.
Enjoy sound teaching, encouraging testimonies and the opportunity to network with other believers.
Go from depression, fear, anxiety and a poor self-image to an unshakeable identity in Christ , peace and joy!
Learn Mind Renewal through Meditation and Mindfulness of God's word.
PLEASE SEE ZOOM MEETING DETAILS BELOW
Time: 7th August, 2021. 04:00 PM London
Meeting ID: 875 8791 9531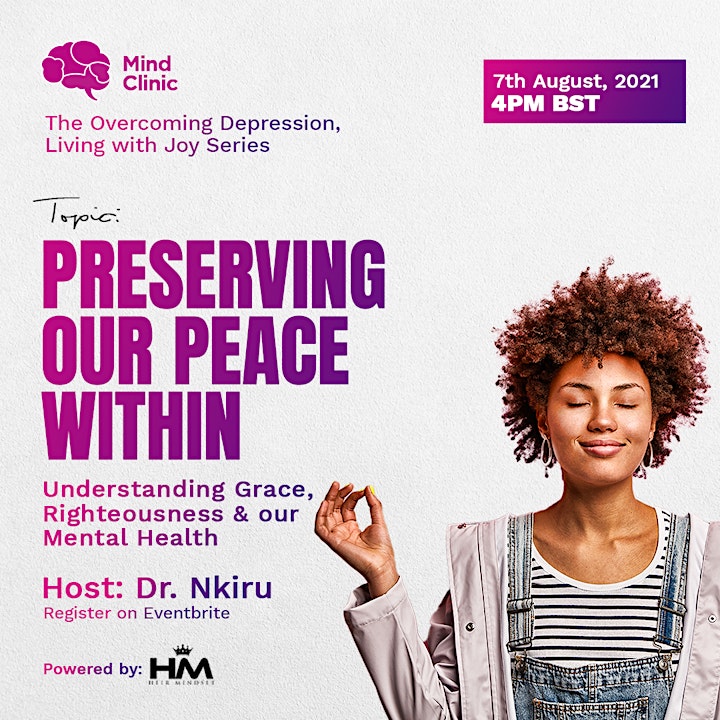 Organiser of Preserving Our Peace Within
Dr. Nkiru Oluwatosin is a primary care physician in
England where she attends to patients

of all ages, gender and spectrums of
illness.

She is certified in the Fundamentals of

Neuroscience from Harvard.edx.

Dr Nkiru is a teacher of God's word.
She hosts "The Mind Clinic with Dr. Nkiru" an interactive

virtual session where she helps people win in the mind with

God's word. The platform has a virtual community presence

on Telegram which is open to people wanting to be trained

to have a mindset to live with an unshakable identity, peace

and joy.

She is a member of the teaching team at her local church.
Dr Nkiru enjoys family, fun, dance, laughter, art, all things

bright and beautiful, most of all seeing God's will done on

the earth.

Connect, share testimonies with Dr Nkiru and her team at

nkiru.oluwatosin@gmail.com

@dr_nkiru (instagram)

mind clinic with dr nkiru (telegram)

nkiru oluwatosin (youtube)