Description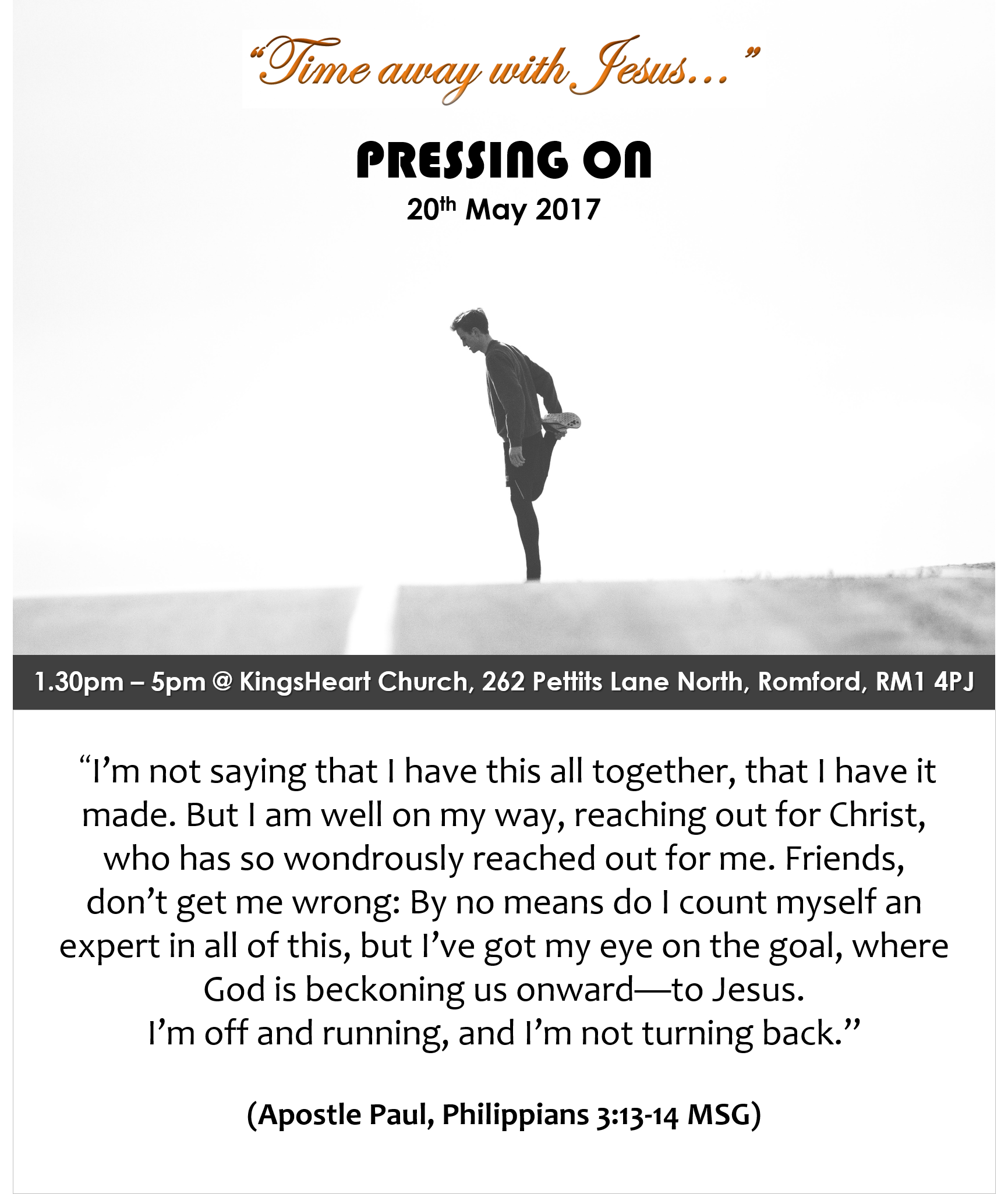 One step of faith in front of the other is how we run this race of victory!
Join us as we take this time out to recharge, refresh, reflect, release and receive in the Lord's presence.
Worship. Word. Prayer. Fellowship.
"I'm not saying that I have this all together, that I have it made. But I am well on my way, reaching out for Christ, who has so wondrously reached out for me. Friends, don't get me wrong: By no means do I count myself an expert in all of this, but I've got my eye on the goal, where God is beckoning us onward—to Jesus. I'm off and running, and I'm not turning back." (Phillpians 3:13-14 MSG)
Let's press on together. See you there!
---
Pre-registration is required as spaces are limited.
---
FAQs
I would like more than one ticket?
Each registration is per person. For more than one ticket, please register for one person at a time.
Can I use the same email address?
We would appreciate it if each inidividual person registering used their own email address, however we understand not everyone has an email address. Therefore, you can register more places using the same email address but you must provide the full name of each individual person being registered
Do I have to bring my printed ticket to the event?
Yes, but it is optional.
You can either:
- bring a printed copy of your ticket
- show us your email confirmation on your device
- or use the eventbrite app
How do I cancel my registration?
To cancel your registration, please send an email to admin@tawj.org.
Please let us know as soon as possible if you are unable to attend in order for us to provide others a place.
Are children allowed to attend this event?
IMPORTANT REMINDER CONCERNING CHILDREN:
Please be reminded that we do not provide childcare facilities at our events. We love children, but these times are a great opportunity for parents to engage with the Lord without the usual distractions. We strongly advice you make alternative arrangements for young children.
However, please NOTIFY US in advance if you would be bringing a child, as we can only accommodate a small number on the day. Also, please note that you have full responsibility for your child whilst at our events. Your child MUST always be in your care, to ensure their comfort, safety and avoid disruptions​. Thank you for your cooperation and apologies for any inconveniences.
Where can I contact the organiser with any questions?
Please send an email with your questions to admin@tawj.org and we would be happy to address your query.